Deck Design Ideas | 6 Creative Ways to Maximize Your Space
Don't despair if you have limited space for a deck. With the right design elements, there is a lot you can do in a small space. Use a bit of creativity and ingenuity, and you can make the most out of your outdoor area with these small deck design ideas.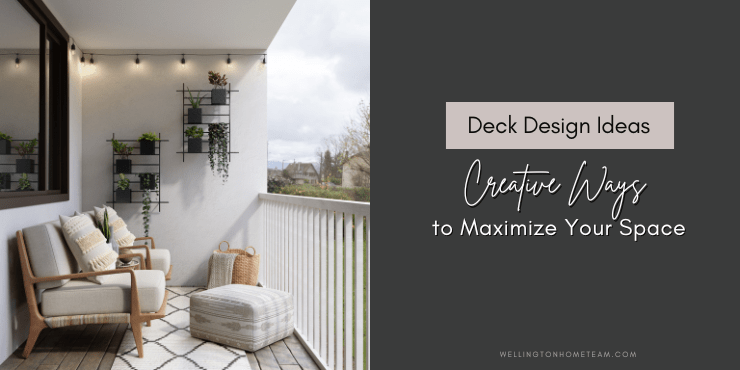 1. Focus on Function
Decks were once used primarily for barbecuing and sunbathing. However, modern decks serve a variety of functions. They are used to entertain guests, provide play areas for kids, and increase your outdoor living space. They are added in conjunction with other hardscaping features like swimming pools, hot tubs, fire pits, and patios. In short, decks have several important roles to play.
When you're short on space, focusing on your vision for your backyard deck is important. With limited space, you shouldn't try to build a deck that does everything. Instead, use the space and focus on building a deck that solves one or two problems. 
You'll be surprised at how much you can accomplish with a small deck, especially when you work with deck builders who have experience building in modern styles and working with tight spaces. Capitalize on the expertise of professionals, and you will be able to add a deck to your landscape that enhances your home and looks larger than it actually is.
2. Built-in Seating and Hidden Storage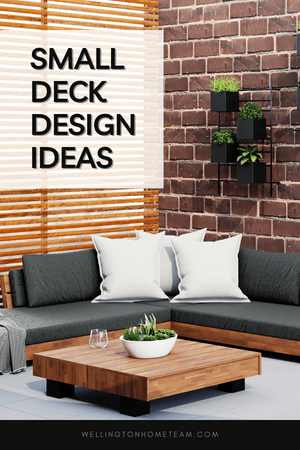 Built-in seating with hidden storage compartments is a great way to make your deck furniture do double duty. Take it one step further with a deck bench and planter combination, and you can triple the functionality of your seats.
The great thing about built-in deck benches is they can accommodate large groups just as easily as one or two people. You'll never have to drag out more chairs, and your small deck will feel much larger.
You can use the hidden storage compartments to store outdoor items like cushions, pillows, and umbrellas, so your deck will be clutter-free. This is a fabulous deck design ideas that everyone should consider!
3. Use Lighting to Make Your Small Deck Feel Larger
In your home's interior, you use light to expand the size of small, dark rooms, and outdoor lighting can be used in the same way to make a small deck appear larger. To choose the best lighting, consider the four main types:
Ambient lighting

to create a mood.

Task lighting

to light specific areas for reading, cooking, or playing games.

Accent lighting

to draw attention to features in your yard.

Decorative lighting

to add style.
With the right lighting, you'll also make your deck more usable in the evening. Several types of exterior light fixtures are available, and with solar or plug-in lights, you can easily install them yourself.
If you have limited deck space don't despair, these 6 simple deck design ideas are sure to maximize your space! #deckdesign #howto
4. Add Plants to Make Your Small Deck Pop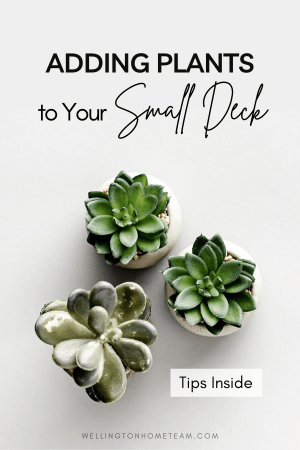 When you have a small deck, you should do whatever you can to draw the eye away from your tiny outdoor space. Use plants to pop your small deck, including built-in planters, living walls, and container gardens.
Vertical gardens are an excellent choice because they don't take up much space but add to your deck's atmosphere. It's also an excellent way to make your deck feel more private without making it feel closed in.
Adding pops of color with flowers is another great way to add visual interest to your outside space. Flowers can be changed out several times throughout the year giving your space an entirely new feel.
5. Decorating Small Decks
Even if you don't have a lot of space, you can still have a lot of style. There are several ways you can decorate your small deck so that it looks great and feels bigger than it actually is. Use color, furniture, and plants to create a cohesive and inviting space.
Bright furniture

– A splash of color can make your deck seem exciting, which draws the focus away from its size.

Compact chairs

– Choose compact chairs and tables that don't take up more space than necessary. If your deck is extremely small, you can even use folding chairs and tables that can be put away when they aren't being used.

Living wall

– A living wall doesn't take up any floor space on your deck, and it adds so much. Placing a few containers at the base of your vertical garden will make the area seem even bigger.
6. Match the Size of Your Deck to Your House
Your deck should scale in size with your house. It's awkward to have a large house with a small deck, but it's equally odd to have a tiny home with a large deck. It can be hard to fit a deck in a tiny yard without making it look weird, and it's helpful to use a 3D deck tool so you can envision how it looks before you build and play around with different deck design ideas.
If you can find an inside corner where your house makes an L, that's a good place to build a small deck. However, even with a small deck, it makes sense to call in the professionals if you aren't comfortable designing and building one yourself.
Design Ideas to Transform Your Small Deck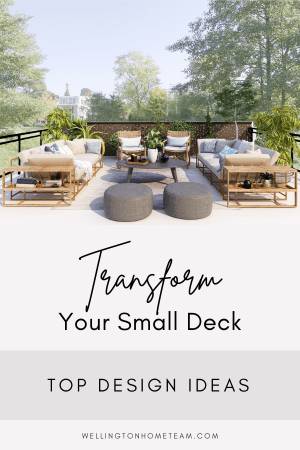 A functional and inviting deck doesn't require a lot of space. When working with a small deck, use the right design elements to make the most out of your space. You can create a deck that will make you proud with a bit of creativity, a good design, and a splash of color. Start by using these 6 creative small deck design ideas!
Please consider spreading the word and sharing; Deck Design Ideas | 6 Creative Ways to Maximize Your Space
If you have limited deck space don't despair, these 6 creative deck design ideas are sure to maximize your space! #deckdesign #howto
About the Author
Top Wellington Realtor, Michelle Gibson, wrote: "Deck Design Ideas | 6 Creative Ways to Maximize Your Space"
Michelle has been specializing in residential real estate since 2001 throughout Wellington Florida and the surrounding area. Whether you're looking to buy, sell or rent she will guide you through the entire real estate transaction. If you're ready to put Michelle's knowledge and expertise to work for you call or e-mail her today.
Areas of service include Wellington, Lake Worth, Royal Palm Beach, Boynton Beach, West Palm Beach, Loxahatchee, Greenacres, and more.
Deck Design Ideas | 6 Creative Ways to Maximize Your Space