5 Innovative Metal Wall Decor Ideas for Your Home
If you are looking for an innovative way to add style to your home consider metal wall decor! It can come in various designs, colors, textures, and sizes making it an excellent addition to any wall in the house. Metal wall decor can also be more affordable than other traditional wall decorations. Let's explore the different metal wall decor ideas to add style to your home.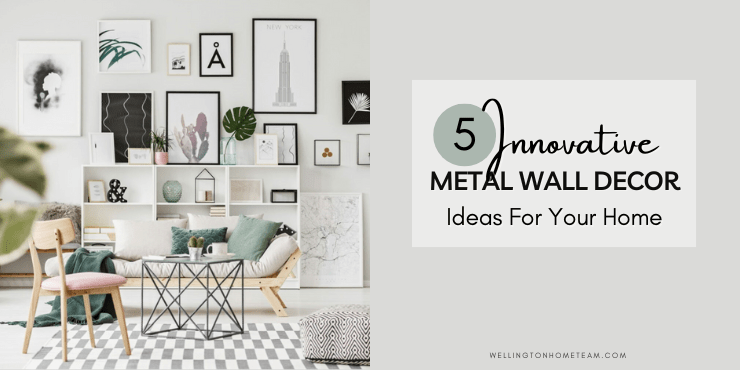 1. Large-Scale Metal Wall Decor
Opt for an oversized geometric pattern, floral design, or abstract art to make in your main spaces, like your living room or formal dining room. This statement piece will not only draw attention but also sets the tone in your space. Choose either a single-color piece or a vibrant abstract piece depending on the wall color and your furnishings. If the walls are mono-color, a bright wall decor piece can liven up the room. But it's best to leave the rest of the wall untouched to avoid drawing attention away from your wall decor and making the room look cluttered.
2. Abstract Metal Gallery Wall
One of the latest decor trends is creating an abstract gallery wall, which you can easily do with metal wall art. You can achieve a unique design by combining different pieces of metallic wall art, such as statement pieces, wrought iron signage, other metals, or floral patterns. Design experts recommend extending the gallery wall up to the ceiling, as it creates an illusion of more space and can also act as a divider between areas. For a cozy and mystical ambiance, consider fitting small lights in your metallic gallery.
If you are looking for an innovative way to add style to your home consider metal wall decor! Here are 5 metal wall decor ideas to consider. #homedecor #metalwallart
3. Metallic Mirrors
Mirrors can help create the illusion of a larger and brighter space by reflecting light. There are many ways to use mirrors as wall decor for a warm and inviting living room. Displaying multiple small mirrors or hanging a single oversized one are great options. Here are some popular metal mirror styles: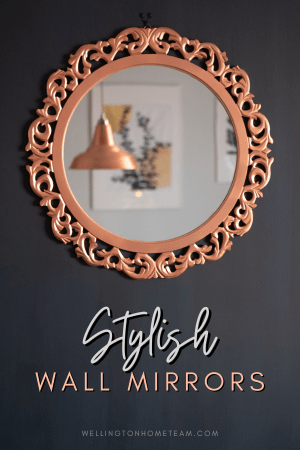 Double-Sided Metallic Mirrors: These create a unique look and add sophistication to any living space. They have a small rectangular mirror on one side and a larger circular mirror on the other. The double-sided mirror is removable and can be rearranged for a fresh look.
Round Aluminium Mirrors: These are popular decoration pieces that add luxury and elegance to any room. Available in various colors, they can be added to the living room, bedroom, bathroom, or even the entrance hall.
Rectangular Mughal Mirrors: These versatile and stylish metallic mirrors can be a part of the interiors of any modern house. They are not just restricted to walls, but can also be used as the headboard for a bed or on the back of metal cupboards. They may also be utilized in vertical or horizontal form.
4. Metallic Wall Sconces
A light sconce is a unique addition to the living room's wall decor as it adds both an accent and a light source. In small spaces, sconces are especially useful as they do not take up floor or table space. Moreover, light sconces add a vintage touch to rooms. When selecting sconces, opt for intricate and unique designs that exude elegance and glamor on the wall.
5. Floral Metal Wall Decor
Incorporating floral patterns and natural elements into the wall can be achieved through floral metal wall decor. This style uses various metals to create stunning floral designs, resulting in an exclusive and beautiful end result. Floral wall art is best placed above beds, on empty walls, in study rooms, or even in the living room. This look is especially fitting for spring when nature is in bloom or during the monsoon season when rooms could benefit from a touch of cheer.
Advantages of Incorporating Metal Wall Decor in Your Home
Metal wall decor is a great way to add elegance and sophistication to any room in your house, particularly your main living areas. Its unique style creates a focal point that can draw attention and set the tone for any room. Plus, it comes in so many colors, shapes, and sizes. 
In addition to its aesthetic appeal, metal wall art is also highly durable and resistant to weather conditions, making it a long-lasting investment for your home. While it's important to handle metal decor with care to avoid damaging it, it typically lasts for decades and requires less maintenance than fabric wall decor.
Another advantage of metal wall decor is its flexibility. Once you purchase a statement piece, you can easily rearrange the wall and other fixtures to refresh the space and create a new look. Metal wall decor is also easy to clean, making it a practical option for busy households. Overall, incorporating metal wall decor in your home offers numerous benefits, from its stylish appearance to its durability and ease of maintenance.
Final Thoughts
Metal wall decor for your home is an art style that adds sophistication and glamour to any living space with ease. It's an affordable and durable way to infuse beauty into your walls, and the pieces can be mixed and matched to create a versatile look. As we shared with our metal wall decor ideas you can choose from a variety of designs and colors to instantly enhance the aesthetic of any room.
Please consider spreading the word and sharing; 5 Innovative Metal Wall Decor Ideas for Your Home
If you are looking for an innovative way to add style to your home consider metal wall decor! Here are 5 metal wall decor ideas to consider. #homedecor #metalwallart
About the Author
Top Wellington Realtor, Michelle Gibson, wrote: "5 Innovative Metal Wall Decor Ideas for Your Home"
Michelle has been specializing in residential real estate since 2001 throughout Wellington Florida and the surrounding area. Whether you're looking to buy, sell or rent she will guide you through the entire real estate transaction. If you're ready to put Michelle's knowledge and expertise to work for you call or e-mail her today.
Areas of service include Wellington, Lake Worth, Royal Palm Beach, Boynton Beach, West Palm Beach, Loxahatchee, Greenacres, and more.
5 Innovative Metal Wall Decor Ideas for Your Home