8 Incredible Ideas to Zone Out a Small Student Apartment
Often, a small student apartment is a single room serving multiple purposes, such as sleeping, studying, relaxing, and entertaining. And needless to say, this can be very challenging. 
To make the most out of your small living space, it's important to create separate areas that serve different functions. In this article, we will explore various tips and ideas on how to zone out spaces in student apartments to make your living space more organized and functional. So let's take a look at creative solutions for a small student apartment now!
1. Start by Creating Focal Points 
The easiest way to divide a large space is by creating multiple focal points within it. Once you know how you want to split different zones, you can then think of ways to divide them visually. And this is best done by considering the layout of the space. 
For instance, you might want to assign your study area where there is the most natural light available. This way, when you are working on apa paper writer or reading, you won't have to rely on artificial lighting. Similarly, you can think of putting the bed where you have a bit of privacy. Once you have zoned out different areas, you can divide the space using various techniques such as furniture arrangement, color schemes, lighting, and decorative elements.
In the next points, we will discuss how you can use visual anchors to draw attention to specific areas of the room. 
2. Use Room Dividers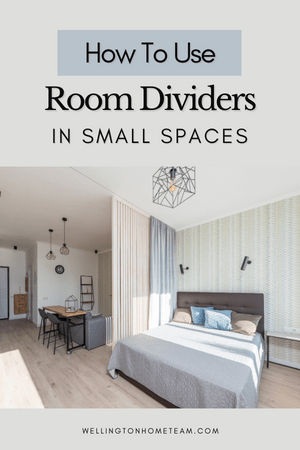 Using room dividers is an effective way to create separate zones or areas for different activities while maximizing the available space. One approach is to use freestanding dividers that can be easily moved or adjusted as needed, such as folding screens or bookcases. This is a perfect option for student apartments, as you can just remove them when you vacate. 
Another option is to install sliding or hang dividers that can be retracted when not in use, such as sliding doors. However, this might require a bit of handiwork while installing and removing. 
Whichever way you choose to go, the key is to choose dividers that match the overall style of the space. Otherwise, room dividers will just stand out from the space, making it unappealing and cluttering the space. 
3. Lay Down Rugs 
Area rugs can be used to create a natural division between rooms in the absence of a wall or other physical barrier. For instance, placing a rug in an area where you'd like to have the study table and another rug nearby where you'd like to ground the living room can instantly create two separately defined spaces. 
While the rugs should not clash with each other, they do not need to match either. You can mix and match styles while embracing a common theme. This could be a similar color scheme or texture. 
4. Hang Curtains 
Curtains can also be an excellent way for students to improve their bedrooms. However, choosing the right kind of curtains is extremely important. For instance, if you choose dark blinks, then it might darken up the entire space. On the other hand, sheer materials might not provide any privacy. You can also try using multiple layers to get the right style you are looking for. 
Additionally, consider the height of the ceiling, the width of the area, and the purpose of the space. You should also measure the width and height of the area before purchasing any curtains. One of the biggest advantages of using curtains as room dividers is that you can slide them over when you need to open up the space. Moreover, you can also remove them easily when moving out. 
Student apartments tend to be small and need to serve multiple purposes, so creating zones is a must and here are ideas to zone out an apartment. #realestate #organization
5. Place Shelves
Shelves can double as storage and partitions in your student apartment. You can use tall bookcases and open shelving units as room dividers. However, if you are using bulky shelves, it is best to use just one. If you choose open shelves, they will also let in light. 
The trick is to arrange the shelves properly so you can get privacy but still make the room look like an open space. If you are not looking for privacy, then you can also use floating shelves. These can help delineate specific zones, such as a workspace or reading nook.
6. Position Your Furniture Carefully
Expert designers also suggest that you can transform your small studio apartment just by repositioning your furniture. Contrary to popular belief, you don't have to line all your furniture against the walls. For instance, by placing your couch near the foot of your bed, you can create a divider that defines a 'living room' space and a "bedroom" space. 
If you are looking to invest in fewer pieces, you can also think of multi-use furniture. Examples include beds with storage drawers underneath or cabinets with fold-out tables for dining. These can not only be functional home decor but will also keep your room tidy. With these small apartment furniture ideas, you can incorporate key pieces with greater flexibility and make the most out of the limited square footage available.
7. Use Different Colors
If you prefer not to add any more pieces of furniture or physical barriers, fret not – you can still achieve a sense of division with a simple touch of paint. The idea is to color zone your space by utilizing paint or wallpaper to establish different zones within your studio apartment. 
This approach will naturally vary based on your specific layout, but even incorporating a statement wall or two can assist in distinguishing between your bedroom and study room, among other areas. It's a simple and affordable solution.
8. Construct Semi Permanent Walls
You might not want to build a permanent structure or might not be allowed to do so as a student tenant. However, you can indeed get the function of a wall. You can consider materials such as drywall sheets, insulation boards, gypsum boards, and such for these walls. 
Final Thoughts
In conclusion, zoning out a small student apartment need not be very complicated. In fact, doing so can greatly improve its functionality and livability. By creatively using furniture, incorporating room dividers, and investing in multi-use items, students can maximize their space and make the most out of their living arrangements. Following these 8 ideas to zone out spaces, especially small spaces is a great start. 
Please consider spreading the word and sharing; 8 Incredible Ideas to Zone Out a Small Student Apartment
Student apartments tend to be small and need to serve multiple purposes, so creating zones is a must and here are ideas to zone out an apartment. #realestate #organization
About the Author
Top Wellington Realtor, Michelle Gibson, wrote: "8 Incredible Ideas to Zone Out a Small Student Apartment"
Michelle has been specializing in residential real estate since 2001 throughout Wellington Florida and the surrounding area. Whether you're looking to buy, sell or rent she will guide you through the entire real estate transaction. If you're ready to put Michelle's knowledge and expertise to work for you call or e-mail her today.
Areas of service include Wellington, Lake Worth, Royal Palm Beach, Boynton Beach, West Palm Beach, Loxahatchee, Greenacres, and more.
8 Incredible Ideas to Zone Out a Small Student Apartment