Long-Term Tenants and 4 Shocking Downsides to Having Them
When you are a landlord, the idea of long-term tenants is going to be attractive. It means that you don't need to find new tenants, go through the tenant screening process, or have to potentially pay a Realtor, and you'll also have a steady income.
A popular question a lot of people ask is "do landlords like long-term tenants?"  Most landlords think long-term tenants are beneficial, but there are quite a few downsides to having long-term tenants that landlords may not consider but should. Let's explore the downsides to having a long-term tenant.
What is a Long-Term Tenant?
What is the long-term tenant definition? The standard residential lease is typically for 12 months. When a tenant continues to renew their lease and resides in the same property for several years they become what is considered a long-term tenant.
4 Downsides to Having Long-Term Tenants
Deferred Maintenance
The longer a tenant remains in the property, the more likely it is that they won't notify the landlord of smaller issues. These problems can develop slowly, gradually getting worse, but going largely unnoticed by a long-term tenant.
With damage to the home going unreported, it will only get worse. The cost to repair the issue will likely increase the longer it isn't addressed.
Maintenance issues like these will be obvious to new tenants and the landlord after a previous renter has left. They can then be repaired, probably at a fairly low cost before things were allowed to get worse. But without the change of tenants, it might be missed.
Less Rent
When a tenant has lived in the home for years, likely, they won't be paying the current market rate. Since most states only allow rent to be increased when the lease is renewed, you will have to wait to change the rent.
If the property is rent-controlled, you will only be able to raise the rent by a limited percentage each time. This could mean that the rent your tenant is paying will fall behind similar properties in the same area. Even if the home isn't rent-controlled, there could still be a limit on rent increases depending on the rules in your state.
Problem Tenants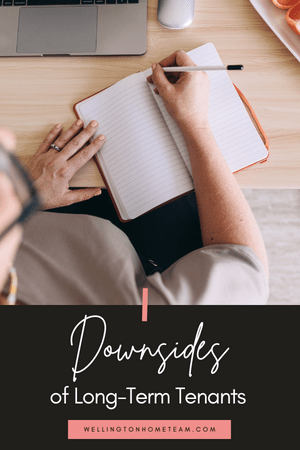 Tenants that have lived in the home for longer, can begin to become comfortable and start to not follow the rules. This can mean the terms of the lease agreement and the community rules are breached.
Long term tenants might decide to get a dog when pets aren't allowed or leave garbage cans in the street against community rules. This could cause you problems and extra damage to the home.
You could also be facing the problem of a tenant that isn't breaching any terms but is making a nuisance by constantly complaining and making demands. They can turn a minor problem into an urgent issue that they demand you to deal with immediately. This means long term tenants can start taking up more of your time than you would like, and you'll be counting the days until their lease ends.
Changing Circumstances
People's circumstances gradually change, and this will include your long-term tenants. They could have lost their job, got convicted of a crime, or changed their relationship status and had their new partner move in. These things can happen without the knowledge of the landlord, but they could mean problems.
Long-term tenants sound like a wonderful idea, but is it? Here are 4 shocking downsides to having long-term tenants. #realestate #landlordtips
What Can Landlords Do to Protect Themselves?
If you have long term tenants, there are things you can do to protect youself when lease renewal comes around.
Annual Property Inspections
When the year lease is up, you can add an annual home inspection requirement to check for deferred maintenance problems. This will give you the right to check the home annually, helping you find problems earlier than you might otherwise. This way if you have long term tenants in place you can ensure little problems are resolved and don't turn into major issues.
Service Contracts
Another way to avoid maintenance problems is to have service contracts for things like the HVAC system. The service contract will make sure the system stays in good working order, reduces the chances of it breaking down, and should catch any issues before they become serious. Long term tenants probably won't mind too much either, since they want the systems to be functioning correctly.
Recheck Their Credit Report
Though you won't want to complete the full screening again, rechecking their credit every year can alert you to potential problems. If their credit score has dropped significantly, or they have gained a lot of debt, they could begin having trouble paying rent.
Check the Market Value
Before you agree to renew the lease, check the market value for your investment property. If you have been raising the rent, but it is still a lot less than the amount similar homes are renting for, it might be a good idea to not renew. That is unless your long term tenants are ready to pay market value or close to it.
If you were charging $2,000 per month 10 years ago and increasing the monthly rent by $25 each year, is $2,250 currently the market value of the rental? If similar properties are being rented for $3,000 per month, you are losing out on $9,000 per year. While renting for less saves you the costs and hassle of finding a new tenant, taking a huge loss like this might make you reconsider.
If you do decide you want a new tenant, you don't have to renew the lease when it expires. Though when you do this, you need to ensure you are following the law and providing enough notice.
Final Thoughts
Some landlords are curious and would like to know "how to find long-term tenants" but the question is are long term tenants the best option? Unfortunately, just because a prospective tenant has a credit score of 800 and makes $300,000 a year doesn't mean they are going to be the perfect tenant. Sure they may pay rent on time each month but they could be trashing the house along the way, which is why landlords need to take preventive measures, like home inspections if they decide to keep a tenant in place.
Please consider spreading the word and sharing; Long Term Tenants and 4 Shocking Downsides to Having Them
Long-term tenants sound like a wonderful idea, but is it? Here are 4 shocking downsides to having long term tenants. #realestate #landlordtips
About the Author
Top Wellington Realtor, Michelle Gibson, wrote: "Long Term Tenants and 4 Shocking Downsides to Having Them"
Michelle has been specializing in residential real estate since 2001 throughout Wellington Florida and the surrounding area. Whether you're looking to buy, sell or rent she will guide you through the entire real estate transaction. If you're ready to put Michelle's knowledge and expertise to work for you call or e-mail her today.
Areas of service include Wellington, Lake Worth, Royal Palm Beach, Boynton Beach, West Palm Beach, Loxahatchee, Greenacres, and more.
Long Term Tenants and 4 Shocking Downsides to Having Them