Moving to Wellington Florida | 10 Important Facts to Know
Wellington Florida is a phenomenal place to call home so it's no surprise people from all over the world want to relocate here. After all, we have gorgeous weather, top-rated public schools, free events, programs for all ages, shopping, dining, and entertainment. We're also the equestrian capital of the world, close to the sandy beaches, Downtown City Place, and the Palm Beach International Airport. Not to mention only a few hours away from Fort Lauderdale, Miami, Orlando, and Key West.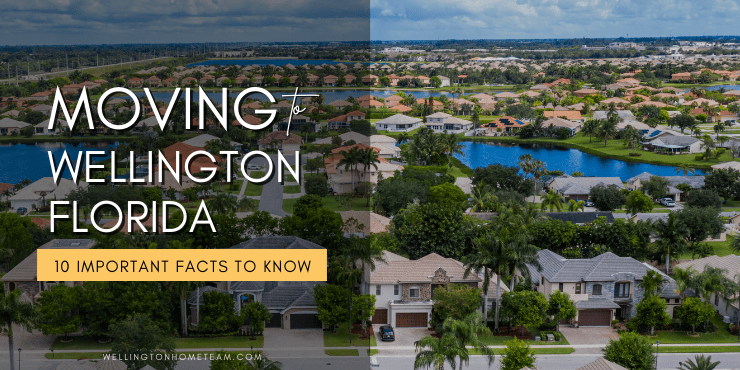 If you are moving to Wellington Florida from another county, state, or country there are a few things you'll want to know about our area.
Living Square Footage VS Total Square Footage
How a home's square footage is calculated can vary from state to state. Some areas have one square footage and others have two. In Wellington Florida, we have two different types of square footage: living square footage and total square footage.
The living square footage of a home will be anything that is air-conditioned or heated, basically the "indoor" living area. While the total square footage of a home will include everything under the roofline; the living square footage, garage, covered patios, and entryways.
A majority of websites will display both types of square footage. While others will only display one. Either way, it's important to verify how much square footage a home actually has. It's also important to verify what is being considered "living square footage." Some listings might include an air-conditioned garage or Florida room into the living square footage when it shouldn't be.
CBS Construction VS Wood Frame Construction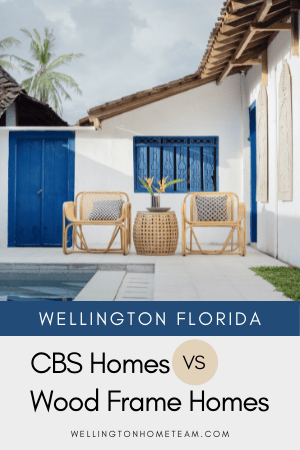 Homes in Wellington are typically CBS construction (concrete block stucco) or wood frame construction. While a majority of homes will probably be CBS there are quite a few neighborhoods within the Village of Wellington that have wood frame condos, townhomes, or single-family homes.
There are definitely more pros to owning a CBS home when it comes to construction, maintenance costs, and insurance premiums. However, there are some fabulous wood frame properties and if maintained properly there shouldn't be much to worry about.
One of the biggest myths is only wood frame homes can get termites, which is not true. I've encountered CBS homes that had termites in the attic trusses, around the door frames, and fascia. Plus, a lot of two-story CBS homes aren't CBS from top to bottom, the second floor could be wood frame.
Types of Roofs
There are several different types of roofs in the Village of Wellington, but the 4 most common are shingle, clay tile, concrete tile, and metal. Shingle roofs tend to have the shortest life expectancy while metal roofs can have the longest.
However, the longevity of a metal roof depends on the quality of the metal and how it's installed. One of the big misconceptions about metal roofs is they will last 40-50 years when in reality they might not last longer than a clay tile or concrete tile roof. So never assume a home with a metal roof will last forever because it might not.
Just like a metal roof, the life expectancy of a shingle roof depends on the quality of materials along with the elements throughout the year.  The average life expectancy of a shingle roof is 15-20 years, but it could last longer than 20 years or might need to be replaced at 13 years.
While clay or concrete tile on a roof may hold up forever the underlayment, which actually protects the roof, may only last 20 years and need to be replaced at that point. Can a clay or tile roof make it longer than 20-25 years? It's possible, but I would never count on it.
Roofs are by far one of the most expensive items to replace on a home, so it's important to have the roof thoroughly inspected when buying a home in Wellington. The home inspector or roofing contractor should be able to tell you the condition of the roof and whether or not it's at the end of its life.
If you are moving to Wellington Florida from another state or country, here are 10 important things to know about our area! #wellingtonfl #realestate
Hurricane Protection
Wellington is in a high-risk hurricane zone and it's important to have hurricane protection. However, not every home in Wellington has hurricane protection. It wasn't until Hurricane Andrew devastated South Florida in 1992 that building codes started to change and homeowners became a lot more serious about protecting their homes. So in today's world, a majority of Wellington homes will have some type of storm protection.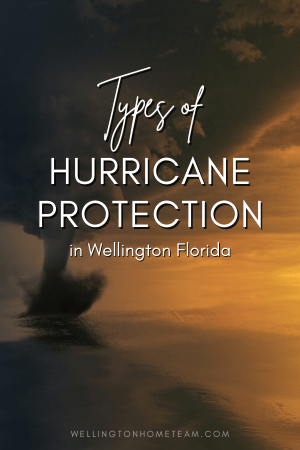 The three most common types of hurricane protection are hurricane panels, accordion shutters, and impact windows but there are also screens, roll down shutters, colonial shutters, and bahama shutters.
Hurricane panels are usually stored in the garage and get bolted over the window. They can be very time-consuming to install and if the home is two stories can also be difficult and impossible for someone to install on their own.
Accordion shutters are bolted to the sides of the window and stay there year-round. As their name suggests accordion shutters open like an accordion making them very easy to open and close. However, they do need to be maintained. Their tracks can get dirty, locks can break, they can get stuck, the list goes on and on. Accordion shutters tend to be the most convenient and most cost-effective but they're not very attractive. This is why some people only have them installed on the sides and back of their house, then put hurricane panels or impact windows on the front.
Impact windows eliminate the need for hurricane shutters altogether, but they are very costly and can still break, which means they'd need to be replaced if broken. The major difference with an impact window compared to a standard window is if it breaks shards of glass won't be flying around. Impact windows are built with multiple layers of protection and a special coating, so if the glass does break it will spiderweb instead. Now, if a buyer purchases a home with existing impact windows they'll enjoy the many benefits. They're more energy-efficient, block up to 99% of UV rays, reduce outside noise, not to mention they are sleek and clean looking.
Homeowners Insurance
Homeowners insurance in Wellington Florida will also vary. There are so many factors that determine how much an insurance policy will cost. Is the home CBS or wood-frame?  When was the house built? How old is the roof? Where exactly is the home located? Any storm protection; hurricane shutters, accordions, impact windows?
It's also important to understand your homeowners insurance policy and what it covers. Do you need flood insurance? What carrier is the policy being written through and will they be in business if a major hurricane hits? Will your insurance cover the total loss? What is the deductible?
This is why it's imperative to work with a top insurance broker who has access to every available carrier writing in the state of Florida. By doing so not only will you be getting the best rate but the best coverage too. When an insurance brokerage can only write through one or two carriers your options will be limited and your coverage might be as well.
Property Taxes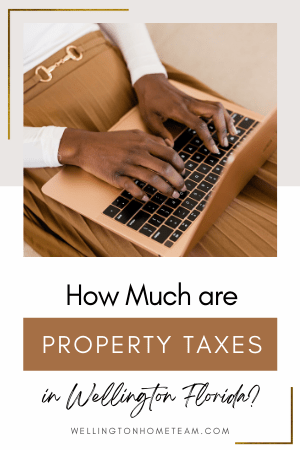 Every Wellington home listed in the MLS for sale will display how much the seller pays for property taxes. However, this is not what you, the new homeowner, will pay. When a property changes ownership Florida law requires the property appraiser remove the current exemptions and reassess the property at full market value.
If the property currently doesn't have any exemptions or the SOH (save our home) cap property taxes probably won't increase too much. However, if a property has exemptions and the SOH cap property taxes can easily double when reassessed. This is where it can get complicated and confusing for buyers.
So let's give a quick example:
The current owner pays $250 a month ($3,000 annually) for property taxes. They sell their home in June, the buyer will stay on their tax bill for the remainder of the year. If their lender is escrowing property taxes they will base the amount collected off the current tax bill, so in this case, they'll escrow $250 a month.
Then in September/ October of the following year, the property will be reassessed for that year and the new tax bill will come out. Let's say the new tax bill breaks down to $750 a month ($9,000 annually). Since the buyer has only been escrowing $250 a month the entire year they will have an escrow shortage of roughly $6,000-$7,000.
In addition to not having enough in escrow, the buyer's mortgage will now increase by at least $500 a month and that's only if they pay the escrow shortage in full. If they don't pay in full their new monthly payment will be even higher. This is where buyers can find themselves in financial trouble especially those who were on a tight budget to begin with.
This is why it's important to estimate and plan ahead for the new tax bill, but how can you do this? There is no way to determine what the exact amount will be but there are a few methods that can help.
One, the rule of thumb, property taxes are roughly 2% of the purchase price. However, I've seen taxes as high as 2.25% and as low as 1.6%. It really depends on what the property is reassessed at and the exemptions you applied and qualified for. The two most popular for permanent residences are the homestead exemption and SOH cap.
The second way is to visit the Palm Beach County Property Appraisers website at https://www.pbcgov.org/papa/
Enter the property address for the home of interest into the search bar and hit search to open up the property detail page.
Scroll down to the bottom of the page and click "Property Tax Collector."
Then enter the purchase price and it will provide the estimated property taxes.
There is an option to add exemptions as well.
In addition to calculating the estimated property taxes the Palm Beach County Property Appraisers website is a great resource to learn more about exemptions and the SOH cap. Having exemptions, like the homestead exemption, can easily save hundreds of dollars a year on your property taxes. And if you have the SOH cap your taxes cannot increase more than 3% a year. This is why property taxes vary so much from listing to listing, it's also why some taxes are a fraction of what they'll actually be when reassessed.
If you are moving to Wellington Florida from another state or country, here are 10 important things to know about our area! #wellingtonfl #realestate
Wellington Schools
Wellington has some of the best public schools throughout the entire state of Florida. It's one of the many reasons so many people relocate to Wellington. There are currently 11 public schools; 6 elementary schools, 3 middle schools, and 2 high schools. In addition, Wellington has several private schools and charter schools.
You can search homes for sale by school right here on my website. You can also visit the school district of Palm Beach County's website where you'll be able to view school boundaries by map if you want to be in a specific school zone. You can also search by address so you can see what schools a specific home/neighborhood is zoned for.
Homes for Sale
Wellington is the winter equestrian capital of the world. However, the equestrian horse farms and luxury estate homes make up a small fraction of residential real estate in Wellington. A majority of the properties you'll find are single-family homes, but we also have a few condo communities and townhome communities.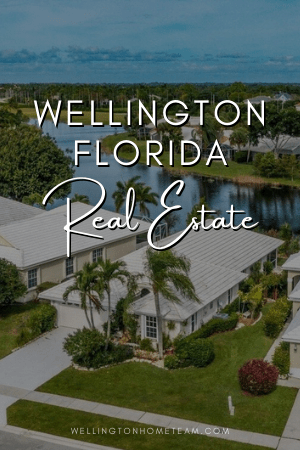 Unlike other parts of Palm Beach County where you can throw a rock and hit a 55+ community you won't find that in Wellington. We only have two 55+ communities. One is Mayfair, a beautiful condo community that offers first and second-floor condos that feature a one or two garage. The other is Buena Vida, a guard-gated single-family home community that offers incredible amenities and activities year-round.
You can learn more about the amazing communities Wellington has to offer at Wellington Florida communities. Here you'll be able to learn more about all of the wonderful condo communities, townhome communities, single-family home communities, luxury estate home communities, active adult 55+ communities, and equestrian estate communities.
Whether you're looking for a maintenance-free lifestyle, a home with land, a gated community, or a horse farm Wellington is sure to have something that fits all of your needs.
HOA Fees
Not all communities in Wellington have a homeowners association (HOA) or condo association (COA) but those that do can come with pros and cons, so it's important to know these three things. One, the monthly, quarterly, or annual fee. Two, what the fee includes. Some will include a community pool while others will include community amenities, cable, internet, pest control, and security. Third, rules and regulations vary greatly, so it's important to understand them because you'll have to abide by them. One community may only allow one pet under 20 pounds and restrict the breed while another may allow up to two or three pets with no breed restrictions.
Just like property taxes and homeowners insurance these fees matter because they can make an affordable property unaffordable quickly. So if you're looking to buy a home that has an HOA it's important to know if the HOA dues are $75 a month or $600 a month. You'll also want to find out if there is a capital contribution due at closing and if there are any special assessments that you will be responsible for in the future.
Who Pays for Water?
Water is not included in property taxes or community HOA fees. However, some condo communities do include water in the COA fees.
Resources for Moving to Wellington Florida
Please consider spreading the word and sharing; Moving to Wellington Florida | 10 Important Facts to Know
If you are moving to Wellington Florida from another state or country, here are 10 important things to know about our area! #wellingtonfl #realestate
About the Author
Top Wellington Realtor, Michelle Gibson, wrote: "Moving to Wellington Florida | 10 Important Facts to Know"
Michelle has been specializing in residential real estate since 2001 throughout Wellington Florida and the surrounding area. Whether you're looking to buy, sell, or rent she will guide you through the entire real estate transaction. If you're ready to put Michelle's knowledge and expertise to work for you call or e-mail her today.
Areas of service include Wellington, Lake Worth, Royal Palm Beach, Boynton Beach, West Palm Beach, Loxahatchee, Greenacres, and more.
Moving to Wellington Florida | 10 Important Facts to Know