Top 5 Tips for Negotiating Repairs After the Home Inspection
You may think you've found your perfect home, with everything you are looking for and in the right area. You decide on a great offer with the help of your real estate agent, and the seller accepts.
But that isn't the end, your home inspector could find problems that force you back to negotiations. Though whether you are the buyer or the seller, there aren't many homes that are likely to get a completely clean bill of health, so you should expect some issues to be found. However, how you deal with negotiating repairs will make a big difference to if and how the transaction continues.
The Home Inspection Contingency
When an offer is made to buy a home, there will normally be some contingencies. Two of the most common real estate contingencies are a mortgage contingency and an inspection contingency.
The standard "as-is" home inspection contingency will give the buyer a certain period of time to inspect the property. If within this period they decide to cancel the contract, which they can do so for any reason, they will get their earnest money deposit.
Remember, time is of the essence in real estate, so it's wise to get inspections done immediately and not wait around until the last minute. It's important to not only have time to complete any necessary inspections, but allow time to review the report, hire additional inspectors/contracts, and negotiate repairs, if need be. So once again the home inspection should be done immediately.
Negotiating repairs after the home inspection will make or break a deal and here are 5 tips for successfully negotiating repairs when buying a home. #hominspection #homebuying #realestate
Deciding What You Want Repaired
As a buyer, you need to carefully consider the items in the home inspection report that are important enough to require negotiations. There could be things in the report that you shouldn't consider a negotiation issue.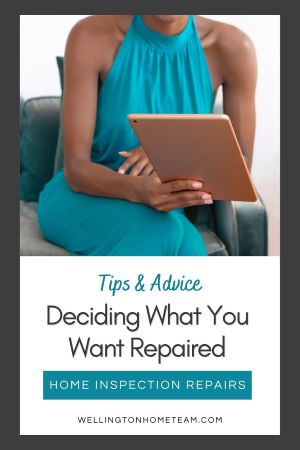 Even if you are buying a brand new home there are likely to be minor issues, perfection is almost impossible to achieve in real estate, so set your expectations accordingly. Pushing to have absolutely everything fixed in negotiations, may look petty or like you don't really want to buy the home.
You should remember that you are perhaps dealing with a family home, and should avoid pushing too hard to try to get everything possible out of them. It can look like you don't want to be reasonable, and this can lead to a more difficult home purchase from an unhappy seller.
If you notice any issues when being shown the home, these should be addressed as part of the offer and not negotiated later. The home inspection shouldn't be used as a chance to change any terms you have already agreed to. Problems identified during the home inspection could be the responsibility of the buyer, the seller, or more likely a combination of the two.
Make a List of Repairs
From the home inspection report, narrow down the items that absolutely must get repaired. Buyers should only be negotiating repairs that are significant to the home, and not minor problems that can easily be fixed.
Divide up the defects found into three categories. Anything major and expensive to fix should be at the top of the list of items to negotiate with the seller. Problems that are less expensive to fix but not trivial, should be another category. And minor problems which are cheap and easy fixes, make up the last category. A category that should probably stay off the repair request list.
Repairs that need to make it to the most important category include:
Mold
If there is any indication of mold it could be a sign of other issues. The inspection should have found the cause, and this will need to be addressed. As well as smelling bad, mold can cause health issues too and needs to be dealt with.
Plumbing
Any issues discovered with the plumbing could lead to a lot more damage if they go unchecked. Leaks always need to be addressed because little leaks can turn into big problems, which will cause other issues.
Faulty Wiring 
Problems with the wiring of the home are a potential safety concern and should be repaired before you move in.
Leaky Roof
A leaky roof can easily blow up a transaction and is something that needs to be addressed whether it's with the current buyer or not.
It's unlikely any buyer will move forward with a home that has a leaky roof. The only time this may happen is if there is a severe seller's market and buyers are doing whatever it takes to get a house.
And if a home inspector thinks there is a leak or there is little to no life left in the roof it's wise to have a roofing contractor out for a second opinion.
HVAC
The heating and cooling systems of the home can be very costly to repair. If they are not functioning as they should, this is important. Dirty coils are one of the most common issues that come up on an inspection report, but that is minimal compared to major electrical issues. So you'll want to address any HVAC issues otherwise you could have an HVAC emergency down the road.
Pests
Any reports of pests like termites, need to be added to the most important list to be negotiated. If this is left, it will lead to very expensive costs down the line. Plus, some financing programs will require a "clear termite" report in order for the buyer to be approved for a loan.
Drainage 
If water runs towards the home without adequate drainage, you could be in for repair issues in the future if they aren't fixed.
Less important repairs that you don't need to negotiate:
Wear and Tear
You can't expect the home to be completely perfect if someone has been living in it. Any minor problems that have occurred due to the home being used, should be ignored when it comes to negotiating repairs.
Minor and Easy Repairs
Something that can be repaired for just a few dollars, or anything that will only take you a few minutes to address, shouldn't be a sticking point in the sale of the home.
Decorative
If the home could do with a fresh coat of paint or the fixtures are an out of date style, these shouldn't be negotiated.
Water Damage 
While signs of water damage could be a major problem, if it has already been repaired, and the damage is minor, you shouldn't worry about it. The home inspector should have checked to see if the leak is still a potential problem. Now, if the water damage is current then it needs to be added to the top of the repair list.
Negotiating repairs after the home inspection will make or break a deal and here are 5 tips for successfully negotiating repairs when buying a home. #hominspection #homebuying #realestate
Dividing the list up should help avoid focusing too much on less important issues, that could prevent the sale from moving forwards. Buyers should always consider how much they want the home, and avoid pushing in negotiations too much if they really want it. Your Realtor will deal with negotiating repairs on your behalf. And if you are unsure as a buyer, they will advise you on the things you should be determined to have the seller fix before you continue with the home purchase.
Getting Repair Costs
The home inspector won't always provide a cost for repairs and if they do it'll be a rather large price range. While a real estate agent may be able to offer some figures as well a contractor should give the best estimate of the costs involved. An experienced Realtor should be able to put the buyer in touch with some contractors they have worked with before and are reliable.
Once the buyer has all this information, the list of repairs needs to be given to the seller. The home inspection contingency agreed to when making the offer on the home, will only give the buyer a limited time to get the home inspection done and the repair list decided on.
The buyer should ensure the seller gets a copy of the summary of defects from the inspection report. This will confirm to them what needs attention, things they often won't have known were wrong with the home.
Repairs or Money?
What the seller is willing to have repaired and what they don't think is acceptable will be negotiated. When an agreement has been reached the seller can arrange for the repairs to be made.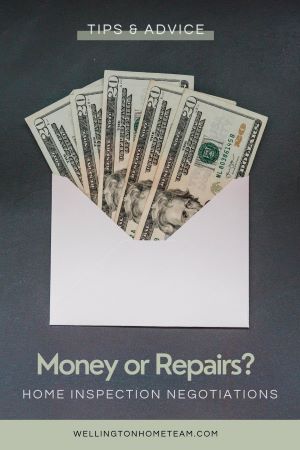 The buyer's real estate agent can add a requirement for the repairs to be carried out by professionals, properly licensed and insured. This will make sure corners aren't cut that will lead to problems and expense for the buyer in the future.
If the seller doesn't want to make the repairs, they might offer credit instead. This will mean a value needs to be put on the repairs agree to. The seller will want this to be negotiated as low as possible, and the buyer will just want the work to be carried out by professionals.
A cash credit will make sure the sale doesn't get slowed down while waiting for repairs to be completed. The credit can go towards reducing the sale price or covering the closing costs. This then allows the buyer to complete the repairs in their own time. Sometimes a credit is the best option for a buyer. By receiving a credit they can hire who they prefer because odds are the seller will most likely hire the most inexpensive person to get the job done.
Market Conditions
The situation in the local market affects how buyers and sellers approach negotiating repairs.
In a market with many more buyers than homes, the seller can afford to stand firm on not carrying out repairs. They know there will be another buyer along soon if the current one decides to walk. Buyers may need to not ask for any repairs in such a situation.
When it is the other way around, a seller may have no choice but to fix all the repairs required by the buyer or give them a credit.
Finding Agreement When Negotiating Repairs
If all the discussions between the two parties reach a successful conclusion, the home purchase can continue towards closing. If something can't be agreed upon, and the buyer isn't happy with the situation, they have the option of walking away.
The seller has four options when they are given a list of repairs. They can agree to arrange to have all of the repairs done, just some of the repairs, or none of them. The other option is to give the buyer a credit instead of having the repair work carried out.
Final Thoughts
Home inspections can blow up a transaction just as quickly as a home appraisal coming in below the contracted price. However, when all parties work together they will be able to keep the transaction together and close. In order to do so, it's important for buyers, sellers, and agents alike to keep negotiating repairs "all business" and remove their emotions.
A buyer or seller making threats gets nobody nowhere fast. When reasonable repair requests are made most sellers will be reasonable in addressing them especially if they were unaware of the problem. However, when a buyer asks for every single repair on the inspection report it can set the stage for an emotional negotiation. This is why it's important to be reasonable in your approach with negotiating repairs by doing so both parties should ultimately get the result they want with less stress.
Please consider spreading the word and sharing; Top 5 Tips for Negotiating Repairs After the Home Inspection
Negotiating repairs after the home inspection will make or break a deal and here are 5 tips for successfully negotiating repairs when buying a home. #hominspection #homebuying #realestate
About the Author
Top Wellington Realtor, Michelle Gibson, wrote: "Top 5 Tips for Negotiating Repairs After the Home Inspection"
Michelle has been specializing in residential real estate since 2001 throughout Wellington Florida and the surrounding area. Whether you're looking to buy, sell, or rent she will guide you through the entire real estate transaction. If you're ready to put Michelle's knowledge and expertise to work for you call or e-mail her today.
Areas of service include Wellington, Lake Worth, Royal Palm Beach, Boynton Beach, West Palm Beach, Loxahatchee, Greenacres, and more.
Top 5 Tips for Negotiating Repairs After the Home Inspection