How To Remove the Smell of Cigarette Smoke | 10 Simple Ways
The result of cigarette smoke in a home can put off potential buyers or renters. Even for smokers, this can be off-putting and can make selling a home more difficult. Both buyers and renters alike prefer smoke-free homes, so if your property has had a smoker living in it, you need to make sure you deal with it.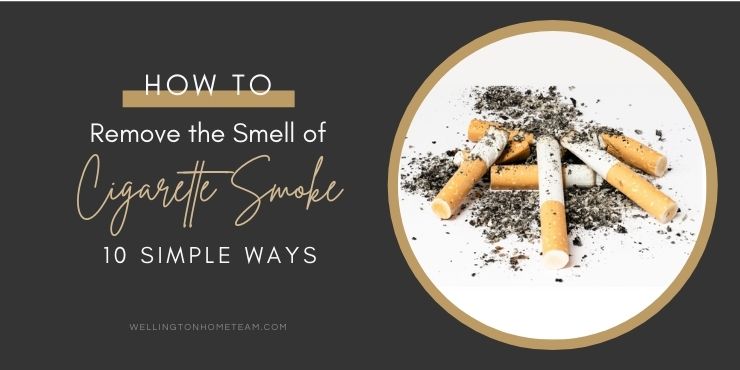 There can also be stains on the walls and ceilings along with the odor in carpets and furnishings. Smoke can linger in a property, but there are, fortunately, many things you can do to remove the smell of cigarette smoke from a property.
10 Ways to Remove Cigarette Smoke
1. Clearing Out
Get rid of any items that are directly related to smoking. Remove ashtrays or cigarette butts that have been left on the property. This is the first step to getting rid of the smell of cigarettes.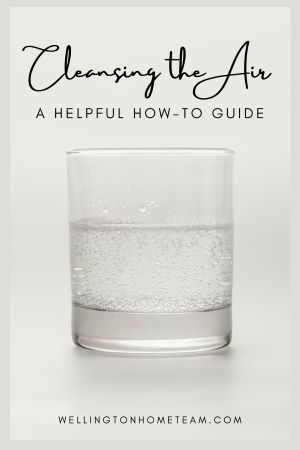 2. Let in Fresh Air
Ventilation can get rid of a large part of the odor in a home, it can even remove the smell of cigarette smoke. Open up all of the windows in the property and leave them open as long as you can. If you have ceiling or portable fans, use them to help the airflow.
Absorbing the Smoke
Vinegar, kitty litter, or baking soda can also deal with odors. Place small bowls of these items around the home to absorb the smell. Powdered activated charcoal is another option that can deal with unwanted odors in the property.
3. Ozone Generators and Air Purifiers
If you have a persistent smell of smoke in the home, an air purifier or even an ozone generator can fix it. Try using an air purifier with a HEPA filter, or if that doesn't solve the problem, an ozone generator will. Ozone generators can get rid of smoke molecules thanks to oxidization. If you have a problem getting rid of persistent smoke smells, this may be a good option to remove the smell of cigarette smoke.
Are you trying to remove the smell of cigarette smoke from your home? If so here is a how-to guide with 10 simple ways to get the odor out. #cigarettesmoke #howto
4. Cleaning
You can use white vinegar mixed with hot water equally, to wipe down hard surfaces. You can use it on doors, counters, fixtures, and more to really make sure the smell is gone.
For ceilings and walls, you might need stronger cleaning methods. You can use white vinegar, baking soda, and warm water to remove nicotine stains. Use 1 cup of vinegar, half a cup of baking soda, and 2 cups of water, using a sponge to apply.
For worse stains, ammonia can do the job. Mix half a cup of ammonia with half a cup of baking soda and a quarter of a cup of white vinegar added to a gallon of hot water. Use this to remove stubborn nicotine stains from the walls and ceiling.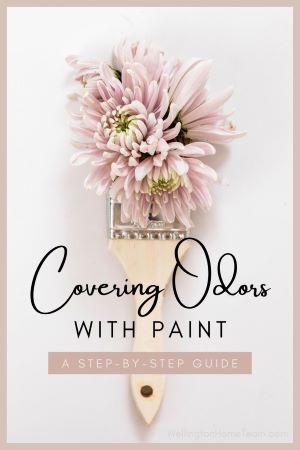 5. Repainting
Paint is usually a must to remove the smell of cigarette smoke. So after you have cleaned, you need to repair the paint to finish the job. Depending on how bad the staining is, you can use a primer that is designed to block odors before you apply the finishing coat. This will help prevent the odor molecules from coming through the new paint. Since paint is porous, your best option is always going to be repainting the walls and ceiling.
Once you have applied the final coat of paint, you should notice a significant improvement to the room in smell and color.
6. Cleaning the Carpets
The carpets of a home will absorb a lot of cigarette smoke and odor. But even if you don't want to replace the carpet, there are things you can do.
Sprinkle baking soda on the carpet, leaving it overnight before you vacuum it up, to get rid of more of the odor. Spraying a combination of white vinegar mixed with twice the amount of water onto the carpet afterward can help deal with persistent odor problems.
If the carpet still emits an odor after this, you may need to consider a replacement. Using professional cleaners can still be an option, however.
Are you trying to remove the smell of cigarette smoke from your home? If so here is a how-to guide with 10 simple ways to get the odor out. #cigarettesmoke #howto
7. Window Treatments
Curtains and blinds are naturally going to absorb a lot of the smoke. If you aren't going to replace these, you will need to clean them.
You can use an all-purpose cleaner, plus a cup of vinegar, mixed in with water to soak blinds. You only need to let them soak for a quarter of an hour before you give them a good scrub and let them dry.
Drapes and curtains might be able to be washed on a hot setting, but if not, they can be taken to the dry cleaners or replaced.
8. Lights and Filters
Both filters and lights can help the odor continue to linger in the property. If a light bulb is covered in nicotine, it will continue to spread the smell throughout the home when it is turned on. Air and heating filters will do the same thing, so replace them.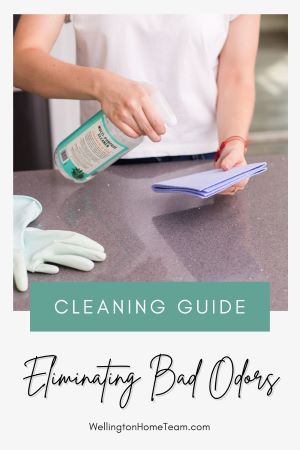 9. Upholstery and Cabinets
Whether you are renting out the property or looking for a buyer, you should try to remove the smell of cigarette smoke from the upholstery and cabinets. If there has been a heavy smoker in the home, that smell will find its way into the cabinets as well as the upholstery.
Covering the upholstery with baking soda, allowing it to sit overnight before you vacuum will remove much of the problem. White vinegar can also be used on upholstery as well as cabinets. Use a lint-free cloth to wipe away the build-up of smoke and nicotine.
10. Hardwood Floors
You need to approach cleaning hardwood floors similar to cleaning the walls. Using a mop with an appropriate cleaning fluid and warm water should gradually remove the nicotine. You might need to do this two or three times to completely remove the problem. You should change the water as necessary and do a final rinse on the floor.
Don't forget about the baseboards and door frames either. These can be very noticeable parts of the room, so you might need to hand scrub them. Use a cleanser and a damp sponge to bring the original color back.
Final Thoughts
If you have to deal with a cigarette smoke-filled home, there are solutions to deal with the problem. Cleaning all the areas that will have absorbed the smoke or have nicotine on them can really make a big difference. After that, replacing furnishings, cleaning filters, and using an air purifier or ozone generator can make a real difference.
If you take the time to remove the smell of cigarette smoke from the home, it will be easier to sell or rent out to tenants and can earn you more.
Please consider spreading the word and sharing; How To Remove the Smell of Cigarette Smoke | 10 Simple Ways
Are you trying to remove the smell of cigarette smoke from your home? If so here is a how-to guide with 10 simple ways to get the odor out. #cigarettesmoke #howto
Popular Questions About Removing Cigarette Smoke Smell
What absorbs cigarette smoke smell? Activated charcoal is highly effective at absorbing cigarette smoke smell. It works by trapping and filtering out the odor-causing molecules present in the air. Activated charcoal has a large surface area and porous structure, allowing it to adsorb a wide range of volatile compounds, including the pungent components of cigarette smoke. Placing activated charcoal in a bowl or container near the source of the smoke or in areas where the smell lingers can help significantly reduce and eliminate the tobacco odor.
How long does it take to get cigarette smell out of house? The time it takes to completely remove the smell of cigarette smoke from a house can vary depending on factors such as the extent of smoke exposure, ventilation, and the measures taken for remediation. In general, it can take anywhere from a few days to several weeks to eliminate the lingering odor.
How much does professional cigarette smoke removal cost? The cost of professional cigarette smoke removal for a house can vary depending on several factors, such as the size of the house, the extent of smoke damage, and the location. On average, professional smoke remediation services can range from a few hundred dollars to several thousand dollars.
About the Author
Top Wellington Realtor, Michelle Gibson, wrote: "How To Remove the Smell of Cigarette Smoke | 10 Simple Ways"
Michelle has been specializing in residential real estate since 2001 throughout Wellington Florida and the surrounding area. Whether you're looking to buy, sell, or rent she will guide you through the entire real estate transaction. If you're ready to put Michelle's knowledge and expertise to work for you call or e-mail her today.
Areas of service include Wellington, Lake Worth, Royal Palm Beach, Boynton Beach, West Palm Beach, Loxahatchee, Greenacres, and more.
How To Remove the Smell of Cigarette Smoke | 10 Simple Ways