Off-Campus Housing Choices for College Students
Paying for college is not easy, especially when one has to tally in housing expenses. The food in most college dorms is not that great, and there are health considerations specific to college dormitory environments. Why not check out off-campus alternatives to student housing?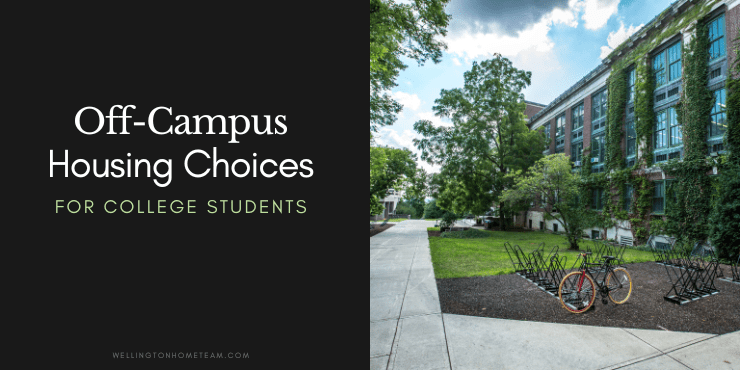 Dorm Room Life VS Off-Campus Housing
An off-campus apartment is more of a hassle than student housing, so it's important to make sure the benefits of living off-campus outweigh the hassles. Before you make the leap and ditch the dorm, here are some sensible questions you should ask yourself.
Money
This question varies at every college. In some places, apartments are much cheaper than dormitories, and vice versa. But when you figure in the cost of an apartment, there are more expenses to consider besides just rent and education-related spending on an essay writer cheap stuff or others, including:
Utilities, including necessities like gas and "luxuries" like DSL and digital cable.

Groceries.

The security deposit.

Basic furnishings and household goods.

The added expense of a year-long lease versus a nine-month dorm contract.

Possible extra gas or bus money to commute to campus.

Possible parking expenses.
Quality of Housing
This also varies by school. In some places, dorms are much nicer than off-campus housing, and vice versa. Questions to ask:
How much do I have to spend to get a decent apartment?

Will my apartment be in a safe neighborhood, and is the building secure?

Will I be able to afford my room?

How many roommates and apartment mates will I need to afford it?

Will the apartment be close to campus and other places I need to be?
Responsibility
An apartment is more responsible than a dorm room. This can be a disadvantage, but also an opportunity to learn to be independent. Ask yourself if you feel ready to take on these responsibilities:
Paying rent and utility bills. (Failure to do so can mess up your credit!)

Preparing your own quick and easy meals and dealing with your first kitchen.

Cleaning a whole apartment, as opposed to one room.

Shopping for groceries and other apartment needs.

Mediating disputes with roommates and neighbors without an RA.

Living within a budget.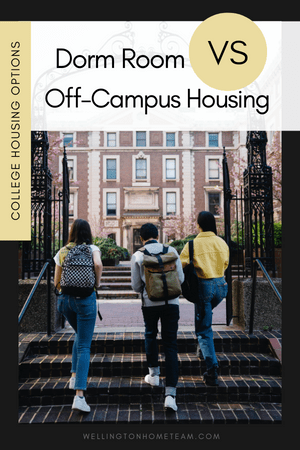 New Roommate Issues
Sharing a dorm room is difficult, but sharing an apartment brings up a whole host of new potential conflicts. Before moving into an apartment, ask yourself if you are ready to negotiate the following issues with a roommate.
Paying the shared rent and utility bills on time.

Sharing cleaning responsibilities.

Sharing responsibility for purchasing items for the apartment.

Deciding what items are shared and what aren't (including food).

Negotiating quiet time and space for studying.

Dealing with frequent visitors.
Transportation Issues
This depends on your situation. Some questions you might need to ask:
Will I have to buy a car, or depend a lot more on the car I own?

Will I have to deal with the hassle and expense of parking on campus?

Will I be paying more or less for car insurance?

Will I have access to reliable public transportation to campus and elsewhere?

Will I be within walking or biking distance to campus, and is it safe to walk or bike at night?
Options for Living Off-Campus
A student who is fortunate enough to find steady full-time work may be able to afford an apartment while attending school. Many apartment complexes offer student rates and flexible lease terms with campus I.D. For most students, however, renting an apartment – even an efficiency unit – does not fit into the student housing expense budget.
Choices for off-campus accommodations:
Share a rented apartment with a roommate. The freedom is nice, but there are other considerations: It's not easy finding someone compatible to live with and there is the worry of splitting rent, bills, housework, and expenses.

Live with a relative or friend who resides close by and share expenses.

Check campus bulletin boards for teacher and staff possibilities. Some professors take in student boarders in exchange for taking over school-related tasks, such as grading papers, running errands, and so forth.

Check for rooms offered within the community. Scan local newspapers, church bulletins, and college campus bulletin boards for people offering spare rooms to students in exchange for work. Be careful when applying for a room from a stranger; get all the information possible before agreeing. This choice comes with a bonus: Do a good job and the host may provide a good work reference for the future.
Exploring Room and Board Options
One of the best options for a college student could be room and board in exchange for work. This option will eliminate having to work about all of the expenses that come with renting an apartment. However, this option will involve work in exchange for housing. Here are some additional considerations with room and board.
Jobs College Students Can Do in Exchange for Room and Board
Be very specific about asking questions and agree beforehand on guidelines concerning the work that goes with the room offer. For example, if one is hired to watch a child after school, then don't get hooked into having to watch a few of the neighbor's kids every day, too.
A student wanting to live off-campus might consider one of the following work suggestions in exchange for room and board:
Mother's Helper

Handyman/woman

Groundskeeper

Chauffeur

Babysitter

Nanny

Sitter for an Elderly Person

Companion for a Person Disabled

Housekeeper

Tutor for School Children

Home Business Assistant
Benefits and Disadvantages of Students Working for Room and Board
There are pros and cons to living off-campus and having to work for room and board. Working students have to juggle work with studying, and some people just cannot do both. Additional considerations particular to working college students:
Do a good job for the "employer" and the student may get a good work reference for future employment.

A student can gain valuable experience. A young college man or woman studying to work in the field of special education might take a job looking after a child with a mental disability. The student gains experience working closely with a special-needs child in a home setting.

Once committed, the student should stick with the job for at least the semester. However, if the student is not deemed suitable for the job, then the employer has the right to make immediate changes. This could put a student in a situation with no job and no place to live.

A job may be only temporary – may last for a semester or two – and is then terminated. The student will have to do another job/housing search.

Caution should be taken when searching for off-campus housing in private homes. It's a good idea to take a friend along to check out the situation and ask additional questions. Getting a background check on the homeowner is not a bad idea, either.
Students are not obligated to live in campus dormitories if other suitable arrangements are made. In some cases, colleges require parental consent before a minor student can be allowed to live off-campus.
There are options for students who want to learn how to find off-campus housing. Apartment living for some college students may be too expensive, and sharing expenses with roommates is not always the best answer. Some college staff members may offer housing accommodations to students.
Students who opt to work in someone's home in exchange for room and board have the opportunity to learn additional skills; however, caution should be taken when searching for a host employer. Working in exchange for room and board is not without certain disadvantages, so the student is advised to get as much information as possible regarding the offer. With any luck, the student will find suitable living arrangements, gain work skills, and establish a good employer/employee relationship.
Please consider spreading the word and sharing; Off-Campus Housing Choices for College Students

About the Author
Top Wellington Realtor, Michelle Gibson, wrote: "Off-Campus Housing Choices for College Students"
Michelle has been specializing in residential real estate since 2001 throughout Wellington Florida and the surrounding area. Whether you're looking to buy, sell or rent she will guide you through the entire real estate transaction. If you're ready to put Michelle's knowledge and expertise to work for you call or e-mail her today.
Areas of service include Wellington, Lake Worth, Royal Palm Beach, Boynton Beach, West Palm Beach, Loxahatchee, Greenacres, and more.
Off-Campus Housing Choices for College Students