Top 5 Things a Rooflight Can Do for Your House
In the vast majority of developed countries, most people spend about 60% of their time indoors. The exact numbers can vary depending on your age, profession, and the particular lifestyle you lead. Still, spending much time inside your home doesn't mean you should compromise on enjoying natural light.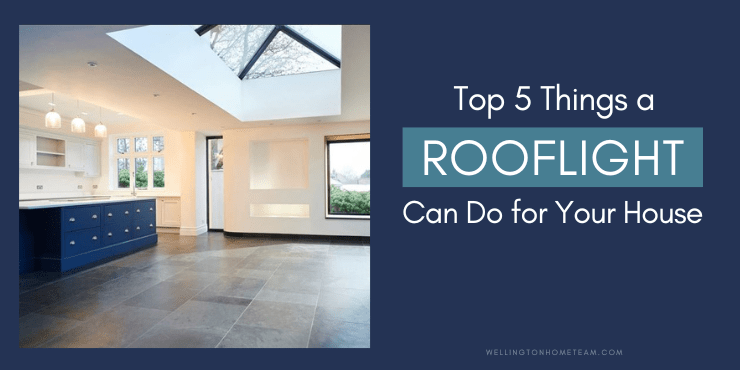 Getting the most out of each sunny day may seem quite challenging, especially if you live in a place where the weather is often gloomy and rainy. However, you can still let more daylight in by installing a rooflight.
Thanks to flat rooflights, your house will get double the usual amount of daylight. It is an excellent way to lighten up dark hallways, poor-lit staircases, or cold attic rooms. Additionally, your energy consumption will decrease, and the air quality inside your home will increase dramatically.
Sounds interesting? Here's an in-depth look into the benefits of installing rooflights in your house.
5 Benefits of a Rooflight
1. Improved Aesthetics
Rooflights are an excellent way to make your house look modern and stylish. Installation of these windows is a surefire way to update the style of your property and make it look much more contemporary. They can also add a lot of value to your house, should you ever decide to sell it.
Regardless of the windows' shape and design, you will enjoy a spectacular view of the sky above. Even if you live in an urban area, you will get a feeling of openness and freedom each time you look up.
Besides, if you decide to install a rooflight, every guest that comes to visit will be left in awe. You may even inspire them to get one on their own.
2. More Natural Light
Rooflights are designed to let as much daylight as possible throughout the day. If you opt for a flat rooflight, you will be able to enjoy natural light not only during the morning but also much longer into the evening than usual. It means your house will stay bright and cozy all day long, even if it's raining outside.
The truth is that most homes aren't designed to maximize natural light. So, if you want to brighten up your family nest and avoid spending thousands on electricity bills, a rooflight is probably your best option.
The initial cost of the window and the installation may be quite significant, but it will pay back soon.
3. Better Indoor Air Quality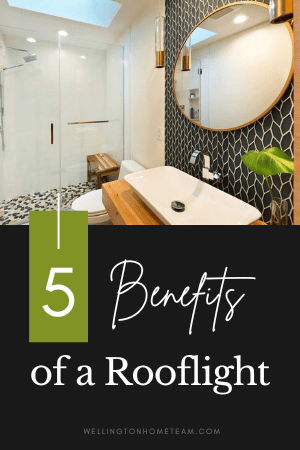 A rooflight can significantly improve the air quality inside your home. This is because rooflights are incredibly efficient when it comes to letting more air inside and helping it circulate throughout the house.
Opening your rooflight will allow you to let out the hot and musty air that will instantly get replaced with a fresh, cool breeze. On top of that, you will be able to reduce the presence of mold and bacteria, making your home much healthier and safer for your family.
Ideally, it would be best to open your windows multiple times a day, but this may be hard to manage during the winter months. In such a case, you should open a rooflight at least in the morning to get rid of the condensation and freshen your rooms.
4. Increased Sense of Well-Being
By providing you with more natural light and improved air quality, a rooflight can enhance your sense of well-being. Increased exposure to sunlight has been linked to higher levels of serotonin, which plays a vital role in regulating mood, sleep, and appetite. Conversely, fresh air can help reduce stress levels and promote better sleep.
If you have no choice but to spend a lot of time indoors, a rooflight can help you stay in a better mood and lift your spirits even on the gloomiest and rainiest days.
When you stay the whole day indoors, you may also experience headaches or feel more fatigued. In such a case, opening your rooflight every few hours or leaving it open for a whole day should help reduce these issues.
5. The Appearance of Bigger Space
Last but not least, rooflights can be a great way to make your house look bigger and more spacious. The natural light will make the room appear larger, and the illusion of extra space will surely make you feel better.
It's no secret that most people feel more comfortable and at ease in bright, airy rooms. If you install a rooflight, your house will look more spacious and inviting while giving you the feeling of being more connected with the outdoors.
Final Thoughts
As you can see, rooflights are an excellent way to bring more natural light into your home. These windows can help create a cozy atmosphere and make your house look more attractive. Plus, they can make virtually any room seem bigger than it actually is.
Rooflights are also an excellent solution to improve the air quality inside your home. With their help, you can ensure your house is free of pollen, dust mites, and other allergens.
So, get out there and see what types of rooflights are available! If you do your due diligence and research, you should have no issue finding a suitable rooflight in no time.
Please consider spreading the word and sharing; Top 5 Things a Rooflight Can Do for Your House
Do you need more natural light in your house? If so installing a rooflight may be the best solution and these are the 5 benefits they come with. #rooflight #homeimprovement
About the Author
Top Wellington Realtor, Michelle Gibson, wrote: "Top 5 Things a Rooflight Can Do for Your House"
Michelle has been specializing in residential real estate since 2001 throughout Wellington Florida and the surrounding area. Whether you're looking to buy, sell or rent she will guide you through the entire real estate transaction. If you're ready to put Michelle's knowledge and expertise to work for you call or e-mail her today.
Areas of service include Wellington, Lake Worth, Royal Palm Beach, Boynton Beach, West Palm Beach, Loxahatchee, Greenacres, and more.
Top 5 Things a Rooflight Can Do for Your House