Paint Disposal | Wellington Florida Drop Off Locations
Are you looking for a Wellington Florida drop off location to dispose of your old paint? If so head over to the Solid Waste Authority's West Central Transfer Station in Royal Palm Beach Florida, located on the north side of Process Road just east of 441 (SR-7).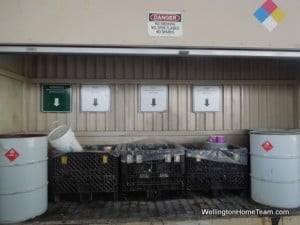 Not only can you drop off paint at the SWA you can also drop off other household hazardous items such as; acids, pool chemicals, pesticides, cleaners, batteries, light bulbs, and more. Once certain chemicals are no longer needed or usable they are referred to as Household Hazardous Waste (HHW) and it is extremely important for residents to dispose of all HHW properly otherwise they can become a threat to the general public.
If you have latex paint (water-based) it does not have to be disposed of at SWA, all you have to do is dry out any unused latex paint by removing the lid and adding sand, cat litter, or sawdust, once the latex paint is dried simply dispose of it in your regular garbage.
You can drop off your paint and other household hazardous items Monday through Friday from 7:00 am to 5:00 pm and on the 4th Saturday of each month from 7:00 am to 3:00 pm. If you have any questions about disposing of hazardous household items you can contact the Solid Waste Authority's Household Hazardous Waste Department @ 561-697-1100.
Solid Waste Authority West Central Transfer Station
9743 Process Drive
Royal Palm Beach, Florida 33411
(Located next to Wal-Mart on the east side)
Paint Disposal | Wellington Florida Drop Off Locations