Plumbing Issues: 5 You Can DIY & 5 Requiring Expert Help
We all have plumbing issues in our homes from time to time. The good news is there are a number of plumbing problems that you can fix yourself without requiring any expert knowledge. However, you should also be aware that multiple plumbing issues do require professional attention. So, make sure you know which problems you can tackle yourself and when it is time to call in the experts.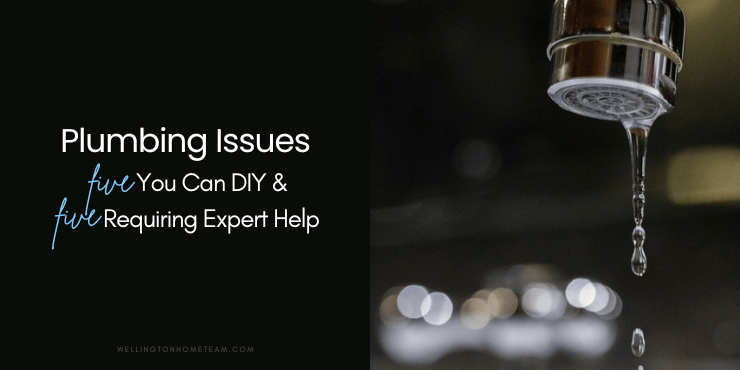 Five Common Plumbing Issues You Can Do Yourself
Let us begin by looking at some of the common issues you can do yourself. For all of these, if you do not know the exact steps to take, you can quickly find answers by watching online tutorial videos.
1. Leaky Faucets
The relentless dripping sound of a leaky faucet can be more than just an annoyance. It wastes water and money, too. Luckily, you can often fix this problem yourself. First, identify the type of faucet, such as compression, cartridge, or ceramic disk. Then purchase the right parts for the job. Remember to shut off the water supply before you start working.
2. Running Toilet
A running toilet usually means that some of its inner workings need to be replaced. Thankfully, these parts are readily available and inexpensive. Keep in mind that there are different types of filling mechanisms, so ensure you choose the correct one when shopping.
3. Low Water Pressure
Low water pressure is often due to a buildup in your faucet aerator, which is a small device that controls the flow of water out of your faucet's spout. To address this issue, unscrew and clean out the aerator with vinegar or a mild detergent. If it is an old one and still does not work properly after cleaning, a replacement could solve your problem.
4. Drain Clogs
Slow-draining sinks and showers could indicate a clog in your pipes caused by hair or soap buildup. For minor blockages, you can use a sink or drain snake or invest in a plunger. This is one of the simplest common plumbing issues you can tackle yourself. However, if you find you cannot unblock the pipes yourself, it is time to call in the experts.
5. Leaking Pipe Joints
Over time, pipe joints may start leaking due to wear and tear or faulty installation. If it is a minor leak, you can use joint fillers or fitting compounds. More severe leaks might require the replacement of the pipes.
Discover common plumbing issues you can tackle yourself and those that demand professional intervention. Fixing plumbing problems made easy. #plumbingissues #diyplumbing
Five Times to Call in the Experts
While the above common issues can be tackled with some basic knowledge, remember to always call a professional if you are uncomfortable doing it yourself or if the problem persists. Do-it-yourself plumbing can save money and increase your home's efficiency when done correctly, but there is always a risk involved when working with water supply lines, so proceed with caution.
For other issues, it is best to hire professional plumbers. So, here are five times to call in the experts.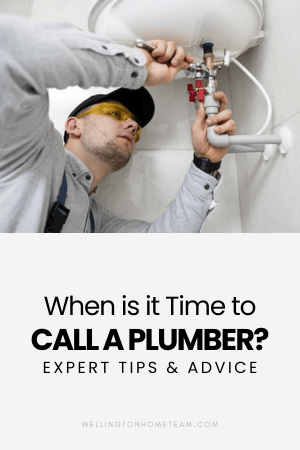 1. Burst Pipes
A burst pipe can cause significant water damage to your home, so tackling this issue promptly is essential. However, it is not a DIY job due to the complexities of proper pipe replacement. Therefore, always call in an expert plumber to fix a burst pipe. It is safer and will give you peace of mind.
2. Frozen Pipes
Frozen pipes are also an issue, as they can burst and cause significant water damage. Professional plumbers have specialized tools to safely thaw pipes.
3. No Hot Water
If there is no hot water in your home, there could be a problem with the water heater, such as faulty thermostats or heating elements. Dealing with complicated appliances requires professional knowledge and skills because incorrect handling can lead to dangerous situations like gas leaks.
4. Sewer System Backup
Sewer system backups are serious problems that require immediate attention. Signs include multiple drain clogs, bad sewer odors, and water pooling around the basement drain. It is definitely a job for experienced plumbers since they have the proper tools and knowledge to inspect and resolve sewage problems without contaminating your home.
5. Water Pressure Problems
If all the faucets in your house have low water pressure and you cannot identify the issue at any single fixture, then there is likely an issue with the main supply line. Therefore, professional attention will be required.
How to Find a Reliable Local Plumber
Finding a reliable local plumber simply involves doing some research. Look for online ratings and reviews from previous customers, and always verify credentials like licensing and insurance information. You could also ask friends and family if they can recommend a professional plumber who has carried out high-quality work for them.
Compare various plumbers, too, to ensure you find professionals who provide both quality and affordability. Once you have found a suitable option, schedule an appointment with plumbing experts to solve your issue quickly.
Final Thoughts
You may feel gung-ho and believe you can tackle all plumbing problems in your home yourself. But unless you have professional expertise, there are certain times when you should always call in plumbing experts. If you try to tackle issues yourself, you could end up making the problem worse. However, there are lots of common plumbing issues you can potentially do yourself, as we have seen.
Please consider spreading the word and sharing; Plumbing Issues: 5 You Can DIY & 5 Requiring Expert Help
Discover common plumbing issues you can tackle yourself and those that demand professional intervention. Fixing plumbing problems made easy. #plumbingissues #diyplumbing
About the Author
Top Wellington Realtor, Michelle Gibson, wrote: "Plumbing Issues: 5 You Can DIY & 5 Requiring Expert Help"
Michelle has been specializing in residential real estate since 2001 throughout Wellington Florida and the surrounding area. Whether you're looking to buy, sell, or rent she will guide you through the entire real estate transaction. If you're ready to put Michelle's knowledge and expertise to work for you call or e-mail her today.
Areas of service include Wellington, Lake Worth, Royal Palm Beach, Boynton Beach, West Palm Beach, Loxahatchee, Greenacres, and more.
Plumbing Issues: 5 You Can DIY & 5 Requiring Expert Help