10 Pros and Cons of Buying a Home on a Golf Course

Buying a home on a golf course is a dream for many avid golfers and those simply seeking a picturesque living environment. The allure of scenic views, lush greenery, and convenient access to the golf course can be quite tempting and for some a huge selling point. However, there are both advantages and disadvantages to take into consideration before taking the plunge and buying a golf course home. Let's take a look at the top pros and cons of homeownership and golf course living!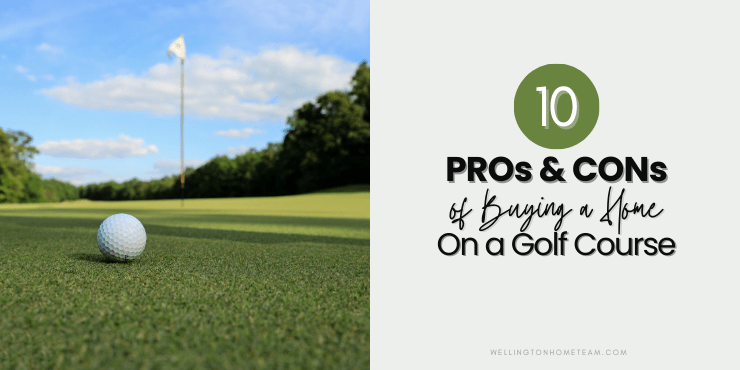 Pros of Buying a Home on a Golf Course
Scenic Views and Serenity
One of the most significant advantages of living on a golf course is the captivating views it has to offer. Waking up to rolling fairways, manicured greens, shimmering lakes, and beautiful landscapes can provide a sense of serenity and tranquility. The abundance of green spaces creates a visually appealing environment, making it an ideal place to unwind and enjoy nature.
Enhanced Privacy and Security
Living on a golf course often means fewer neighbors directly behind your property and in some cases no neighbors at all, resulting in increased privacy. Additionally, golf course communities typically have security measures in place, providing a sense of safety and peace of mind for homeowners.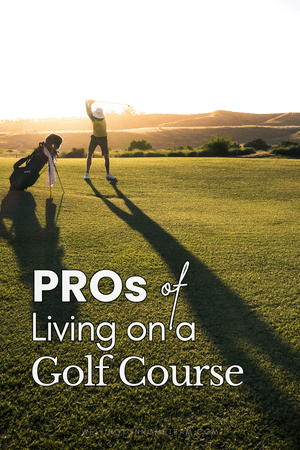 Community and Amenities
Many golf course communities provide a wide array of extra amenities in addition to the golf course itself. Amenities such as clubhouses, swimming pools, fitness centers, tennis courts, and dining options, which enhance the overall living experience. Plus, many of the residents throughout the community will share a common interest with you, if you are a golfer.
Access to Golfing
For golf enthusiasts, living on a golf course is a golfer's paradise. Having the golf course as your backyard means unlimited access to the sport you love. It allows you to practice your game regularly, save on membership fees, and enjoy impromptu rounds whenever you have free time.
Potential for Property Value Appreciation
Homes located on golf courses oftentimes can see higher property value appreciation compared to homes in other areas. The demand for such properties among golf enthusiasts and those who appreciate the scenic surroundings can positively impact the value of homes within the community. Many buyers are looking for a well-maintained community, which is something golf course communities will always have.
Make an informed decision before buying a home on a golf course and explore the top 10 pros and cons of golf course living. #realestate #homebuying
Cons of Buying a Home on a Golf Course
Noise and Disturbances
Golf courses can be a hub of activity, especially during peak playing hours. The sound of golf carts and chatter from players can potentially lead to noise disturbances, which is not appealing to everyone, particularly those seeking a quiet and secluded living environment. Additionally, the equipment used to maintain the golf course and surrounding landscaping can be noisier as well.
Potential for Stray Golf Balls
Living on a golf course means there's a possibility of stray golf balls ending up on your property. While most golf courses are designed with safety measures in place the occasional mishit can still occur.
This can pose a risk to the property, like a broken window, or even safety for people enjoying their backyard. Homeowners living on a golf course are no strangers to finding golf balls in their pool if they don't have a screen enclosure around it.
Potential Lack of Privacy
While some golf course homes offer enhanced privacy, others might have limited privacy due to the proximity to the golf course and golf cart paths. This lack of seclusion may not be appealing to those seeking a more private and secluded living environment.
Pesticides and Chemical Usage
To maintain the lush greenery, golf courses often use pesticides and chemicals, which can potentially impact the surrounding environment. This can be a concern for environmentally conscious homeowners or those with respiratory sensitivities.
Homeowners Association (HOA) & Membership Fees
Many golf course communities have homeowners' associations in place to maintain the common areas and amenities. The cost to maintain these areas comes at a price, a price that residents will pay commonly referred to as HOA fees. These fees are typically paid monthly, quarterly, or annually.
In addition to HOA dues, some golf course communities have mandatory memberships, which can come with a steep initiation fee along with reoccurring annual fees. How high or low these additional fees are usually depend if the golf course is open to the public, or if it's private and for resident use only.
Final Thoughts
Buying a house on a golf course comes with its own set of unique advantages and drawbacks. The decision ultimately depends on your lifestyle, preferences, and love for the sport of golf. If you enjoy the game and the allure of scenic views, convenience, and a sense of community, living on a golf course might be a perfect fit for you.
However, if noise disturbances, potential safety concerns, possible lack of privacy, or the extra expenses associated with living in a golf course community are deal-breakers, you may want to explore other housing options. Consider these pros and cons carefully to make an informed choice that aligns with your needs and desires for a dream home on the greens.
Please consider spreading the word and sharing; 10 Pros and Cons of Buying a Home on a Golf Course
Make an informed decision before buying a home on a golf course and explore the top 10 pros and cons of golf course living. #realestate #homebuying
About the Author
Top Wellington Realtor, Michelle Gibson, wrote: "10 Pros and Cons of Buying a Home on a Golf Course"
Michelle has been specializing in residential real estate since 2001 throughout Wellington Florida and the surrounding area. Whether you're looking to buy, sell, or rent she will guide you through the entire real estate transaction. If you're ready to put Michelle's knowledge and expertise to work for you call or e-mail her today.
Areas of service include Wellington, Lake Worth, Royal Palm Beach, Boynton Beach, West Palm Beach, Loxahatchee, Greenacres, and more.
10 Pros and Cons of Buying a Home on a Golf Course