8 Things Buyers Should Avoid During Loan Approval
When you have your offer accepted, you can't celebrate just yet. Many stages need to be completed before the home will finally be yours. One stage that can cause problems is getting loan approval when buying a home.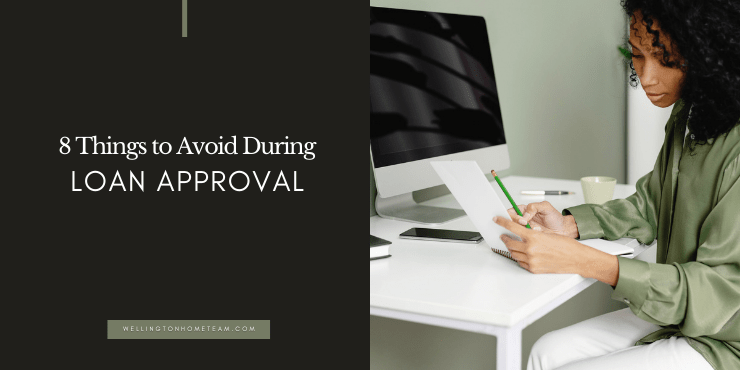 Even if you are pre-approved for the loan you need, many things can still go wrong. It is easy for homebuyers to accidentally do something that could jeopardize their mortgage approval.
So the chances of getting denied after pre-approval are always a possibility. However, to help you from making mistakes with your finances during the loan approval process we've put together a list of things you need to avoid.
Top 8 Things to Avoid During Loan Approval
1. Don't Take Out New Loans or Credit Cards
When you apply for a new loan or credit card, the lender will make a hard inquiry on your credit record. This will negatively affect your credit score temporarily.
If this happens during your home loan approval, your reduced credit score could change the lender's calculations. Having a lower credit score could also mean your loan receives a higher interest rate, something that could add thousands of dollars to the cost of the loan.
2. Don't Make Big Purchases on Credit
Perhaps you want to buy new furniture for your new home. However, making these purchases on credit will increase your debt just at the wrong time. Increased spending using credit will mean you have more debt. And more debt changes your debt-to-income ratio, possibly preventing the lender from approving your loan.
Your debt-to-income ratio should ideally be under 30%, and when you are applying for a home loan, this should stay low.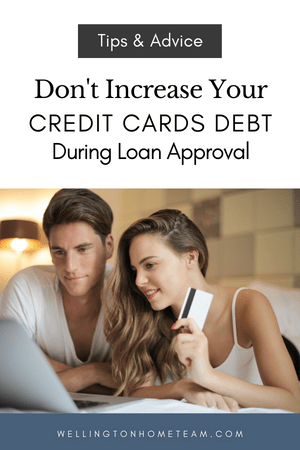 3. Don't Increase Your Credit Card Debt
If you can avoid adding more charges to your credit card before closing, you should. Using your credit card more will increase your debt and its ratio to your income. While small increases aren't going to make much difference, larger charges will.
If you max out your credit card or get close to it, your debt-to-income could become an issue for the lender. It will also mean you are using a larger portion of your available credit, and credit utilization makes up part of your credit score.
4. Don't Quit Your Job
If you are thinking of changing jobs or careers, don't do it before the loan is approved. Also, try to avoid reducing your hours which will change your income. A reduced income will hurt your debt-to-income ratio, an important part of the lender's assessment.
Lenders also like to see two years of employment and income. Switching careers or jobs will break this employment history.
If you are moving for a new job, avoiding this situation could be a problem. If it can't be avoided, contact your loan officer to discuss your options.
There are many things homebuyers need to avoid during the loan approval process and here are the top 8 things they should never do. #realestate #homebuying
Top 8 Things to Avoid During Loan Approval
5. Don't Pay Anything Off Unless Told To Do So By Your Lender
Though paying off your debts might seem like a good idea, that may not be the case. Your debt-to-income ratio will improve, potentially increasing the amount you can borrow, but there are downsides.
Debt itself isn't considered to be a negative for credit scores. Some debt is good as it means paying debts each month. If you suddenly pay off all of a larger debt, your credit score could take a short-term hit.
6. Don't Close Accounts
While you might not imagine that there is anything wrong with closing an old bank account you no longer use, it will lower your credit score. The age of accounts is a factor that contributes to your credit score, and removing an old bank account will change the average age for the worse.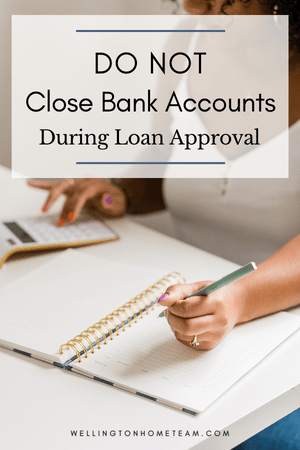 Removing accounts could also change the amount of credit you have available. If you have an old credit card, perhaps with higher interest rates that you no longer use, don't close it. To avoid the card company closing it, don't stop using it completely, and make small purchases paying them off each month. A canceled credit card could reduce the age of your accounts as well as change your credit utilization.
Credit utilization is another factor that helps decide your credit score. It is the amount of credit you use out of how much you have available, and taking away a credit card will mean you are using more. All of your available credit is included, so removing an account that you don't even use is still a bad idea.
Closing an account could also reduce the mixture of credit types you have. More types of lending are better for your credit score, so getting rid of an account could lower your score in a few ways.
7. Don't Make Large Deposits
When you buy a home, you are often stretching your finances, and any additional funds can really help with the down payment, closing costs, and pay moving expenses. However, making a large deposit that cannot be traced could be a problem.
Typically, the loan officer will check any deposits over $1,000. If there isn't a clear explanation for the origin of the money, the loan could be in doubt. You shouldn't need to worry about transfers between accounts or payroll, but there could be issues with other types of deposits.
If a friend wires a large sum to you, or you pay business income into your personal account, they might ask you to provide proof that these deposits are what you claim. They want to make sure that this deposit isn't actually a loan that you will need to repay.
8. Don't Miss Any Payments
The most important factor in deciding your credit score is payment history. So if you don't pay on time, your score will suffer. If this happens before your home loan is approved, the change in your credit score could cause you problems.
While making just one late payment will reduce your credit score, a history of doing this will make the lender think you will make late mortgage payments as well. If you have made some payments later than you should in the past, doing that again before closing could raise red flags with the lender.
Final Thoughts
Making any significant changes to your financial situation after pre-approval but before closing, could affect if you will get the mortgage you expect. And suddenly finding you don't have the loan you need will put you in a difficult position.
If you can avoid the mistakes we've looked at, you should make it through the underwriting process without many problems and be on your way to closing on the home. Just keep in mind while there are always signs your loan will be approved it's not approved until the official approval is given. So never assume you can get financing and make sure to follow these "8 Things Buyers Should Avoid During Loan Approval."
Please consider spreading the word and sharing; 8 Things Buyers Should Avoid During Loan Approval
There are many things homebuyers need to avoid during the loan approval process and here are the top 8 things they should never do. #realestate #homebuying
About the Author
Top Wellington Realtor, Michelle Gibson, wrote: "8 Things Buyers Should Avoid During Loan Approval"
Michelle has been specializing in residential real estate since 2001 throughout Wellington Florida and the surrounding area. Whether you're looking to buy, sell or rent she will guide you through the entire real estate transaction. If you're ready to put Michelle's knowledge and expertise to work for you call or e-mail her today.
Areas of service include Wellington, Lake Worth, Royal Palm Beach, Boynton Beach, West Palm Beach, Loxahatchee, Greenacres, and more.
8 Things Buyers Should Avoid During Loan Approval