DIY vs. Professional Movers: Which Is Right for You?
Moving to a new home can be an exciting but challenging experience. One of the critical decisions you'll face is whether to handle the move yourself or hire professional movers. This choice can significantly impact your moving experience and budget.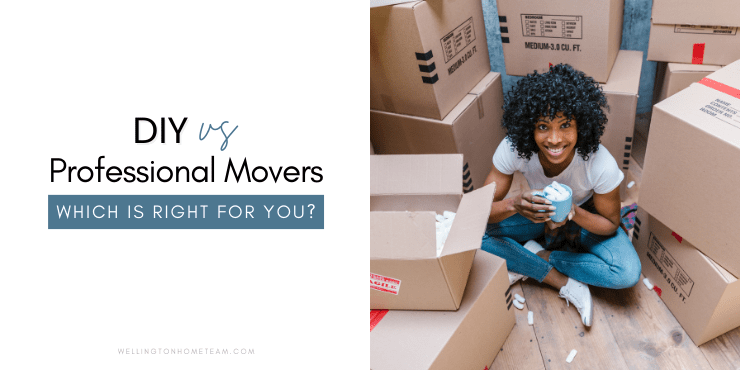 This guide will break down the differences between DIY vs. professional movers, helping you determine the best option for your specific circumstances. 
DIY vs. Professional Movers: An Overview
Moving can be strenuous, and you may be torn between the cost-saving allure of DIY moving and the convenience of hiring professional movers. To make an informed decision, let's delve into the pros and cons of both approaches and see which fits your checklist best.
The DIY Moving Experience
Cost Considerations
One of the primary attractions of a DIY move is the potential for cost savings. You can rent a truck, pack your belongings, and transport them to your new home at a fraction of the cost of hiring professionals.
However, keep in mind that hidden expenses, like fuel and equipment rental, can add up. It's not just about the rental fee for the moving truck; you need to consider fuel costs, packing materials, and any unexpected issues that may arise during the process. These hidden expenses can quickly eat into your budget, making the DIY approach less cost-effective than it initially seems.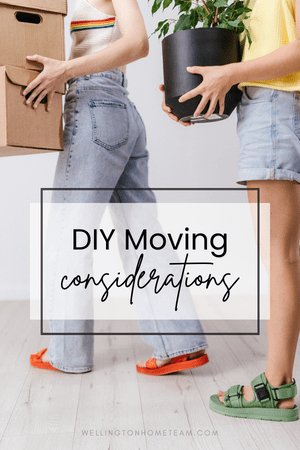 Flexibility and Control
DIY moving provides you with complete control over your move. You can choose your timeline, pack your belongings however you prefer, and manage every aspect of the process. This level of autonomy can be appealing if you want things done your way.
Whether you're an organizational enthusiast who wants to label every box meticulously or someone who prefers a more relaxed approach, the choice is entirely yours. You won't be bound by the schedule or guidelines of a moving company, allowing you to tailor the move to your specific preferences and needs.
Physical and Mental Strain
On the flip side, a DIY move can be physically and mentally demanding. Packing, lifting heavy furniture, and driving a large truck can take a toll on your well-being. Additionally, the stress of coordinating all the logistics can be overwhelming.
The physical strain can lead to sore muscles and potential injuries, especially if you're not used to such strenuous activities. Furthermore, the mental stress of ensuring everything goes according to plan, from packing fragile items to navigating the road, can be exhausting. It's essential to consider your physical and mental readiness before embarking on a DIY move.
Discover the pros and cons of DIY vs. professional movers to make the right move for you and your relocation. #realestate #moving
Hiring Professional Movers
Efficiency and Expertise
Professional movers are trained to handle all aspects of a move efficiently. They have the experience and knowledge to pack fragile items, disassemble and reassemble furniture, and load the truck optimally.
This expertise can save you time and prevent potential damage to your belongings. With their proficiency, they can also navigate tricky situations, like tight doorways or steep staircases, which might otherwise pose a challenge during a DIY move.
Reduced Physical Stress
Say you are relocating and hiring long-distance movers in Florida. When you hire professionals, you can avoid the physical strain of heavy lifting and strenuous activities. They bring the necessary equipment and a team to ensure a smooth, stress-free move.
This means you won't have to worry about backaches, muscle strains, or the exhaustion that often accompanies moving on your own. You can simply focus on the excitement of settling into your new home, leaving the heavy lifting to the experts.
Insurance and Accountability
Professional moving companies typically offer insurance coverage for your belongings. This can provide peace of mind, knowing that in the rare event of damage or loss, you have a level of protection. Furthermore, the accountability of professional movers can be reassuring.
They take responsibility for your items and work diligently to ensure their safe and timely delivery. This level of reliability can make a significant difference when the unexpected occurs during your move.
Factors to Consider
When deciding between DIY vs. professional movers, several factors should influence your choice:
Budget: Consider your budget and the potential hidden costs of a DIY move.
Time: Assess how much time you can dedicate to the move. DIY moves can be time-consuming.
Distance: The distance between your current and new home matters. Long-distance moves may benefit more from professional movers.
Complexity: The complexity of your move, such as special items, affects your decision.
Physical Abilities: Your physical capabilities should determine whether you can comfortably handle a DIY move.
Hybrid Options
Some individuals choose a hybrid approach. They may pack their belongings themselves and then hire professionals for the heavy lifting and transportation. This is an interesting tip and can be a cost-effective compromise.
Making Your Decision
Ultimately, the choice between DIY vs. professional movers depends on your unique circumstances and preferences. It's not a one-size-fits-all decision. Take your time to evaluate your budget, time constraints, and the complexity of your move. Seek quotes from professional moving companies to compare costs and services. You may even find that the peace of mind and convenience of professional movers outweigh the higher cost.
It's important to do your due diligence when gathering quotes from professional movers. Don't just focus on the price alone; consider the services they offer, their reputation, and any additional benefits such as insurance coverage. A higher upfront cost for professional movers may save you money in the long run if it means a smoother and more efficient move. Also, take into account the value of your time and the reduced physical and mental stress that comes with hiring experts in the field.
Final Thoughts
A successful move requires careful planning and thoughtful consideration. Regardless of the choice you make, taking the time to prepare and organize will help ensure a smooth transition to your new home. So, whether you're DIY-ing it or seeking professional assistance, make the choice that aligns best with your needs and circumstances.
The DIY vs. professional movers debate is not about which is universally better but about finding what's right for you. Weigh the pros and cons, evaluate your priorities, and make the move that suits your unique situation. Happy moving!
Please consider spreading the word and sharing; DIY vs. Professional Movers: Which Is Right for You?
Discover the pros and cons of DIY vs. professional movers to make the right move for you and your relocation. #realestate #moving
About the Author
Top Wellington Realtor, Michelle Gibson, wrote: "DIY vs. Professional Movers: Which Is Right for You?"
Michelle has been specializing in residential real estate since 2001 throughout Wellington Florida and the surrounding area. Whether you're looking to buy, sell, or rent she will guide you through the entire real estate transaction. If you're ready to put Michelle's knowledge and expertise to work for you call or e-mail her today.
Areas of service include Wellington, Lake Worth, Royal Palm Beach, Boynton Beach, West Palm Beach, Loxahatchee, Greenacres, and more.
DIY vs. Professional Movers: Which Is Right for You?