8 Pros and Cons of Buying a Home in a Gated Community
Should I buy a home located in a gated community? This is one of the most popular questions homebuyers ask themselves or their Realtor when they start their home search. There are many pros and cons of gated communities. It might be the right decision for some home buyers and could be the wrong decision for others.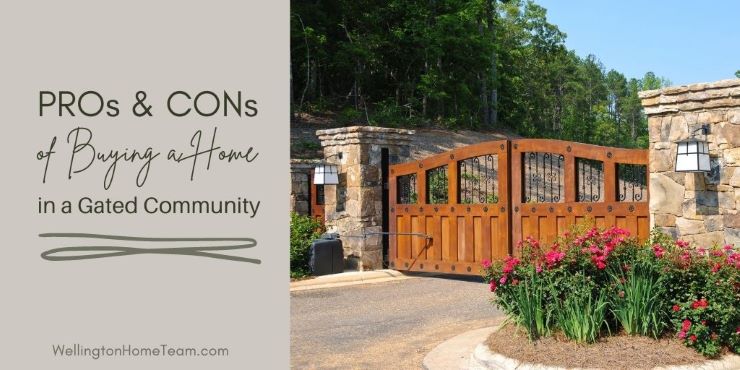 In order to determine whether or not living in a gated community is right for you let's take a look at the top 8 pros and cons of living in a community that's gated.
What are the Pros of Living in a Gated Community?
There are so many pros of living in a gated community and below are the top four reasons buyers choose a gated community.
Added Security
One of the biggest selling points to buying a home in a gated community is the added security. In addition to the community being completely gated 24-7, many are also guard-gated. This means a security guard will be manning the gate 24 hours a day 7 days a week. Some communities will have additional roving security that drives through the neighborhood in addition to the security guard at the gate.
Amenities
Buyer's looking for resort-style amenities can oftentimes find what they are looking for in a gated community. While some gated communities may only offer a few amenities, like a community pool and cabana others have extensive amenities like a clubhouse, swimming pool, fitness center, tennis courts, basketball courts, volleyball courts, playgrounds, an on-site property manager, and more.
Limited Traffic
Gated communities offer limited traffic since the only people allowed through the gates will be residents and guests of residents. Driver's speeding within the community is not very common since they reside in the neighborhood too and want to keep it safe for all residents especially children playing outside.
Rules and Restrictions
Many gated communities have an active Homeowner's Association (HOA) in place, which will have rules and restrictions that every resident must abide by. Not only can this be a huge selling point for homebuyers because nobody wants to live next door to a purple house with yellow strips, but rules and restrictions can also help maintain property value. It's not uncommon for a home's property value to increase faster in a well-maintained gated community versus a community that is not gated.
Buying a home in a gated community is not for everyone. Let's explore the PROs and CONs to living in a gated community and if it's right for you! #realestate #homebuying
What are the Cons of Living in a Gated Community?
While there are a lot of pros to living in a gated community there are also a few cons. Let's take a look at the top four reasons why some buyers decide against purchasing a home in a gated community.
HOA Fees
If the gated community has an active HOA there will most definitely be a monthly, quarterly, or annual HOA fee. Sometimes these fees might be $50 a month while other times they can be well over $500 a month. HOA fees can increase without notice and there is no cap on how much or how little they may increase. The same holds true for "community assessments." If the community budget starts to fall short they may choose to assess each resident a certain amount. These fees and assessments are not optional when owning a home that belongs to an HOA.
Plus, HOA fees can easily exceed a buyer's monthly budget and even their loan approval once their mortgage broker or bank factors them in. So let's say a buyer was pre-approval for $500,000 and they want to submit an offer on a home for $495,000 if the monthly HOA fee is $250 they may no longer be qualified up to $500,000. A $250 monthly HOA could easily reduce their pre-approved amount to $450,000 or less.
Waiting
When you look at homes in gated communities odds are you will get held up at the gate with your Realtor. So if you were to buy a home in a gated community odds are your future guest and deliveries could be held up at the gate as well. While this wait may only be a few seconds other times it can be several minutes and quickly approach 10 minutes if the visitor lane is backed up.
False Sense of Security
Yes, gated communities are more secure than non-gated communities, but crime happens everywhere. So it is very important to remain vigilant at all times. Never assume your home, vehicles, and family are safe. Criminals will find a way to get through the gate and past the guard if they really want to.
Rules and Restrictions
Not every home buyer wants to get permission to make changes to their property or be forced to abide by rules. So gated communities that have rules and restrictions may not be a good option for buyers who don't want to be restricted.
Most HOAs will require approval for any exterior modification you'd like to do to your home. These modifications may include exterior painting, home addition, planting a tree or shrubs, installing a fence, installing a swimming pool, replacing a patio, or replacing your roof. Not only will the HOA need to approve the modification, but they also have to approve the color, style, type, and even your contractor who'll be conducting the work.
Final Thoughts
Buying a home in a gated community is not for everyone. There are many factors home buyers need to take into consideration before doing so. Examining all of the pros and cons should be heavily weighed because once you purchase a home in a gated community you can't change your mind a month later. Well, technically you can, but it will involve selling your home and possibly taking a financial loss.
If you think this article, 8 Pros and Cons of Buying a Home in a Gated Community, was an interesting read and helpful, please share it across your social media platforms!
Buying a home in a gated community is not for everyone. Let's explore the PROs and CONs to living in a gated community and if it's right for you! #realestate #homebuying?
Additional Home Buying Resources
Condo vs Home: What are the Pros and Cons? The choice between buying a home and buying a condo comes with its own set of pros and cons. Homes provide more privacy and typically offer larger living spaces, yards, and more freedom for customization. However, homes also require more upkeep and costs for repairs and landscaping fall solely on the owner.
On the other hand, condos often offer amenities like security, maintenance services, and shared facilities. They require less maintenance and are generally more affordable. However, condos come with association fees and rules that limit personalization and decision-making. Additionally, the shared spaces may result in less privacy and the potential for conflicts with neighbors.
What are the PROs and CONs of buying a home on a golf course? Buying a home on a golf course can have its advantages and disadvantages. One of the key benefits is the scenic views and access to recreational activities. Living on a golf course provides a sense of serenity and the opportunity to enjoy the sport conveniently. Additionally, homes on golf courses may have higher property values and potential for appreciation.
On the downside, golf course living can be accompanied by higher noise levels, especially during peak playing times. Privacy might be compromised due to proximity to fairways and tee boxes. There is also the potential for errant golf balls damaging property or the need to deal with golfers walking by. Additionally, there might be restrictions or membership requirements imposed by the golf course community. It's important to carefully consider these factors and weigh them against personal preferences before deciding to buy a home on a golf course.
What are the biggest problems with gated communities? Gated communities offer various benefits, but they also come with their own set of challenges. One significant issue is the potential for a false sense of security. While the gates may deter some criminal activity, they are not foolproof, and residents can still face security risks.
Additionally, the homeowners' association (HOA) rules and regulations, which often govern these communities, can be stringent and may restrict personal freedoms or impose high maintenance fees. Disputes within the HOA can also arise, leading to conflicts and difficulties in decision-making. Lastly, the reliance on shared infrastructure and services can lead to increased costs and potential conflicts with the HOA management. It's crucial for potential residents to carefully consider these drawbacks and weigh them against the desired benefits before opting for a gated community.
About the Author
Top Wellington Realtor, Michelle Gibson, wrote: "8 Pros and Cons of Buying a Home in a Gated Community"
Michelle has been specializing in residential real estate since 2001 throughout Wellington Florida and the surrounding area. Whether you're looking to buy, sell, or rent she will guide you through the entire real estate transaction. If you're ready to put Michelle's knowledge and expertise to work for you call or e-mail her today.
Areas of service include Wellington, Lake Worth, Royal Palm Beach, Boynton Beach, West Palm Beach, Loxahatchee, Greenacres, and more.
8 Pros and Cons of Buying a Home in a Gated Community