Selling a Tenant-Occupied Property | 9 PROs and CONs
Should I sell my tenant-occupied home? This is a question many landlords ask themselves when their home is rented. While selling a tenant-occupied home might be the right decision for some landlords it could be the wrong decision for others. If you're a landlord unsure if you should sell your tenant-occupied home this article will help you determine what the right decision is for you as we examine the pros and cons of selling a tenant-occupied property.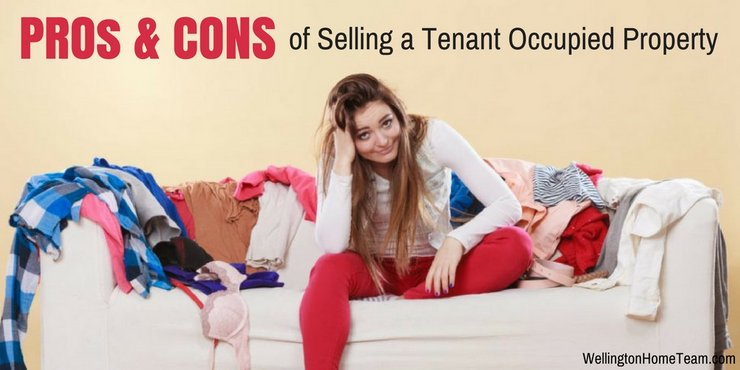 What are the Pros of Selling a Tenant-Occupied Home?
There are several positives that come with selling a tenant-occupied property and here are the top 4 pros.
Appealing to Investors
An income-producing property can be very appealing to investors. Especially if there is a great tenant in place who wants to stay and is paying market value for rent.
Generating Income
Even if a landlord doesn't have a mortgage on the property there will still be expenses. Even if they don't have a mortgage they'll still have to pay for items like property taxes and homeowners insurance. So a huge plus to selling a tenant-occupied home is its generating income. This income can be applied to the property's monthly overhead.
Security
Statistics show that occupied homes can deter thieves and can also decrease the chances of vandalism. So a tenant-occupied home versus a vacant home is another benefit of selling a tenant-occupied home.
Utilities
Tenants usually cover all of the utilities. However, if the home is vacant the landlord will have to cover all of these expenses. Now, there are some owners who won't keep the utilities on in order to save money, but it's never recommended.
What are the Cons of Selling a Tenant-Occupied Home?
Along with the positives, there come some negatives with selling a tenant-occupied home, and here are the top 5 cons.
Difficult to Show
A majority of tenants do not want strangers walking through the home they're renting. So they might make viewing the home impossible and put unrealistic restrictions for showings.
Some of these restrictions might include a 24-hour  to 48-hour notice. While others may include not allowing a lockbox for easy access or limiting the days and times the home can be shown. It's also not uncommon for tenants to agree to a showing appointment and then cancel at the last minute.
Not Show Ready
Unless a tenant always keeps their home immaculate odds are they will not jump through any hoops to make the home show-ready. In fact, some may intentionally not clean to deter prospective buyers.
Availability
Since the property is tenant-occupied there will most likely be a lease in place. If there is a lease the property cannot be sold until it ends, both parties are willing to terminate it, or the new buyer is willing to honor the lease. If a tenant won't leave until the lease ends this may not work for a buyer's time frame.
Uncertainty
Unlike an owner-occupied property where a buyer is confident the seller will vacate the property that isn't always the case when a home is tenant-occupied. Depending on the situation some buyers are concerned the tenant won't vacate the property prior to closing. Some are also concerned about the condition the property will be in. Will it be filthy? Will they take things that are supposed to stay with the property?
Talkative
Some tenants love to talk if they're home for showings and depending on what they say can greatly impact the sale. A few might point out every single thing wrong with the property while others might say whatever they can to deter buyers even if it's false information.
Tips for Selling a Tenant-Occupied Home
Selling a tenant-occupied property presents some challenges but having a successful can be possible. Below are 7 helpful tips if you decide to list your tenant-occupied home for sale.
Communicate with the tenant: Make sure to have open and clear communication with the tenant throughout the selling process. Inform them about your intentions to sell the property and discuss the expectations and timelines involved. Reassure them their lease will be honored until the end. Establishing a cooperative and respectful relationship will ensure a smooth transition.
Coordinate showings: Work with the tenant to schedule showings at convenient times for both parties. Provide advance notice and be considerate of their privacy. Offering incentives or accommodating their schedule and only allowing showings on certain days at certain times can encourage cooperation and maintain a positive relationship.
Maintain cleanliness and presentation: Encourage the tenant to keep the property clean and presentable for showings. Offering a hire a weekly cleaning service for them until the property is under contract can alleviate potential stress and additional work for the tenant.
Address necessary repairs and maintenance: Ensure that any necessary repairs or maintenance issues are addressed prior to listing. A well-maintained property can improve its marketability and appeal to potential buyers.
Offer incentives: To motivate the tenant's cooperation and flexibility, consider offering incentives such as reduced rent, financial compensation, or assistance with relocation costs. This can help foster a positive relationship and encourage the tenant to be cooperative. If you decide to offer an incentive make sure to put your expectations in writing and have all parties sign off in writing, so everyone is on the same page.
Hire an experienced real estate agent: Work with a real estate agent experienced in handling tenant-occupied properties. Selling a tenant-occupied property can present a lot more challenges than selling an owner-occupied property. An experienced agent can navigate the complexities of the process, effectively market the property, and negotiate on your behalf while respecting the tenant's rights.
Know tenant rights and local laws: Familiarize yourself with the rights and responsibilities of both landlords and tenants in your jurisdiction. Adhere to local laws regarding notice periods, privacy rights, and any other legal obligations to ensure a smooth and lawful sale.
Selling a tenant-occupied property may require additional flexibility and patience. Understand that the process may take longer, and be prepared to accommodate reasonable requests from the tenant and potential buyers.
Final Thoughts
Deciding whether or not to list a property with existing tenants is a big decision for sellers and the wrong one can be extremely costly to the seller's bottom line. I've listed and sold countless tenant-occupied properties throughout my career and unless the circumstances are right it's almost a guarantee the seller will lose money.
My recommendation to any landlord who's considering selling their tenant-occupied home is to sit down with a top realtor and discuss how selling a house with tenants with affect them, both positively or negatively. Oftentimes listing rental property when a tenant is in place may not be the right move and other times it can be a very costly one.
If you think this article, Selling a Tenant-Occupied Property | 9 PROs and CONs was an interesting read please give it a share!
Selling a tenant occupied home is not the best decision for every landlord. Find out what the PROs & CONs of selling tenant occupied homes right here! #homeselling
Additional Advice from Top Professionals
One of the biggest obstacles tenants present is restricted showings, requiring 24 notice. Not only do tenants do this, but sellers do to and Bill Gassett explains how it can negatively impact a sale.
Don't just tell your tenants you're selling the property. You'll want to check out these excellent tips for selling a tenant occupied home from Kyle Hiscock.
About the Author
Top Wellington Realtor, Michelle Gibson, wrote: "Selling a Tenant-Occupied Property | 9 PROs and CONs"
Michelle has been specializing in residential real estate since 2001 throughout Wellington Florida and the surrounding area. Whether you're looking to buy, sell, or rent she will guide you through the entire real estate transaction. If you're ready to put Michelle's knowledge and expertise to work for you call or e-mail her today.
Areas of service include Wellington, Lake Worth, Royal Palm Beach, Boynton Beach, West Palm Beach, Loxahatchee, Greenacres, and more.
Selling a Tenant-Occupied Property | 9 PROs and CONs