Ready to Sell Your Wellington Home? 5 Things to Know First
Interested in selling your Wellington home but not sure where to start? Don't worry we can help! Selling a home involves a series of important decisions and steps that can greatly influence the outcome of the process. In this guide, we'll walk you through five essential factors to consider prior to listing your Wellington home for sale. From understanding the local market dynamics to knowing where you're going, these insights will help you make an informed decision.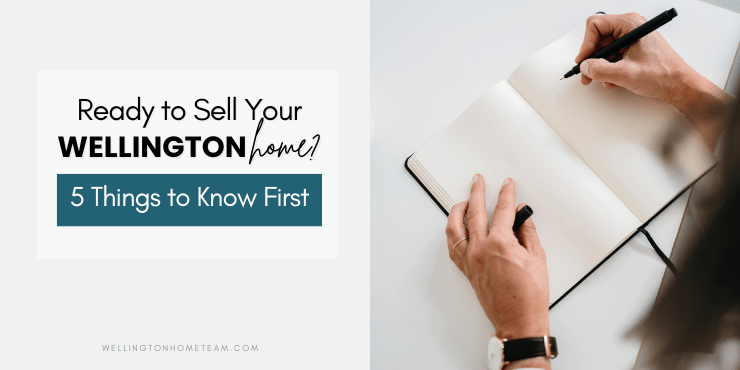 5 Things to Know Before Listing Your Home
1. What's the Value of Your Home?
First and foremost you need to find out the true market value of your home, and what it will sell for in today's real estate market. While online estimates may offer a glimpse at what your home could be worth, it's a rough estimate at best. So it's wise to contact a local Realtor who has the knowledge and experience of selling real estate in your area.
A local Realtor will be able to provide you with a Comparable Market Analysis (CMA). Most CMA's will include a list of homes currently for sale, pending sales, and recent sales. Based on this information and your Realtor's experience they should be able to provide you with the estimated value of your home.
2. How Much You Owe?
For homeowners with mortgages, equity lines, or liens on their property, it's vital to ascertain the total payoff for each before listing your Wellington home for sale. Not the balance listed on a bank statement, but the actual payoff, the amount you'll have to pay if you were to sell your Wellington home. Some mortgages could have a pre-payment penalty, which will impact your overall net proceeds. Knowing this information upfront is imperative otherwise you could find yourself bringing money to closing or not netting as much as expected.
3. What's Your Estimated Net?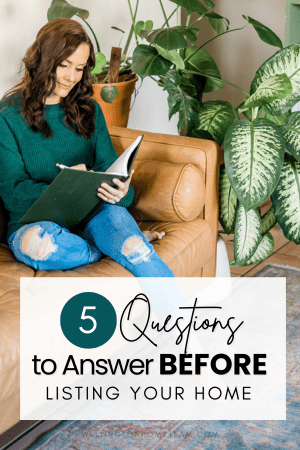 After determining the value of your home and how much you owe the next step is to find out what your estimated net proceeds will be. In order to do this you'll need to obtain any additional cost to sell your Wellington home. Aside from paying off your mortgage, there are other expenses that come along with selling your Wellington home.
Some of these expenses include real estate commissions, title fees, doc stamps, and more. Once you have all of your expenses you'll be able to deduct that amount from your home's estimated value. This will produce your estimated net and approximately how much money you'll walk away with from the sale. This amount usually dictates if it's financially sound to sell your Wellington home.
4. What are the Costs of Repairs & Home Improvements?
First impressions are everything when it comes to selling a home. To enhance your home's appeal and value, consider addressing any necessary repairs or improvements before listing it. This might involve minor touch-ups or more significant renovations. By budgeting for these improvements, you'll be better prepared to present your home in its best light to potential buyers.
5. Where are You Going?
Selling your Wellington home isn't just about letting go of a property; it's also about shaping your future. Determine your post-sale plans, whether they involve relocating, renting, downsizing, upsizing, or another arrangement. If you intend to buy another property, strategize whether you need to sell your current home before making a purchase. Having a well-thought-out plan in place will ensure a smoother transition into your next chapter. It's also highly recommended to have a backup plan in case your original plan falls through.
Final Thoughts
Selling your Wellington home requires careful consideration of multiple factors to ensure a seamless and successful process. Knowing the market value of your home, the cost to sell, and your net proceeds is a must. Without this information, you won't be able to make an informed decision and plan your move accordingly. So before signing a listing agreement make sure selling your Wellington home is the right decision for you.
Please consider spreading the word and sharing; Ready to Sell Your Wellington Home? 5 Things to Know First
Are you ready to sell your Wellington home? If so here are 5 important things to consider before listing your home for sale. #realestate #wellingtonfl
About the Author
Top Wellington Realtor, Michelle Gibson, wrote: "Ready to Sell Your Wellington Home? 5 Things to Know First"
Michelle has been specializing in residential real estate since 2001 throughout Wellington Florida and the surrounding area. Whether you're looking to buy, sell, or rent she will guide you through the entire real estate transaction. If you're ready to put Michelle's knowledge and expertise to work for you call or e-mail her today.
Areas of service include Wellington, Lake Worth, Royal Palm Beach, Boynton Beach, West Palm Beach, Loxahatchee, Greenacres, and more.
Ready to Sell Your Wellington Home? 5 Things to Know First