I'm Ready to Submit an Offer on a Home, Now What?
The day has arrived, you found your dream home, and are ready to submit an offer, but what are the next steps? Submitting an offer today isn't like it was decades ago when an agent had to physically write up an offer and the buyer had to sign it in person.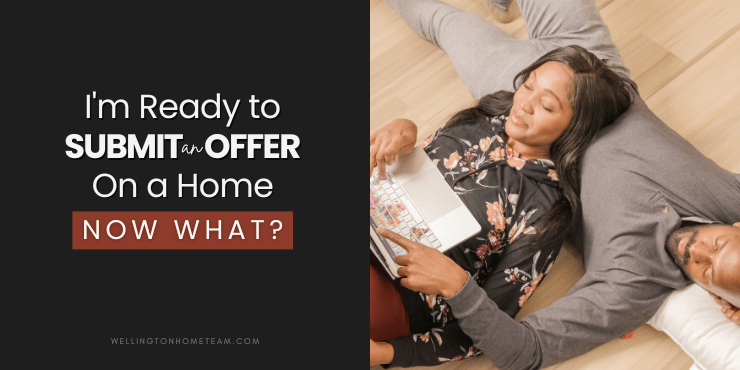 With technology advancements, offers can be typed up within a matter of minutes and a buyer can electronically sign right from their smartphone. However, what information does a real estate agent need in order to type up the offer? In this article, we provide a comprehensive list of what information buyers need to provide their agents once they are ready to submit an offer so they can type it up.
10 Items You Need to Submit an Offer
1. Pre-Approval or Proof of Funds
When making an offer on a home, the seller will want to know if you'll be paying cash or obtaining financing. If you need financing, a pre-approval letter will need to accompany your offer and if you're paying cash you'll need to provide the seller with proof of funds. This can be a letter from your banking institution confirming you have the funds to purchase the property. Some sellers will also accept a bank statement with certain information blacked out, such as the account number but it must show the amount of money in the account.
Pre-approval letters companying offers are not optional for a few reasons. One, the seller needs to know you are pre-qualified for a loan and can actually afford to purchase their home. Two, the pre-approval will state the loan program you qualify for and will be using along with how much you'll be financing, which this information needs to be included in the offer itself. The reality is all buyers should have a pre-approval letter in hand prior to looking at homes for sale unless they're paying cash. So this is something you should have on hand when you're ready to submit an offer.
2. Legal Names
Not everyone goes by their legal name, which will be needed in order to submit an offer. So if you go by another name make sure to provide your real estate agent with your legal name so there are no issues down the line.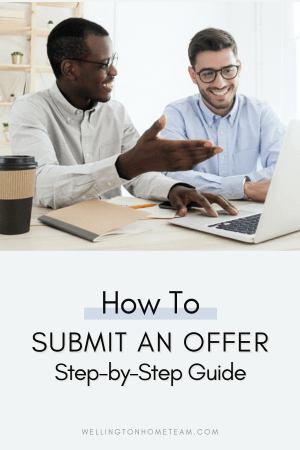 3. Purchase Price
The next step is to determine how much money you want to offer the seller for their home. Instead of picking a random number for the sky, you should examine comparable home sales that recently took place and make an educated decision.
While the decision is ultimately up to you, as the buyer, your real estate agent will be able to educate you about the overall market conditions and provide advice on pricing. If it's an extremely strong seller's market a full-price offer may not be enough. However, if it's a buyer's market there may be room for negotiations.
4. Escrow Deposit
In addition to the purchase price, you'll also need to decide on how much money you want to put down for the escrow deposit and when the deposit(s) will be made. An escrow deposit, also commonly referred to as an earnest money deposit, is the amount of money a buyer is willing to put down as a sign of good faith when purchasing a home.
The average escrow deposit is usually 3% of the purchase price, sometimes less, sometimes more. When the deposit is due can vary as well. Some buyers will include an escrow deposit with their offer while others will put it down if their offer is accepted. Additionally, not all escrow deposits are made in one lump sum. It's not uncommon for buyers to initially put $1,000 down after their offer is accepted and another $19,000 (or whatever amount) 10 days later, usually after the inspection period. No matter the amount make sure you have the funds readily available when you're ready to submit an offer. They shouldn't be in a 401K or CD.
The money put in escrow will go towards your down payment and closing costs. If the escrow deposit exceeds these amounts you'll receive the difference back after closing.
5. Inspection Period
Almost every single buyer will have at least one contingency, regardless if they are paying cash or obtaining financing, and that's the inspection contingency. Most real estate contracts will have a default home inspection time period but a majority of buyers will shorten that period, the average being 5-7 days.
During this time period, you'll be allowed to conduct a home inspection and any additional inspections you'd like, such as a pest/termite, sprinkler system, or septic inspection. You'll also be able to obtain second opinions and quotes if need be during this period.
Some inspection contingencies will allow buyers to cancel the contract for any reason during that period. While other contracts may not allow a buyer to cancel it could give them an opportunity to provide the seller with a list of repairs they need to make prior to closing.
While a home inspection is optional it should never be skipped. Even if you waive the inspection altogether you should still have one so you know what you're purchasing and can address any issues, big or small.
If you are getting ready to submit an offer on a home here is a step-by-step guide on what will be needed in order to do so. #realestate #homebuying
6. Mortgage Contingency
The second most common contingency in a real estate offer is a mortgage contingency. This contingency is added when a buyer needs to obtain a mortgage in order to purchase the property. If for some reason the buyer's loan application is denied within the contingency period they can cancel the contract and walk away.
However, a mortgage contingency period doesn't last forever. While there will most likely be a default time period, just like for a home inspection, you may need/ want to shorten that period, especially in a competitive real estate market. So you'll have to find out from your lender how long it will take them to process your application.
The average mortgage contingency period also referred to as a loan commitment period, is usually 21-30 days. With that being said I've seen buyers put a 6-day mortgage contingency period in a multiple offer situation.
7. Additional Contingencies & Addendums
Do you need to add any additional contingencies, such as an appraisal contingency, home sale contingency, or HOA addendum/ contingency? If so you'll need to add those additional contingencies and include due dates for each contingency. If you are uncertain what contingencies to add make sure to have a conversation with your agent once you're ready to submit an offer.
8. Fixtures, Appliances, & Furniture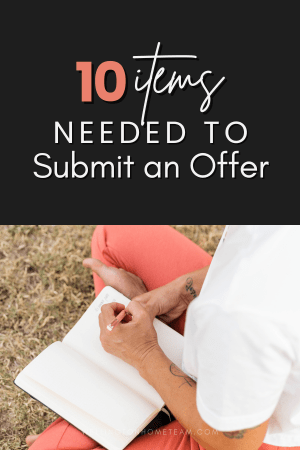 While most real estate contracts will automatically include certain items, like a refrigerator or light fixtures, they may not include other items like a washer and dryer. So you'll want to make sure you understand what is automatically included in the sale and what needs to be added.
Never ever assume something is included, so make sure to spell it out so there is no confusion. If you want 2 garage remotes, add 2 garage remotes to your offer. If you want the refrigerator in the garage behind all of the boxes make sure to include it in your offer. Even if the contract includes "refrigerator(s)" it's still wise to spell it out.
One of my buyers received an $800 credit from the seller on the day of closing because they did not have all of the remotes, keys, or HOA docs that were spelled out and included in the contract. Without writing out each item my client could have been absorbing the cost to replace several of the missing items, such as the pool key.
9. Closing Date:
In some parts of the country, the closing date may be "on or about." However, in Florida, the closing will take place on a specific date and the seller needs to be completely moved out of the property by that date. If you are obtaining a mortgage you will want to make sure the lender can close by your desired closing date. So prior to submitting an offer make sure to discuss it. Also, if you're flexible on the closing date you may want to find out when the seller prefers to close.
10. E-Mail Address:
If your real estate agent uses an electronic signature program, like DocuSign, they will need each buyer's e-mail address. Two buyers can't share one address, so make sure every party listed on the offer has their own e-mail address. This is information that can be provided in advance or once you're ready to submit an offer.
Final Thoughts
Buying a home can be a complex and stressful process. However, if you're prepared ahead of time and know what to expect it will make the process a lot easier especially when you're ready to submit an offer. Hiring a top real estate agent can alleviate a lot of stress as well.
For buyers looking to purchase a home in Wellington Florida or the surrounding area, I'll be more than happy to discuss your home-buying goals and see if we can make your dream a reality.
Please consider spreading the word and sharing; I'm Ready to Submit an Offer on a Home, Now What?
If you are getting ready to submit an offer on a home here is a step-by-step guide on what will be needed in order to do so. #realestate #homebuying
Popular Questions About Real Estate Offers
Are your house offers not getting accepted? If you've been making offers on houses but they aren't getting accepted you'll need to find out why. Sometimes your real estate agent will be able to tell you why, maybe it's the price, type of financing, or close date. However, if they are uncertain it's best for them to ask the listing agent why. Finding out these answers could be key to your future success in having your offer accepted.
After you make an offer on a house how long does it take for an answer? How long it will take the seller to respond to your offer will depend. While most real estate contracts will have a deadline not all sellers will abide by it. If the time for acceptance passes it's best for your agent to reach out to the listing agent to see if they had any idea when the seller will be deciding. Maybe they have an open house coming up and don't plan on making a decision before then.
Can a seller ask for more money after accepting an offer? No, unless stipulated in the contract the seller cannot ask for more money. However, if you do not have a fully executed contract signed by all parties and the seller's acceptance was verbal, then yes the seller is free to ask for more money. Handshakes and verbal acceptance in real estate are not binding.
About the Author
Top Wellington Realtor, Michelle Gibson, wrote: "I'm Ready to Submit an Offer on a Home, Now What?"
Michelle has been specializing in residential real estate since 2001 throughout Wellington Florida and the surrounding area. Whether you're looking to buy, sell, or rent she will guide you through the entire real estate transaction. If you're ready to put Michelle's knowledge and expertise to work for you call or e-mail her today.
Areas of service include Wellington, Lake Worth, Royal Palm Beach, Boynton Beach, West Palm Beach, Loxahatchee, Greenacres, and more.
I'm Ready to Submit an Offer on a Home, Now What?