Real Estate Team Vs Solo Agent | What's the Difference?
Decades ago a majority of real estate agents worked on their own or with a partner, one other agent. However, over the years more and more "teams" have been popping up. With the popularity of teams, both buyers and sellers are wondering what the difference is. Below we discuss in great detail what a real estate team is vs a solo agent.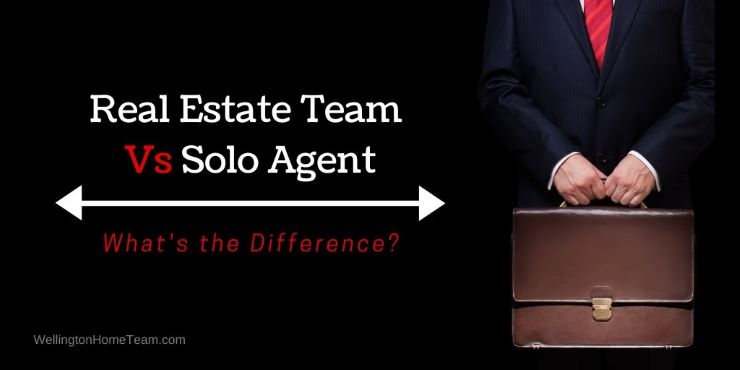 What is a Real Estate Team?
A real estate team consists of multiple real estate professionals working together. There are small teams with only 2 agents and then there are massive teams with more than 20 agents. Each team, much like a real estate brokerage, will have one person in charge commonly referred to as a team lead. Occasionally, there may be more than one team lead it all depends on the size of the team itself.
How real estate teams operate will vary. Some team leads will be the face of the team and work with clients. While others stay behind the scenes running day-to-day operations. There are teams that have buyers agents, who only work with buyers, and listing agents, who only work with sellers. Then there are teams where every agent works with both buyers and sellers. In addition, to having multiple licensed real estate agents some teams have transaction coordinators, marketing directors, and team managers. Some of these additional team members may hold real estate licenses as well.
When a buyer or seller hires a team they'll most likely be dealing with multiple people throughout their transaction. An agent may show homes to a buyer, but the transaction coordinator will be handling all of the paperwork and day to day follow-up. While a seller may meet with an agent, but the transaction coordinator and marketing director may handle everything else. Some teams run like a well-oiled machine and others do not. It all depends on the team itself and who's part of it.
Real Estate Team Stats
When it comes to real estate stats most teams advertise their stats as a whole. So if all 20 agents on the team each sold 10 homes the team will advertise "We Sold 200 Homes." Sometimes this number can be very misleading to the general public because the advertisement only shows a few agents when in reality there are 20.
Do the number of sales vs the number of agents on a team matter? To some buyers or sellers it may. If a team of 10 agents sold 30 homes in a year their experience may be questioned. However, that's only if the buyer or seller actually knows it took 10 agents to sell 30 homes.
This is why it's important for buyers and sellers to ask questions when interviewing an agent. Questions like; What are your personal sales? How many people are on your team?  Are all team members full-time? How much real estate experience do team members have? Who will I be dealing with throughout the transaction? If I need to buy and sell a home will I be working with the same agent?
What is a Solo Agent?
A solo agent means one agent. However, not all solo agents are actually solo. That's right, some solo agents have an entire team behind them and are no different than a real estate team. The only difference between a solo agent with a team and a real estate team is usually the way they advertise themselves.
Does it really matter if a solo agent has a team? For some buyers and sellers it absolutely does. Not everyone wants to deal with multiple people throughout their home purchase or sale. Some buyers and sellers want to deal with one agent from start to finish. While others may not mind working with a solo agent that has a team.
Once again this is why it's so crucial for buyers and sellers to ask questions when interviewing a real estate agent. Buying or selling a home can be a very stressful time in a person's life. So nobody should be surprised that they will be dealing with multiple people during their purchase or sale.
Solo Real Estate Agent vs Team
Is a team better than a true solo agent, meaning an agent who works completely by themselves? There could be pros to both, but there could also be cons. It really depends on the individual and their circumstances. Some buyers or sellers prefer to deal with one person because they feel it'll be less stressful. But then there are others who don't mind working with multiple people as long as they have a successful and smooth home purchase or sale.
Final Thoughts
Prior to interviewing Realtors buyers and sellers should think about what type of agent they want. Then as they interview Realtors they'll be able to see which one checks their boxes. Buyers and sellers should never be afraid to ask questions. While most agents will discuss how they operate, not all will. Some buyers or sellers won't know their agent is part of a team until a team member contacts them.
The bottom line is buying or selling real estate can be extremely stressful for a lot of people. Having a trusted advisor is key, whether the agent is on a team, has a team, or is on their own. Decide which method will work best for you!
Please consider spreading the word and sharing; Real Estate Team Vs Solo Agent | What's the Difference?
Wondering what the difference is between a real estate team and solo agent? Sometimes there's a big difference between the two, here's what you need to know. #realestate
About the Author
Top Wellington Realtor, Michelle Gibson, wrote: "Real Estate Team Vs Solo Agent | What's the Difference?"
Michelle has been specializing in residential real estate since 2001 throughout Wellington Florida and the surrounding area. Whether you're looking to buy, sell or rent she will guide you through the entire real estate transaction. If you're ready to put Michelle's knowledge and expertise to work for you call or e-mail her today.
Areas of service include Wellington, Lake Worth, Royal Palm Beach, Boynton Beach, West Palm Beach, Loxahatchee, Greenacres, and more.
Real Estate Team Vs Solo Agent | What's the Difference?