Remodeling a Modular Home? 4 Critical Things to Consider
Modular homes have become increasingly popular in today's housing market. The appeal of a modular home is that it can be constructed in a factory and then assembled on-site. This allows for greater customization and dramatically reduced construction time.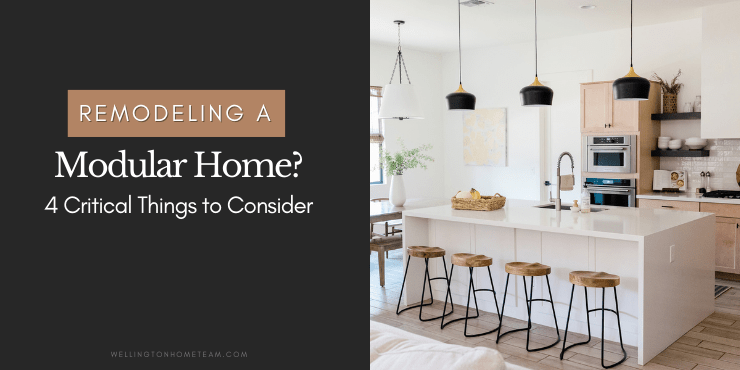 However, a modular home may require more maintenance and care than its traditional counterparts.
Considerations To Keep In Mind Before Renovating a Modular Home
A modular home can be used for both residential and commercial purposes because of their durability, high quality, and cost-efficient features.
If you are planning on remodeling a modular home, there are some considerations that you should keep in mind before starting the renovation process. Here are the top 4:
1. Check Property Deed
The first thing you should do is check the property deed of your modular home. The deed will tell you whether or not you can make changes to the exterior and interior of your home. If there is no mention of making changes in it, you should be able to go ahead with renovations easily.
However, if there are restrictions regarding changes, follow them instead of trying to change things on your own accord.
2. Check With Your Local Government
If you live in a state with strict regulations regards to remodeling a modular home, you may have to pay special attention to the local building codes. So, make sure to check with your local government before you start your modular home remodeling.
In addition, it's essential to ensure that your renovations comply with the local fire codes and safety standards. If you need clarification on whether or not your plans are legal, consult a professional before starting any work on your home.
3. Check With a Contractor or Structural Engineer
If you're planning on making structural changes when remodeling a modular home, like adding rooms or expanding the house's footprint, consider checking in with a contractor or structural engineer first but make sure you contact a modular home remodeling contractor with experience. The last thing you want is for your new addition to collapse during construction or after completion.
If you plan on remodeling a modular home you'll want to consider these 4 things before starting any type of renovation project. #modularhomes #homerenovations
Suggestions & Recommendations On Remodeling a Modular Home
Here are some suggestions and tips on remodeling a modular home, this includes remodeling a double wide manufactured home:

1. Plumbing and Electrical Work [Kitchen & Bathrooms]
If you want to remodel your kitchen or bathroom, there are several things you need to consider before making any changes.
The first thing that needs to be done is to ensure that the existing plumbing and electrical systems in the room can support the new appliances or fixtures being installed. If there isn't enough power or water pressure, you will need to upgrade these systems before moving forward with any other work.
It may also be necessary to replace some plumbing or electrical components to prevent future problems with leaks and short circuits.
The next thing that needs to be considered is whether or not it makes more sense to install new cabinets or fixtures instead of repairing old ones. This will depend on how much wear and tear there has been on these items over time and how much value they still have left in terms of appearance and functionality.

2. Interior and Exterior Finish [Check For Exterior Regulations]
When remodeling a modular home, it's essential to ensure that the exterior is in line with local regulations. In some areas, guidelines must be followed when it comes to the color of your home and how much of the exterior is covered by siding. Check with your municipality for specific details about what you can and can't do when changing the look of your modular home.
If you're looking for an affordable way to update your home, consider adding new windows or doors. If you want to update some other aspect of your house — like adding a deck or patio — consider making changes within the interior instead. This will help maintain the appearance of your home without going over budget, which remodeling a modular home on a budget can be accomplished.

3. Roof and Eaves
There are many different types of roofs available for homes that are modular. You may choose to have a traditional asphalt shingle or metal roof. If you want something more unique, plenty of other options are available.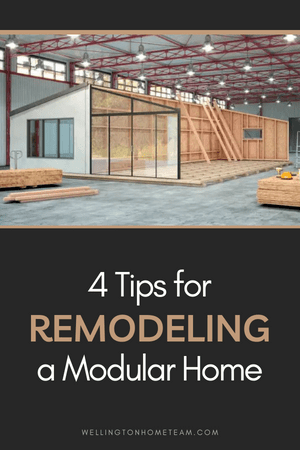 For example, if you want your home to be environmentally friendly, consider solar panels on your roof to help provide electricity for the entire house. This option provides an excellent way to save money on energy bills while ensuring that our planet is being protected simultaneously.
The eaves of your home should match the style and design of the house itself. These are typically made of wood and come in many styles, such as curved or straight lines.
Some older homes had decorative designs carved into them, which would add character to any home by adding visual appeal as well as beauty with their varied designs. So, conduct your research first, and make a decision you'll not regret!

4. Consider Adding a Module
Adding a module when remodeling a modular home is a great way to add space. Modules are prefabricated sections of a home that can be added to the existing structure.
Modules can be added in various ways. Another room can be built onto the back of your house, or an addition can be built onto the side. There are also options for converting an existing space into another type of room. For example, if you have an unused garage, you could convert it into a bedroom, office, or even a living room.
When considering what type of bedroom to add to your home, there are several factors to consider, such as size, style, and cost, before deciding what kind of bedroom you want in your new home.
Final Thoughts
Your modular home can be updated, remodeled, and modified to suit your needs, tastes, and styles. Consider these tips when deciding whether or not remodeling a modular home is right for you by utilizing them to make informed decisions on how best to improve your home.
Please consider spreading the word and sharing; Remodeling a Modular Home? 4 Critical Things to Consider
If you plan on remodeling a modular home you'll want to consider these 4 things before starting any type of renovation project. #modularhomes #homerenovations
About the Author
Top Wellington Realtor, Michelle Gibson, wrote: "Remodeling a Modular Home? 4 Critical Things to Consider"
Michelle has been specializing in residential real estate since 2001 throughout Wellington Florida and the surrounding area. Whether you're looking to buy, sell or rent she will guide you through the entire real estate transaction. If you're ready to put Michelle's knowledge and expertise to work for you call or e-mail her today.
Areas of service include Wellington, Lake Worth, Royal Palm Beach, Boynton Beach, West Palm Beach, Loxahatchee, Greenacres, and more.
Remodeling a Modular Home? 4 Critical Things to Consider