Buying Land In Florida: Important Things You Need to Know
Buying land is an investment for a few people, and some do not know how land buying works. However, we cannot neglect the importance of buying land. It is an option for investors to diversify their portfolios and create new ways to safeguard their futures.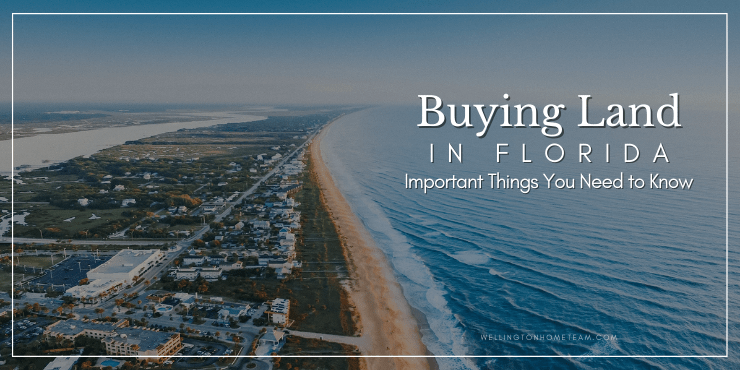 However, you will find various opportunities with the land. 
Land is a finite resource, and thus there is an opportunity to be the first to grab the place.  

Land is a tangible resource, and thus people can easily trust it as an asset. 

The land is affordable if you buy it first. 
The whole process of buying land is critical if you do not understand the steps and procedures of buying it. On the other hand, it is critical for a person to understand which is good land and which is bad until they understand the specific goods and bad of the place.
Buying land in a place depends on many things. It's not as easy as you think. For instance, if you want to buy land in Florida, you will have to look out for wetlands and flood zones. Florida's specific concern about the wetland is the first thing any buyer should look at but the actual process of buying land in Florida isn't overly complicated.
Apart from that, you cannot just go and buy land because there is a suitable procedure to complete things. 
Here we will discuss what you need to know when buying land in Florida and answer the question "is buying land in Florida a good investment?"
You Cannot Control The Weather
Understanding the buying process is important and understanding the particular place is more important. Buying land in the Sunshine state is probably ideal for many people. But that is not all. 
You have to think a lot and do a better analysis of the place and land before you buy one. However, controlling the weather is not a human thing. People buy wetlands in Florida, but they also have faced issues due to their lack of knowledge. 
For instance, you don't want to get scared by wetland issues like water issues and flood zones. Every state has its own unique concerns, and every land buyer needs to know the particular things related to the states. 
For instance, if you go to New York and decide to buy a secluded lot, then you might not be able to access it during the winter days due to heavy snowfall. Now, if you go to Florida, you will have to concentrate on the portions like flood zones, wetlands, and floodways. These state-specific thighs are more important than common buying problems. So, you need to handle it properly. Technically the whole of Florida is a flood zone because it is very close to the sea level. But a place that is a designated flood zone is not a terrible thing to go for.
Why Should You Consider Buying Land in Florida?
This southeasternmost U.S. state is situated beside the Atlantic and considers the Gulf of Mexico on the other side. If any place has miles of endless beaches, then Florida is the name that comes at the top of the list. 
Apart from that, the culture of the people and places in Florida have a different night vibe.
Whether it's an upscale south beach or world-class beaches, or even the state park, you will get to experience some amazing and different living factors in Florida.
Things To Watch For With Florida Land
There are various problems related to Florida lands that create a dilemma in their mind regarding the buying process. This is a critical concern for the people who are dealing with the land-buying process. But if you can avoid potential risks with Florida Floodlands and wetlands, you will be able to bet on good land with better lifestyle choices. 
Thousands of options are available in Florida to change your lifestyle or lead a better life with better natural resources.
From extreme rural living to suburb outskirts is possible to lead in Florida. On the other hand, if you have the hobby of full-scale commercial agriculture, you can simply do that in the Florida lands. 

Utility Check
We have already mentioned that buying land is critical if you do not know about it. Additionally, buying unknown land is the most dangerous situation for a buyer. So, if you are not in Florida, you should not go buying land without checking for the popper utilities available in the place. 
For instance, if you see that there is no gas line available in that place, no matter how good your pace is, you will have to suffer a lot while you are going to live in that place.
The utility is a must-check for people who are planning to live in a new place. Even if you do not live there, you will have to check out for the utilities and government services available in that particular place.
In most cases, wetland buyers do not look for many facilities, but they just stock them. But this should not be your approach at all. You have to first check which is good land for you apart from the wetlands. Well, there are some places in Florida where you can enjoy the beaches without being in a total wetland. 

Survey & Title Search
A property survey is a must for the land-buying process. Additionally, comprehensive research on the land deals with the survey process. 
Apart from that, the title issue becomes big when the land buyers do not consider their survey process properly in Florida. 
This is not the area where you can do whatever you want without being appreciated with the title confirmation of the land. So, it's important to go for and solve title issues.
Look for the title policy.

Check out the survey process.

Go for appraisal to determine the value of the property. 
Research The Zones And Plan For The Future
If you are really up for buying land in FL, you will need to do some homework on the places.
It will be better if you look out for the land for sale in Florida to first list out the places you want to dig in. It's not possible to roam around the whole place. So, it will be better if you choose to avoid wetlands and find a relatively interesting place with better government facilities in Florida.
If you are looking to buying vacant land in Florida call us today at 561-333-0446.
Please consider spreading the word and sharing; Buying Land In Florida: Important Things You Need to Know
Are you up for buying land in Florida? Check out the key problems here and decide on the land wisely. #buyingland #floridaland
About the Author
Top Wellington Realtor, Michelle Gibson, wrote: "Buying Land In Florida: Important Things You Need to Know"
Michelle has been specializing in residential real estate since 2001 throughout Wellington Florida and the surrounding area. Whether you're looking to buy, sell or rent she will guide you through the entire real estate transaction. If you're ready to put Michelle's knowledge and expertise to work for you call or e-mail her today.
Areas of service include Wellington, Lake Worth, Royal Palm Beach, Boynton Beach, West Palm Beach, Loxahatchee, Greenacres, and more.
Buying Land In Florida: Important Things You Need to Know