Selling a Home with Tenants | A Helpful Guide for Landlords
If you have purchased a property in the past as an investment, and you now want to sell, you might find it difficult if you have a tenant. Adding to the complications you face are the lease agreement and the laws that protect your tenants.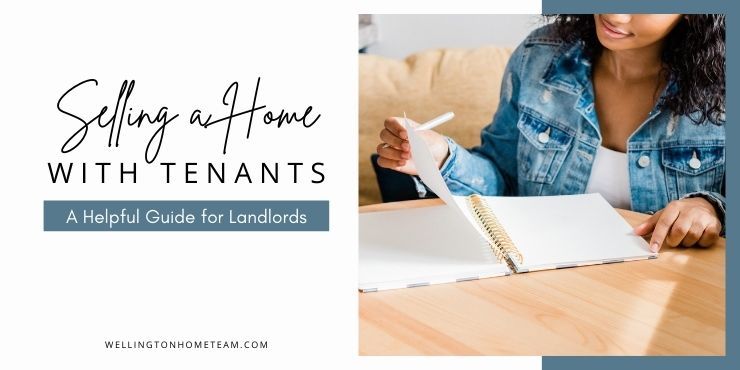 Though it is more difficult, there are some things you can do when selling a home with tenants that might make it a little easier. Let's take a look at the steps you can take to make the process go more smoothly for both you and the tenant.
Deciding on the Best Approach
Depending on your unique situation, there will be different options available to you. Review your tenancy agreement so that you understand what you can do and when. This should ensure that you don't try to do something that could end up giving you more problems.
Allowing the Lease to Expire
If the home is empty when you put it on the market, it will be easier to find a buyer. If you have a tenant that is renting month to month or they don't have much time left on the lease, you can just wait for the contract to run its course. This way you don't have to worry about selling a home with tenants.
However, if the tenant doesn't want to leave at the end of this lease, you will have to give them the appropriate notice, as per your rental agreement and local laws.
If you find yourself in the fortunate situation of the tenant leaving, you won't have to worry about arranging showings with the tenants or the condition of the property. You can make sure the home has a deep clean and get any problems fixed before potential buyers get to look at it.
Selling the Property While the Tenant is Still Living There
If your tenant still has a long time left on their lease, and you can't predict when they might want to leave, you can just sell it with them still living there. However, there can be several challenges when selling a home with tenants.
This could lead to problems selling if the renter isn't happy, however. The place could be untidy, or the tenant might have things to say to prospective buyers that will put them off. You could even find that waiting out their lease is preferable if they are particularly upset by the change.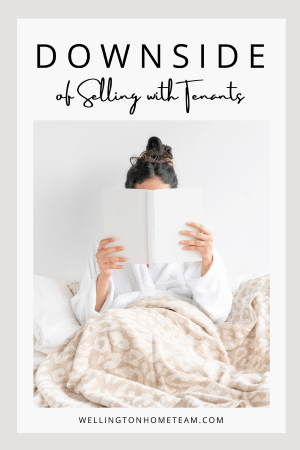 While the tenant remaining in the home isn't going to be good for many types of purchasers, it can be beneficial to some. For investors, already having a tenant in the property can be an advantage, but not necessarily as much as you might imagine. While it does save them from having to find their own tenant, they might not like the terms of the lease.
A new investor might want to increase the rent, or they may not be happy with the screening process you have used. Either way, for investment buyers, already having a tenant isn't necessarily a good thing.
Typically, you can expect to need to give the tenants a day's notice of upcoming showings. While this might be a little inconvenient for buyers, you need to remain fair to your tenant, particularly if you want their help.
If you do sell the property to an investor, you need to make sure the tenant is taken care of by keeping them informed and making sure they understand the new arrangement. This means letting them know their security deposit is still safe and the new arrangements for paying the rent.
Selling a home with tenants can be extremely challenging and even costly. So it's important landlords have a game plan in place ahead of time. #homeselling #realestate
Tips for Selling a Home with Tenants
Talk to Your Tenant
If you have a good relationship with your tenant, they might be willing to work with you to help sell the home. If not, you could be in for some problems. For the tenant, a new buyer will create a lot of uncertainty. This may push them towards being unhelpful when you are trying to sell the property.
Buyers will want to be shown around the property, and if it is untidy and full of trash, they are unlikely to be encouraged to put together an offer. If, however, you get the full assistance of your tenant, perhaps they will keep the home tidy and make it easy for your real estate agent to show it.
If you keep your tenant informed of your intentions, you might discover you have more options than you thought. You never know, your tenant might have money saved and want to purchase the property. If this is the case, it will save you a lot of time and expense. While you will still need to have your real estate agent create a purchase agreement and go through closing, you will avoid listing, staging, and showing the home. This will help you remove the uncertainty of selling a home with tenants and free up your funds as quickly as possible.
Offer the Tenants an Incentive
If you don't already have a good relationship with your tenant, and they aren't keeping the home as tidy as you'd like, perhaps you can offer them an incentive.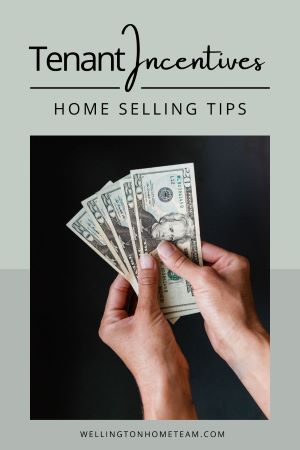 You could offer to refund their security deposit if they keep the property tidy and stay out of the way when the showings take place. Offering this sort of incentive once the house is sold, should give them the motivation to put in some effort to make it more sellable.
You can also offer incentives to get your tenant to leave the property sooner than their lease agreement requires. Even if you don't have an early termination clause in the contract, there could be an amount of money that will persuade them to move out. If you can find an arrangement that is advantageous to both parties, it could potentially lead to selling your home faster and for more money.
If you have been on better terms with your tenant, perhaps they will be willing to leave the contract early in exchange for help with moving expenses or paying their next security deposit.
Final Thoughts
Even when you follow our suggestions, things can still fail to go to plan. But if you approach your tenant and convince them that their help is in their best interests, you may find they do the things necessary to get the property sold.
If your renter does help you in the process, don't forget to thank them for their assistance. You might even end up discovering that your experience when you sell a home with tenants is far easier than you expect. However, in most cases selling a home with tenants can be costly and stressful.
Please consider spreading the word and sharing; Selling a Home with Tenants | A Helpful Guide for Landlords
Selling a home with tenants can be extremely challenging and even costly. So it's important landlords have a game plan in place ahead of time. #homeselling #realestate
Popular Questions for Selling a Home with Tenants
Do I have to pay rent if my landlord is selling the house? Yes, unless otherwise agreed to tenants need to continue paying rent even if their landlord is selling the property.
Are there companies that buy houses with tenants? There are all types of companies out there that buy real estate but only for the right price.
My landlord is selling the house can I buy it? If you are qualified to purchase the property and can come to terms with the seller you should be able to buy the house without any issues.
What are tenants rights when landlord sells property with no lease? It ultimately depends on the state and the laws in that specific state where the home is located.
About the Author
Top Wellington Realtor, Michelle Gibson, wrote: "Selling a Home with Tenants | A Helpful Guide for Landlords"
Michelle has been specializing in residential real estate since 2001 throughout Wellington Florida and the surrounding area. Whether you're looking to buy, sell, or rent she will guide you through the entire real estate transaction. If you're ready to put Michelle's knowledge and expertise to work for you call or e-mail her today.
Areas of service include Wellington, Lake Worth, Royal Palm Beach, Boynton Beach, West Palm Beach, Loxahatchee, Greenacres, and more.
Selling a Home with Tenants | A Helpful Guide for Landlords