Wellington's 4th of July Celebration and Fireworks 2021
Wellington Florida will be hosting their annual 4th of July celebration on Sunday, July 4th, 2021. This year's celebration will be taking place at Wellington Aquatic Complex and Village Park. If you've never attended any of Wellington's Fourth of July events it's a day of fun you won't want to miss.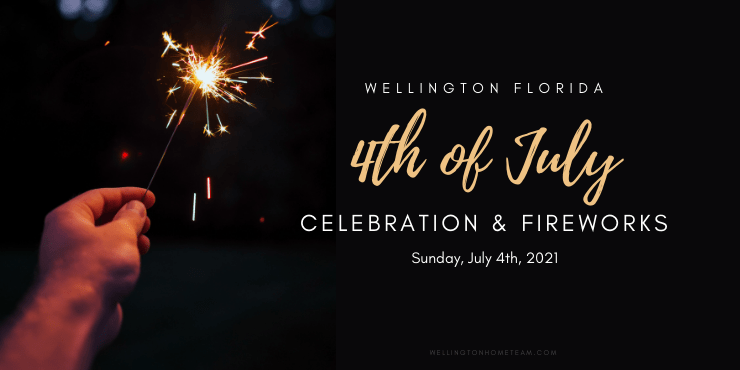 Patriotic Pool Party @ 12:00pm-5:00pm
Start your afternoon off with fun in the sun at the Wellington Aquatic Complex, which is located at 12150 Forest Hill Boulevard, Wellington, Florida 33414.*Admission fees; children under 3 are free, juniors ages 3-17 is $3.00 adults 18-54 is $5.00 and seniors over 55 is $2.00
FREE Family 4th of July Celebration @ 6:00pm-9:00pm
Enjoy live entertainment, food trucks, games, petting zoo, inflatable rides, face painting and bingo at the Village Park, which is located 11700 Pierson Road, Wellington, Florida 33414. This event is FREE!
2021 4th of July Fireworks Extravaganza @ 9:15pm
The Wellington fireworks display for 2021 will be held at Village Park. We encourage Wellington residents who live in nearby neighborhoods like Grand Isles, the Isles, or Equestrian Club to ride their bikes, scooters, or drive a golf cart over if the weather permits. Don't forget the Fourth of July takes place on Sunday this year!
Wellington Florida's 2021 Fourth of July Fireworks and Celebration will start with a pool party followed by a celebration and ending with fireworks. #wellingtonfl #4thofjuly #fireworks
All events, dates, and times may change without notice. For more information about Wellington's 2021 4th of July celebration call 561-791-4005.
Wellington's 4th of July Celebration and Fireworks 2021