Short Sales Explained | A Complete Guide to Short Sales
What is a "short sale" and why do homeowners need to know about it? The short sale process is a way for financially-distressed homeowners to preserve their credit. A short sale is also a way to transfer ownership of the property in an orderly manner. Homeowners may have any deficiency on their mortgage account subsequently forgiven or discharged. For these reasons, a short sale is among the most attractive alternatives to foreclosure.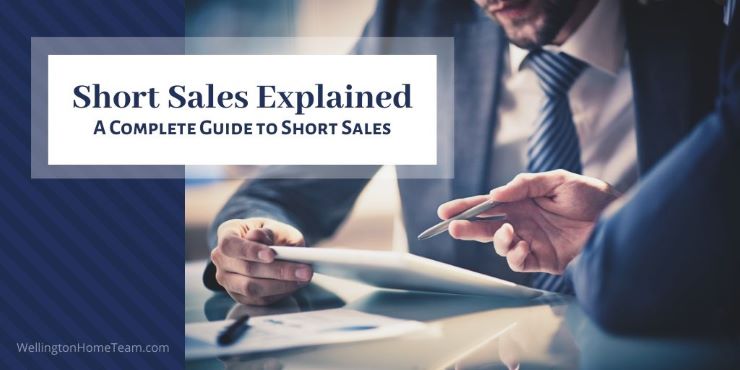 What is a Short Sale on a House?
A short sale is when a property is sold for less than what the homeowner owes on his or her mortgage. The mortgage lender must first approve the sale before it can take place. 
Example: the homeowner owes $295,000 on a home that once was worth $335,000, but now is worth $265,000. If the bank agrees, the home can be put on the market for $265,000. Any offers by potential buyers are submitted to the mortgage lender for approval. Let's say a buyer made an offer of $240,000. The mortgage lender countered at $260,000, and the buyer countered again at $250,000. They settle at $254,000 – $41,000 less than what the homeowner owes.
When is a Short Sale the Right Thing to Do?
If a homeowner is experiencing financial distress and knows that he or she can no longer afford their monthly mortgage payments, they might first contact their lender to see if they can negotiate a loan modification or mortgage modification to lower the monthly payment.
If the mortgage lender refuses to negotiate with the homeowner or does not offer an acceptable/affordable loan modification, one of two things will happen, if the homeowner is in default:
The mortgage lender will file a foreclosure suit;

The homeowner will contact the lender and a realtor to see if a short sale is a viable option.
Short sale is a term most have heard of but don't know what it is. Here is a guide for homeowners answering popular questions about short sales. #shortsales #realestate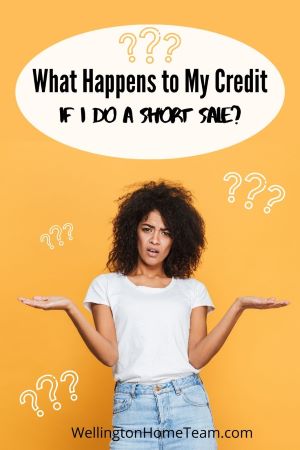 What Happens to My Credit if I Allow a Short Sale?
The credit ramifications of a short sale are much less damaging than that of a foreclosure. This is the very reason any financially-distressed homeowner should consider a short sale.
When a property is sold at a short sale, the homeowner's credit score will likely be affected very little. Also, that homeowner will likely be able to get another home loan quickly, although probably not at the most favorable interest rate. Lenders see a short sale as making the best of a bad situation. They see the homeowner acting responsibly in helping transfer ownership in an orderly manner.
A foreclosure remains on a homeowner's credit report for seven years, affecting his or her credit score significantly.
What Can I Do about the Deficiency on the Mortgage Following a Short Sale?
If a homeowner can't get the lender to forgive the account deficiency, the homeowner remains liable for that debt. In the example above, the homeowner still owes $41,000 on a property that he or she no longer owns.
What can be done? Here are some options:
The homeowner negotiates with the mortgage lender to pay some lesser amount, either in a lump sum or in installments.

The homeowner has a steady income and therefore the ability to file a Chapter 13 bankruptcy petition. He or she will pay some of the deficiency off in the 3- or 5-year Chapter 13 plan. The remaining unpaid balance was discharged as unsecured debt.

The homeowner's income qualifies to file a Chapter 7 bankruptcy petition. After the 4-6 month process, the entirety of the deficiency is discharged.
Bankruptcy and the Deficiency Balance
There are two ways bankruptcy can help a struggling homeowner deal with his or her obligation to pay the deficiency balance of the mortgage following a short sale.
Chapter 7 and the Deficiency Balance
Chapter 7 bankruptcy is a 4- to 6-month process. The homeowner discloses income, expenses, assets, and debts and receives a discharge of all unsecured debt. 
Unsecured debt is debt, which is not secured by collateral like a car or house. Since the deficiency is now unsecured, the subject property having been sold, it is discharged in its entirety. The homeowner is no longer responsible for that debt.
A homeowner seeking to file Chapter 7 must pass what is called the "means test." The means test is an analysis of the homeowner's income and some types of expenses. If the homeowner does not pass the means test, he or she must file a Chapter 13 bankruptcy case instead and repay some portion of the deficiency balance.
Chapter 13 and the Deficiency Balance
For homeowners with a steady income and who either do not income-qualify for Chapter 7, or need to file Chapter 13 for another reason, Chapter 13 can get some if not most of the deficiency balance discharged.
In a Chapter 13 bankruptcy case, in addition to dealing with the mortgage deficiency, the debtor can:
Get a repossessed car back;

Pay car loan or lease arrears over their 3- or 5-month plan;

"Cramdown" a car loan to the market value of the car;

Pay back-owed income tax over the plan, or, if the tax qualifies, have it discharged;

Have most if not all other unsecured debt, such as medical debt and credit card debt, discharged when the plan is complete;

Pay back-owed alimony and/or child support through the plan;

Pay any government fines or fees that are not dischargeable through the plan.
Chapter 13 helps an honest but unfortunate debtor deal with a mortgage deficiency as well as most other past-due debt.
Please consider spreading the word and sharing; Short Sales Explained | A Complete Guide to Short Sales
Short sale is a term most have heard of but don't know what it is. Here is a guide for homeowners answering popular questions about short sales. #shortsales #realestate
Popular Short Sale Questions
Is short selling illegal? Short selling is not illegal. It involves selling borrowed securities with the expectation that their price will decline, allowing the investor to buy them back at a lower price and profit from the difference. However, short selling is subject to specific regulations and restrictions imposed by financial authorities to ensure fair and transparent markets. These regulations aim to prevent market manipulation and protect investors.
Can short sales be denied? Yes, short sales can be denied. The approval of a short sale is subject to the lender's discretion, and they have the right to reject a short sale offer. There are several reasons a lender might deny a short sale. A few reasons include the lender's determination that the seller's financial hardship isn't genuine or sufficiently documented, if the sales price is too low, if there are other liens or judgments on the property that can't be resolved, or the seller doesn't meet the lender's specific criteria for a short sale.
Additionally, inadequate or incomplete documentation, delays in the negotiation process, or failure to meet the lender's deadlines can also lead to a short sale denial. It's important for sellers to work closely with their lender, provide all requested documentation, and maintain open communication throughout the process to maximize the chances of short sale approval.
How long do short sales take? The length of time a short sale takes will vary greatly and depends on several factors. On average, the process takes several months, which usually range from 3-6 months. However, some short sales can are approved in 30 days while other short sales can take more than a year.
The amount of time it takes to approve or deny a short sale ultimately depends on the bank, the process of negotiating the short sale, and whether or not the seller's hardship package is complete. How many other liens are on the property can play a role as well.
Can I change my mind about doing a short sale? Yes, as a homeowner, you generally have the right to change your mind about doing a short sale. While the decision to pursue a short sale is typically made due to financial hardship or other circumstances, you have the option to withdraw from the process if you no longer wish to proceed.
However, it's important to note that once you have signed a contract or agreement with a buyer or your lender, there may be legal and financial implications involved in changing your mind. It is advisable to consult with a real estate attorney to understand the specific consequences and any potential obligations if you do.
Need Short Sale Assistance?
If you owe more than your home is worth but need to sell let top Wellington Realtor, Michelle Gibson, go over all of your options. She has been specializing in residential real estate since 2001, including short sales, throughout Wellington Florida, and the surrounding area. Areas of service include Wellington, Lake Worth, Royal Palm Beach, Boynton Beach, West Palm Beach, Loxahatchee, Greenacres, and more.
About the Author
Veronica Baxter is a legal assistant and blogger living and working in the great city of Philadelphia. She works frequently with David M. Offen, a busy Philadelphia foreclosure attorney.
Short Sales Explained | A Complete Guide to Short Sales