One of the biggest questions landlords have is "should I increase my tenant's monthly rent?" and the answer is maybe. There are several things landlords should consider prior to telling their tenant they will be increasing the monthly rent. Below are three questions landlords can ask themselves to help determine what the best decision is for their situation.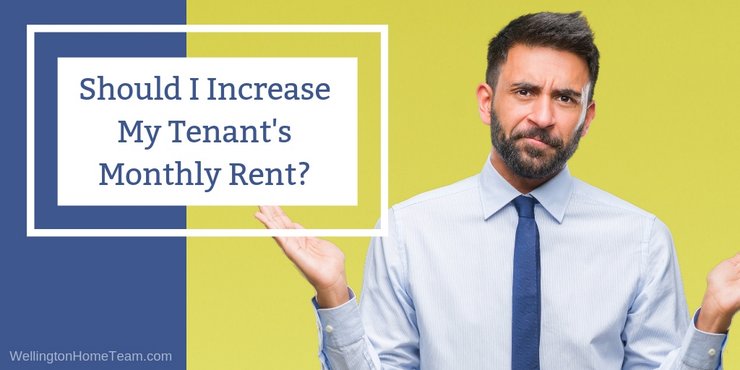 1. What is the Current Rental Value for your Home?
First and foremost you need to determine what your home would rent for in today's real estate market based on the competition and condition. If the rental value has gone down, then increasing the rent is probably a sure-fire way to lose your current tenant and you could have a hard time finding a new one. However, if the rental amount has increased then you need to ask yourself additional questions.
2. Do you Currently have a Good Tenant?
Finding a good tenant isn't always easy and if you're a seasoned landlord you may have already encountered a bad tenant. So if your current tenant pays rent on time, maintains the property, and is easy to deal with keeping them in place is probably a no-brainer. However, before telling them you plan on increasing their rent at renewal time you'll want to ask yourself one more question.
3. How Much Will it Cost to Find a New Tenant?
Now that you've determined the current market value for your rental and decided keeping your tenant is the best option you'll want to calculate a few numbers. By doing so you'll be able to decide if raising the rent is worth the risk of losing your tenant. Now, it will cost your tenant to move, so they may pay a small rent increase. However, not all tenants can afford to pay more and may move.
So here are some numbers to think about….
First, you need to figure out what your monthly overhead is. This amount should include any mortgage payments, insurance, property taxes and electric/gas, water. If your home belongs to an HOA make sure to include the HOA dues along with lawn care and/or pool maintenance. Then you'll have to guesstimate how long it will take you to find a new tenant. On average it can take a landlord 30 days, this is the period you will be covering the overhead. Next, if you hire a rental agent to find a new tenant there is usually a cost associated with this service, so you'll want to include that amount too.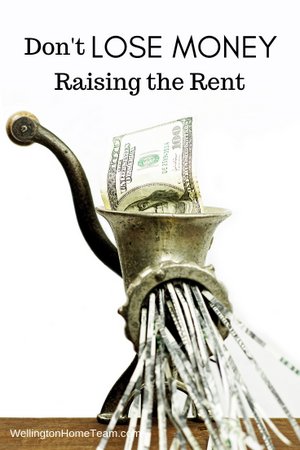 Once you have all of these numbers add them up, divide by 12 and add this amount to the current rent. This is the rental amount a new tenant will have to pay in order for you to break even.
Here's an example:
Current Tenant Pays: $2,500
Current Market Value: $2,600
Monthly Overhead: $2,200
Real Estate Fees: $2,600
$2,200 + $2,600 = $4,800/ 12 = $400
Based on these numbers the landlord would have to rent their home for $2,900 a month to break even from their carrying costs and rental fees.
Is this amount above or below the current rental value of your home? If it's above its probably not in your best interest to increase the rent and risk losing your tenant. Although if it's below and you're willing to find a new tenant having a conversation with your current tenant about raising the rent might be worth it.
Final Thoughts
Every landlord wants to get the maximum amount of money for their rental. Although oftentimes some landlords don't weigh all of their options. Instead, they just raise the rent, not realizing if they have to find a new tenant it is going to cost them more money. So before making a knee-jerk reaction they really need to analyze their situation and decide what the best course of action is. Sometimes trying to get $100 more a month in rent will cost a landlord thousands!
If you think this article, Should I Increase My Tenant's Monthly Rent?, was an interesting read please give it share!
Three questions landlords need to ask themselves to help them determine if they should increase their tenant's monthly rent. #realestate
Additional Real Estate Advice from Top Professionals
About the Author
The above real estate article "Should I Increase My Tenant's Monthly Rent?" was written by Michelle Gibson of Wellington Florida Real Estate. Specializing in residential real estate since 2001 in Wellington and the surrounding area. Not only does Michelle assist buyers and sellers, she assists landlords and tenants too. She would love to share her expertise and guide you through the entire real estate process.
We service the following areas; Wellington, Lake Worth, Royal Palm Beach, Boynton Beach, West Palm Beach, Loxahatchee, Greenacres and more. If you are considering selling your home, we welcome the opportunity to work with you and list your home with a top Realtor in Wellington Florida