Should You Use a Realtor to Find Your Next Rental?
Renting a home is very similar to buying a home. You usually hire a Realtor, look at properties, submit an offer, negotiate the terms, sign a contract/lease, do a walk-through, pay money, and are given the keys. However, some tenants don't think it's necessary to hire a real estate agent, so they go at it alone.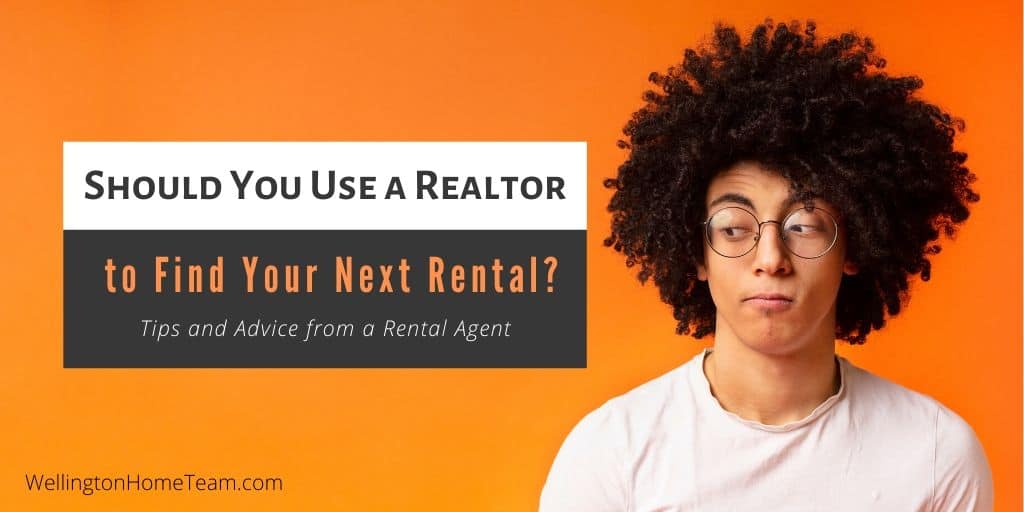 Homes for rent are only a mouse click away, so what could possibly go wrong with renting a home without using a Realtor? A lot! Below are 6 reasons why tenants should always hire a real estate agent to assist them with their rental needs.
6 Reasons to Use a Realtor to Find Your Next Rental
Avoid Rental Scams
You've probably seen this headline before"family scammed out of money and home by rental scam" and yet people continue to get scammed. How is this possible?
There are a few reasons. One, they don't use a real estate agent who can verify if a rental is legit or a scam. Two, scammers are getting more sophisticated. Three, people just think it won't happen to them because they're smart.
Well, I am here to say scammers are doing their homework and jumping through hoops to ensure they can fool people. From showing the home themselves to impersonating the landlord they are more believable today than ever.
Just this morning I received a phone call from a tenant who was in a complete panic. She rented a home and was supposed to receive the keys today, but the person she was dealing with stopped responding. I asked her a few questions to see if I could point her in the right direction.
Did you use a Real Estate Agent? No
Where did you find the house? Craigslist
Did you see the house? Yes
Who showed you the house? The landlords representative?!?!
Did you meet the landlord? No, they live out of state
Did you already pay your move-in funds? Yes
Why didn't you get the keys when you paid? I was told they needed to re-key the house
At that moment I knew she was scammed, which was later confirmed.
This entire situated could have been avoided if she used a licensed real estate agent. Instead, she did it by herself and lost thousands of dollars she'll never see again.
Access to Rental Inventory & Restrictions
It might be fun for some people to search online for homes. However, when it comes to rentals the restrictions and requirements for these listings tend to be limited or non-exist when it's syndicated to third party websites. So it's not uncommon for people to find a home they want to view, but find out the landlord won't accept their pet.
When working with a real estate agent they'll do the searching for you based on your needs. Have a pet? They can search for that. Need to move within 30 days? They can search for that. Want a fenced yard? They can search for that too.
Not only will they be able to do a detailed search by your needs they'll be able to find out any additional requirements. Some landlords and HOA have credit restrictions. They may also have pet, vehicle or income restrictions. Sure it may say they'll accept one pet online, but in broker remarks, which aren't available to the general public states "owner will accept one cat under 20 pounds." So if you have a dog that rental won't be an option for you.
Now, you can certainly continue to search for homes on your own, but you still should work with an agent because they can determine if the home you found will be an option.
No More Calling Around
How frustrating is it to call an agent about a rental listing and not receive a callback? It happens all of the time. Oftentimes it's because you're not calling the listing agent and the agent you are calling can't be bothered. Then there are times you will be calling the listing agent, but returning your call isn't a priority. Should agents return calls? Absolutely, but it's not uncommon if they don't.
When working with a real estate agent they'll be able to answer any questions you may have about a property. If they don't know the answer they'll be able to find the answer. Plus, they'll be able to keep track of all of the rental listings you're interested in.
I can't tell you how many times a person left me a message about a rental without an address and they couldn't remember which property they were calling about. Agents do this for a living and know how to work efficiently and stay organized.
Negotiation Expertise
Every landlord and real estate brokerage will have different requirements when it comes to submitting an offer. A majority will require a signed contract to lease, rental application, proof of income and copy of your driver's license. Some will want you to provide a copy of your credit report while others will pull your credit and do a criminal background check themselves.
In addition to knowing what the landlords requires when submitting an offer, your real estate agent will be able to put their negotiation skills to work for you as well. Not all landlords will accept a pet, bad credit, less monthly rent or less money down. This can make it challenging to get into a new rental.
However, your agent will be able to come up with the best strategy, so your offer won't be rejected from the start. Whereas if you're doing it on your own or go directly to the listing agent your offer may flat out be declined.
Submitting a strong offer is imperative especially in a competitive rental market. Sometimes agents need to think outside of the box and come up with a creative way to make your offer appealing. Sometimes it will be a letter to the landlord, maybe more money down upfront. It all depends on your individual circumstances, but your chances will be greater when you have an agent working hard for you.
Knowing What You're Signing
There are a few items you will need to sign when renting a home. The first is the contract to lease, which contains the terms you're offering the landlord. The offer itself is usually 2-5 pages. If the landlord accepts your offer you will then be required to sign a lease, which on average can be 30 pages long. A lease is going to be significantly more detailed when it comes to each party's responsibilities and what happens if those responsibilities aren't met. If the home belongs to a homeowners association you will be required to sign an additional application.
All of these documents are legally binding and can be confusing. However, when you hire a rental agent they'll be able to walk you through the process and explain what you're signing. A lease isn't something that should be taken lightly, a landlord can charge you additional fees and keep deposits if you aren't careful.
Money, Money, Money & Moving In
As mentioned above there are scammers out there, so you need to make sure you're giving your hard-earned money to the right person. When working with a licensed real estate agent they'll make sure your money is going to the correct person. Sometimes it might be the rental brokerage while other times it will be the landlord. Either way, you'll know who the certified funds need to be made payable to and your agent will make sure the check is put in the right hands.
Once your check is handed over you'll receive keys in exchange. Yes, you will receive keys to the property in exchange for your move-in funds and your agent will ensure this happens.
Final Thoughts
You have nothing to lose by hiring a top rental agent in your area and a majority of the time their services are free, so why wouldn't you hire an agent? If you're unable to find an agent to assist you and are forced to find a home for rent on your own be careful. Avoid websites like Craigslist, where anyone can add a listing. You'll want to use a website that syndicates rental listings directly from the MLS and can't be edited like we have here at WellingtonHomeTeam.com.
If you find a "for rent by owner," once again be careful and do your research. Never hand over money to a stranger and don't be afraid to ask to see their drivers license. Spend the money and do a background check on them. Contact a local title company or real estate brokerage and see if you can pay them to research ownership for you.
Please consider spreading the word and sharing; Should You Use a Realtor to Find Your Next Rental?
If you're buying or selling your home hiring a Realtor is usually a no-brainer, but do you need to hire a real estate agent to find a rental? #realestate #rentals
Popular Questions About Rentals
Do Realtors help find rentals? In most real estate markets Realtors can help prospective tenants find a home. However, not all Realtors will handle rentals.
How does a Realtor get paid for rental? In most cases, the landlord will pay the commission for the listing brokerage and renting brokerage. However, this could vary from market to market.
How much do Realtors charge to find a rental? The commission can greatly vary in different parts of the country. In some areas, it might be one month's rent and in others it could be 10% of the gross amount of the lease.
About the Author
Top Wellington Realtor, Michelle Gibson, wrote: "Should You Use a Realtor to Find Your Next Rental?"
Michelle has been specializing in residential real estate since 2001 throughout Wellington Florida and the surrounding area. Whether you're looking to buy, sell or rent she will guide you through the entire real estate transaction. If you're ready to put Michelle's knowledge and expertise to work for you call or e-mail her today.
Areas of service include Wellington, Lake Worth, Royal Palm Beach, Boynton Beach, West Palm Beach, Loxahatchee, Greenacres, and more.
Should You Use a Realtor to Find Your Next Rental?