Things Buyers and Sellers Say that Drive Agents Crazy
Whether a Realtor has been in the business for 3 months or 3 decades odds are they've had a client say something that drove them crazy. Every time I hear a buyer say "I would have paid that" for a home they lost in a multiple offer situation, it's like nails on a chalkboard. If you "would have paid that" you should have offered that especially since I educate all of my clients about multiple offer situations and how they work. Now, if they were never properly educated, had no clue a seller most likely won't counter any offers and accept one then I'd understand, but that's never the case with my clients.
I could write an entire article on this topic, I could write one about Real Estate Agents too! However, I thought it would be fun and even educational to ask my colleagues, who are top Real Estate professionals, from around the world what "drives them crazy" and why. Enjoy!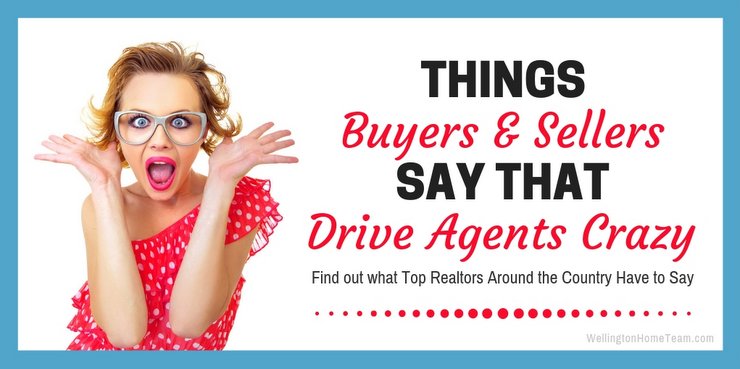 "When is our first open house and will you be having them every weekend?"
One of the biggest myths in real estate is sellers thinking that open houses sell homes. Open houses are the biggest waste of time for sellers. Real buyers always schedule showings for homes they are interested in viewing. The benefit of an open house goes to the real estate agent who uses the seller's home as their office to prospect for business.
Many unprofessional agents never bother to explain the pros and cons of an open house to a seller. The downside is open houses are a magnet for theft. They allow anyone into the home included those who are not qualified to purchase the home. Many people entering an open house have no business being there.
If you are selling a home, you don't need an open house. The risks far outweigh the benefits.
Bill Gassett | Metrowest MA Realtor
"Can we just look at that property?"
Showing homes to potential buyers takes time and a Realtor will make sure that the buyers are qualified to look at the homes. There really is home showing etiquette that all professional Realtors follow. When there is another home in the same development that is for sale, and is obviously out of their price range is quite frankly a waste of time for all parties. And the Realtor would then be showing a home to someone who is not qualified. This serves no point and Real Estate agents are not door openers!
Sharon Paxson | Top Newport Beach, CA Realtor
"Do I have to get inspections done on this new construction home?" 
Almost every new home buyer I work with asks this question, assuming newly constructed homes don't need an inspection "It's new!" I once had a "New Construction" home have a failed sewer line out in the middle of the street, which if we didn't get that sewer line inspection done could have fallen onto the homebuyer and cost them thousands of dollars! Always do ALL the recommended inspections even if it is a brand new home!
Jamohl DeWald | Portland, OR Realtor
"You want me to stage my home and do repairs? No Way this house is perfect!"
How many times have REALTORS® been called upon by a seller for their expert advice in how to prepare their home for a quick sale only to refuse to do any work at all! The sellers don't want to spend dime preparing their home for the market, but they still want top dollar.
Many come to their senses after a few showings accompanied by negative feedback from prospective buyers but by then, it is too late.  Statistics show that most of your serious buyer will be previewing your home in the first 2 weeks and have now ruled out your home.  It is so important to come out of the gate running!
If your deck needs painting, house is peeling, and driveway is crumbling make these repairs BEFORE you put your home on the market. No buyer is going to consider this home with these large expenses unless the price is significantly below market value.  It also raises the question "What else is wrong with this home that it has not been maintained?"
Be smart, listen to professional advice, and don't sabotage the sale of your home!
Eileen Anderson | Berkshire Hathaway Home Services New England Realtor
"We're not giving our home away for nothing!"
I hear this a lot when I sit down with home sellers. This proclamation is probably based on a few things including their perception that their home is worth a lot more than its true market value or that their agent will coerce them into accepting an offer well below what the home is worth.
In reality, a home is worth what a buyer is willing to pay for it (not what Zillow says it's worth). Plus, the sellers don't have to accept a low-ball offer. The sellers are the ones in control. The sellers make the decisions, not their agent.
Conor MacEvilly | Seattle WA Realtor
"You don't mind me hanging around for the buyer viewings, do you?"

Most of us aren't used to walking around a total stranger's home; nevermind having the homeowner following you around from room-to-room!
A while ago, I had the nicest older home seller who insisted she'd like to hang around for the open houses and buyer viewings. As soon as interested buyers arrived, she'd follow us around, initially listen to what I had to tell them, but eventually always ended up interjecting personal stories about each part of the house.
I tried to explain that we'd stop by her at the end of the viewing for any potential questions we might have, but she wanted none of that. Can you see how home sellers might make the home buyers feel awkward? So much for the 'hot buyer' doing the tour without asking a single question! Not exactly how you had pictured that viewing appointment to go! About the author: Xavier De Buck is a  Johannesburg (South Africa) real estate agent with Keller Williams Realty who's passionate about the property market, technology and the synergy of both!
"Should We just Test the Market?"
Overpricing your property is the oldest mistake in the book. Buyers can access tons of real estate data online. Knowing what homes sell for in cities, zip codes, and communities is a cinch with the web. So, that means that if you are overpriced people will know it. If homes in a neighborhood normally go for a range of $500 – 600K and you are priced at $649 you will be in for a long long long wait. Essentially, you will be opening the door to a smorgasbord of frustrations, price reductions, and failures that could have all been avoided if the agent representing you had the guts to tell you the truth about your home value.
Having the right pricing strategy is the very most important single thing you will do in your marketing arsenal. Do it right straight out of the gate if you want to find those qualified buyers who are ready to buy now. Buyers who love your neighborhood are already willing to pay top dollar. Price it right and enjoy the great possibility of multiple offers and having those buyers bid it up even higher. John Cunningham | Phoenix Realtor eXp Realty
Are you guilty of driving your Real Estate Agent Crazy? Find out what top Realtors from around the world have to say about what drives them crazy. #realestate
The End
So were you guilty of saying any of these things during the home buying or selling process? Are you a real estate agent who can relate to these agents? I hope you enjoyed this article and appreciate all of these amazing Realtors for their contribution.
Things Buyers and Sellers Say that Drive Agents Crazy