10 Things to Consider Before Building a Home
Building a brand new home gives you the opportunity to create your dream home. Well, your dream home within your budget of course. Although there are many things you need to consider before you jump in with both feet.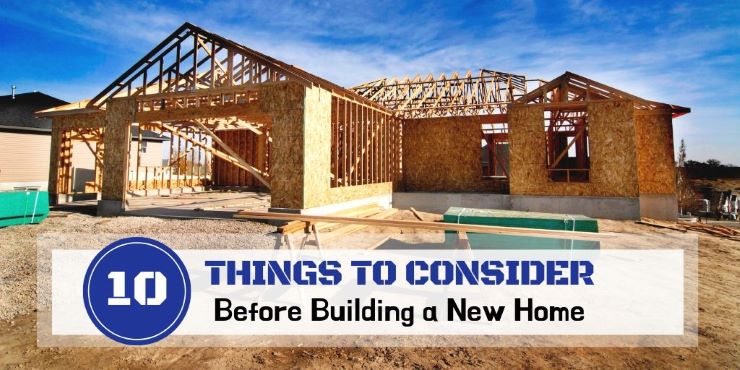 10 Things to Consider Before Building a Home
1. Is Building Right for You?
First and foremost, before building a new home you need to determine if it's the right move for you. Building a new home versus buying an existing home is night and day. When building a new home you get to design it from top to bottom while buying an existing home you get what you see. There are pros and cons to each option, which need to be written down and weighed.
2. Can You Afford New Construction?
One of the biggest deciding factors for determining whether or not a person can build a home is affordability. When purchasing an existing home the price is already set and you get what you see. However, building a new home has a starting price, which is almost guaranteed to go up. There are always small things that get forgotten when building a house, like needing to purchase window treatments and light fixtures.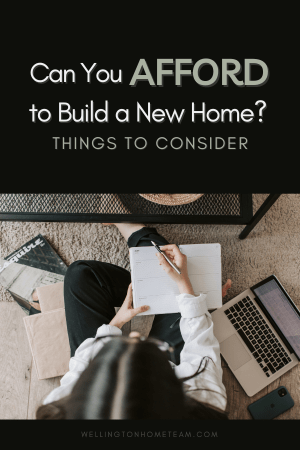 Building a Tract Home VS a Custom Home
Now, if you're building a tract home in PUD (planned unit development) the house and lot will have a set price. This price usually includes the cost of contractors, permits, blueprints, and inspections. The only additional cost may be upgrading finishes, such as tile or hardwood floors. Although if you are building a custom home from scratch you'll have to hire everyone and price everything out. These are things to find out before building a new home.
Finances
To determine affordability you'll want to review your finances. If you're not paying cash you'll then want to discuss your loan options with a lender. A loan on a resale home vs a new construction loan is different too. Rates, closing fees in addition to when you start paying the mortgage back will vary.
3. Find the Perfect Lot
One of the most popular sayings in real estate is location, location, location, and for a very good reason. Whether you decide to build a new home or buy a resale one thing you'll never be able to change is the lot location. So if you're building a home you'll want to find the perfect lot. Although that in itself can be a challenge, from the lack of lots available to whether or not the home you're building will fit. This is another thing to consider before building a new home.
4. Design for the Future
Of course, you want to design your home making it perfect for you. However, when deciding on the design you should think about the future too and cool things to include when building a house. Will you be there forever? If so maybe a one-story home is the best option. Will you outgrow this home and need to sell? Will the design that works for you work for everyone? These are things you'll want to consider and keep in mind when designing your new home.
5. Get Experience Involved
Don't be afraid to get a Realtor involved before building a new home to help you navigate the process. Not only will they be able to help you determine if you should build or buy an existing home they will be able to point you in the right direction. Most Realtors have close relationships with local builders and contractors, and if you need to buy a lot they can help with that too.
Talking to family and friends who've built a home is a great resource too. They'll be able to advise you on things you may not have even thought about. And don't be afraid to ask questions even if they seem too personal. Such as if they had to build again would they? Did they stay on budget? Was it a stressful process? What would they do differently if they had to do it all over again?
Also, when it comes to building a custom home meet with several builders. Don't have tunnel vision and think you have to use a certain builder. Do your research and hire a reputable builder. Building a home is a long process, so you want to make sure you hire the builder who you feel most comfortable with. The builder who is going to walk you through the process because once you get started there is no going back. So before building a new home make sure you choose the best builder.
Thinking about building a home? If so you'll want to consider these 10 things before building a brand new home. #newconstruction #realestate
6. Set Expectations Accordingly
Prior to committing to building a new home set expectations and make sure they are in line with a new build. Building a home takes time and can easily be delayed. Life happens, delays happen, natural disasters happen. Will you be able to wait if things go off course? Will all of your goals be achieved within your budget? If not will you be able to increase your budget? Will you be happy if you don't get everything you want? These are additional questions you need to answer before building a home.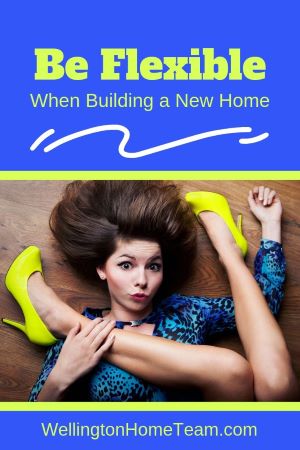 7. Be Flexible
The odds are not everything will go your way. Whether you need to comprise with the builder or your significant other you might not always get what you want. Now, being flexible doesn't mean being a pushover.
The best way to make sure you get the most important things you want is by creating a list before building of "must haves" and things you're willing to forego. Also, if you aren't the only decision-maker you'll want to make sure everyone is on the same page. Are your goals the same as your partner's goals? This question should be answered before you break ground.
8. Communicate
It's imperative to keep an open line of communication with everyone involved in the build. Obstacles will certainly come up and will need to be addressed. Crying, yelling or ignoring people won't resolve the issue. Try staying calm at all times and weigh your options. Also, don't make knee-jerk decisions, sometimes it's best to sleep on a problem before deciding.
9. Mistakes Will Happen
Making mistakes when building a home is almost inevitable. Whether it's you, the builder or someone else be prepared and stay calm! We're all human and humans make mistakes, some costly and some timely. Once again this is where communication is key. When a mistake happens talk through it if need be and figure out the best course of action.
10. Be Patient
Patience is a must if you plan on building a new home. Things might get delayed along the way. Contractors may not respond to you immediately. You may feel like you're standing still and nothing is getting done. This is par for the course when buying or building a home, unexpected things can and will happen along the way.
Final Thoughts
Building a home can be a long stressful process. However, if you do your homework and are prepared it can be a rewarding process. There is nothing like walking into a brand new home, one that you designed from top to bottom. This article is a great guide to help you prepare for building a new home.
Please consider spreading the word and sharing; 10 Things to Consider Before Building a Home
Thinking about building a home? If so you'll want to consider these 10 things before building a brand new home. #newconstruction #realestate
Additional Real Estate Advice from Top Professionals
Have you decided to buy new construction? If so you'll want to ask questions. From what schools is the home zoned for to are there any building incentives? By asking questions buyers will be able to make an educated on where they're going to buy new construction.
Find the perfect lot to build a home, but a home already exists on the lot? Depending on the home and lot value tearing down the home and building a new one may be the best option. This is where a top Realtor will be able to discuss things to consider when weighing this option.
New homes need a home inspection too! Most homebuyers assume they don't have to have a home inspection on their new home because everything will be perfect, but that isn't always the case. Odds are a home inspector will find items wrong with the home, items the builder should repair or replace.
About the Author
Top Wellington Realtor, Michelle Gibson, wrote: "10 Things to Consider Before Building a Home."
Michelle has been specializing in residential real estate since 2001 throughout Wellington Florida and the surrounding area. Whether you're looking to buy, sell or rent she will guide you through the entire real estate transaction. If you're ready to put Michelle's knowledge and expertise to work for you call or e-mail her today.
Areas of service include Wellington, Lake Worth, Royal Palm Beach, Boynton Beach, West Palm Beach, Loxahatchee, Greenacres, and more.
10 Things to Consider Before Building a Home