9 Things Homeowners Never Clean But Should
Cleaning can be a real chore sometimes, one which a majority of people don't look forward to doing. Consequently, there are a number of things that often remain untouched yet they crucially need to be cleaned. Here are 9 things around your home that need to be cleaned. We also share how to clean them and why.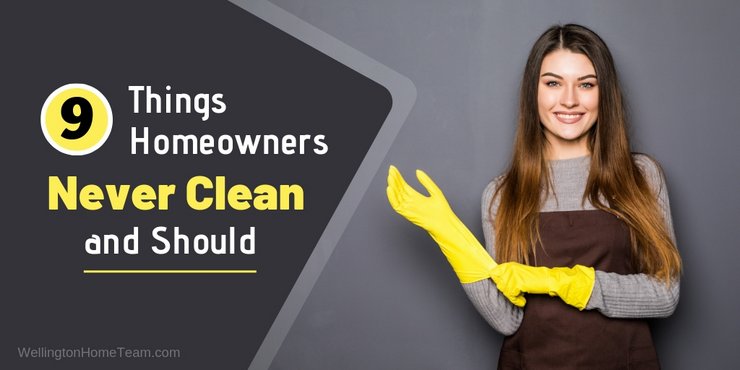 1) Washing Machine
Another cleaning appliance wrongly perceived to take care of itself, the washing machine needs to be cleaned at least once a month. Doing so eliminates favorable growth environments for bacteria and also improves the heating and cleaning efficiency of the machine.
Fill the washing machine with hot water and a cupful of bleach then clean the rubber seal on the door with a paper towel, not forgetting the dispensers as well, to remove debris such as hair. Run it on a self-cleaning or hot wash cycle thereafter to complete the process. This is one of the biggest things homeowners never clean but need to do.
2) Dryer Vent
Reports indicate that dryer vents account for upwards of 15,000 incidents of fire breakouts annually with malfunction resulting from lint built-up due to neglected maintenance often cited as the cause. So this should never be on the list of things homeowners never clean. To ensure you don't end up among those statistics, you should clean your dryer vent every six months.
And how do you that? It's simple. Disconnect the dryer from the power outlet then remove the lint screen and empty it. Now move the dryer forward to create space to remove the tube and expose the vent. Vacuum this vent a couple of times pushing the vacuum as far up the vent as you can. When you're done, reattach everything as it was.
3) Dishwasher
Many people think it's a given the dishwasher to always be clean since, well, that's what it does but that's not the case. Food particles accumulate in hard-to-reach places reducing the effectiveness of dishwashing and resulting in appalling smells.
Start cleaning by taking out the drain filter housed in the bottom rack. Clean this filter and the insides of the dishwasher using soapy water and a rag or brush after removing the racks which tend to get in the way. Remember to also wash the racks themselves and the door gasket which can also be a hotbed for grime.
Once this task is complete fill a dishwasher-safe cup with vinegar, set it on the top rack of the dishwasher, and run the dishwasher on the hottest cycle. Another great option is to sprinkle one cup of baking soda along the bottom of the dishwasher. Once again run the dishwasher on the hottest cycle.
4) Windows
Keeping your windows clean actually has a lot of benefits including better heat efficiency, improved air quality, improved outside view, and extended glass life span as dirt and other particles cause degradation of the material.
You'll need a microfiber cloth, some vinegar-imbued cleaner, and a vacuum cleaner for the task at hand. Use the vacuum hose extension to suck out the dust from window frames. Then spray a generous amount of vinegar on the windows, let it soak for a few minutes, and wipe them clean with an absorbent microfiber cloth. Depending on dirty your windows are you may have to do this a few times.
There are so many things homeowners never clean around their houses but need to. Here are 9 of the most neglected things homeowners never clean and should. #housecleaning #howto
5) Gutters
Unkempt gutters can lead to many problems the most notable of which is water damage resulting from a leaky roof. You can best get around this by scooping out the inside of the gutters to remove twigs, leaves, and other contaminants that can also provide residence to vermin and pathogens.
Once you get out all the debris, scrub off what remains with a rough-bristled brush which should preferably not be metallic so as to avoid damaging the gutter material. Finish off by flushing the gutters using a high-pressure garden hose. While this is one of the many things homeowners never clean it should be on top of their exterior maintenance list.
6) Oven
Food spillage in ovens can cause odors and even start fires. DIY cleaning herein will entail first taking apart the interior, including racks and any other items that can be removed e.g. baking sheets, pizza stones, etc. Preferably lay newspapers, although paper towels work just as well, around the oven to avoid dirtying the surrounding floor.
Using a reputable store-bought cleaner, spritz the interior and let it sit for about 40 minutes to saturate the grime. While that happens, take the racks outside and spray them with the cleaner before hanging them over a garbage bag to dry. When the 40 minutes are up, take damp dish towels and wipe down the oven's inside after which rinse the now dry racks with soapy water before placing them back in the oven.
If you have a self-cleaning oven, this may do the trick too! But make sure you open your windows, so this is something that should be done during the cooler months. Either way, this is one of the biggest things homeowners never clean and need to do.
7) Refrigerator Coils
No matter how clean your home is dirt will build up on your refrigerator coils, so they need to be cleaned. Not only will it increase power efficiency but also longevity.
To clean these coils, unplug the appliance then remove the base grill where the coils are normally located. If yours are not on the bottom, look at the back of the fridge. Once the coils are exposed, use a coil brush to wipe off any dirt, dust, and other contamination. Now vacuum clean the work area and replace disassembled parts.
8) Lube Garage Door Springs
Cleaning and lubing your garage door springs can, in the long run, save you maintenance expenses totaling to thousands of dollars. The lubrication proves to be a magnet for dirt so you'll start by wiping it off with a soft washcloth soaked in hot soapy water.
Once the springs are nice and sparkly you'll need to reapply the lube once more. Be sure to take great care while handling garage door components as the high-tension parts can be dangerous.
9) Toothbrush Holder
Going by the findings of an NFS germ study, the toothbrush holder ranks third in a compilation of the most unclean places across households. Dried saliva, toothpaste, and other gunk can form an unhealthy concussion of bacteria and germs.
This is one of the many things that need to be cleaned regularly, as in weekly! Every single week the toothbrush holder should be thoroughly cleaned. Start off by rinsing off the holder with hot water. Then scrub the brush slots with a tiny bristle brush. Afterward, let the holder sit for about half an hour in antibacterial mouthwash soaking then rinse it out with clean water and let it air dry before reuse.
Final Thoughts
There are clearly things homeowners never clean but need to do regularly. Don't put off maintenance tasks that could end up costing you a lot of money if neglected. There is no reason anyone should have to replace an appliance because it wasn't maintained. While this list contains the most popular items homeowners neglect there are more. Some of these items include coffee makers, shower drains, reusable grocery bags, wooden cutting boards, kitchen sponges, and mops.
Please consider spreading the word and sharing; 9 Things Homeowners Never Clean but Should
There are so many things homeowners never clean around their houses but need to. Here are 9 of the most neglected things homeowners never clean and should. #housecleaning #howto
Additional Real Estate Advice
Being a homeowner isn't always easy, there are a lot of things homeowners need to know. From maintaining the interior to the exterior it can become very overwhelming. One of the best ways to make home maintenance more manageable is by keeping a maintenance checklist along with a binder. In addition to the maintenance schedule and checklist, it should also include appliance manuals and warranties received.
When it's time to sell replacing windows and doors can be a huge selling point! There are so many benefits to new windows and doors and buyers know it. From cutting down on the electric bill to adding curb appeal these changes are worth every penny. However, this shouldn't be done in preparation to sell because it's unlikely the seller will be able to recoup the cost. This is an improvement homeowners need to do while occupying the property when selling isn't even on the radar.
About the Author
Top Wellington Realtor, Michelle Gibson, wrote: "9 Things Homeowners Never Clean but Should."
Michelle has been specializing in residential real estate since 2001 throughout Wellington Florida and the surrounding area. Whether you're looking to buy, sell or rent she will guide you through the entire real estate transaction. If you're ready to put Michelle's knowledge and expertise to work for you call or e-mail her today.
Areas of service include Wellington, Lake Worth, Royal Palm Beach, Boynton Beach, West Palm Beach, Loxahatchee, Greenacres, and more.
9 Things Homeowners Never Clean But Should