Top 7 Types of Property Investment Loans
Loans are a common financial tool and one you've likely used in the past. Most people have carried some type of loan at some point in their lives. Some of the most common loans issued include car loans, mortgages, student loans, and loans for small businesses. Another type of loan is an investment loan. These types of loans are typically used for the purchase of property and, like with other types of transactions, there are several types of investment loans you can use for this purpose.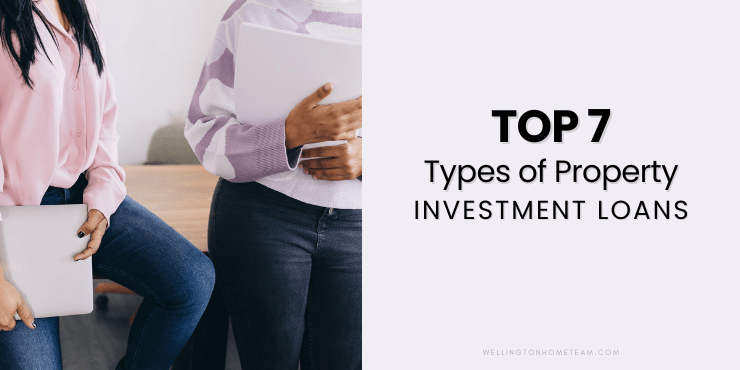 Types of Property Investment Loans
There are several options for rental property investment loans. Here are some of the most common ones available:
Conventional Loan: A standard loan type, a conventional loan allows you to buy an investment property without having to meet specific qualifications. In addition, unlike mortgage loans backed by the government, you can use a conventional loan for an investment/rental property because you do not have to reside on the property.
FHA Loans: Federal Housing Administration loans offer a unique approach to buying an investment property. With an FHA loan, you can receive a mortgage on a two to four-unit residence and can collect rent provided you live in one of the units for twelve months or more.
VA Joint Loans: If you have served in the nation's military you are eligible for this specific type of loan. With this type of loan, you can purchase a home with up to seven units provided you live in one of them. These loans are backed by the VA and carry no down payment requirements.
Owner Financing: In some cases, the seller of a property may be able to act as a lender and help finance the buyer looking to acquire their property. An owner-financed agreement includes a down payment and a balloon payment, which means that the loan has to be paid within an agreed-upon period or the original owner can take back the property.
A Home Equity Loan: If you already own a residence, you can use it to help finance the purchase of a rental property. This relies on your home's equity as the basis for the loan. A home equity loan is paid at a fixed rate and in a lump sum. You also may have the option to use your home's equity to acquire a home equity line of credit. A HELOC is more like a credit card in how it functions as you use it and pay it off at a set time.
Non-Qualified Mortgage: Those who don't qualify for various loan programs may be eligible for a non-qualified mortgage instead. These loans are based on rental income and, due to the way these loans are structured, the interest rates and down payments are larger than other loan programs.
Hard Money Loan: These types of loans are common for investors who flip properties. Hard money investors lend money with the agreement that it will be quickly paid off. These types of loans, due to their short time frame, require at least a 25 percent down payment and also have high rates. If you need money quickly and can afford to pay it back, this can be a solution.
Final Thoughts
Investing in property can be an effective way to grow your portfolio, gain passive income, or even change your career. Many types of loans can be applied to this type of investment and, depending on your financial status and background, there could be several options for you to choose from to fit your needs. With proper research and professional advice, you can find the right property investment loan for your specific situation.
Please consider spreading the word and sharing; Top 7 Types of Property Investment Loans
Explore the top 7 property investment loans available for real estate investors who are trying to start or expand their portfolios. #investmentloans #propertyinvestmentloans
Popular Questions About Property Investment Loans
What are investment property loan requirements? Requirements for an investment property loan will vary. Generally, lenders will look for a higher credit score and solid credit history compared to owner-occupied loans. A down payment of 15%-25% or more might be required as well, as opposed to lower down payments for primary residences. Lenders will also assess the borrower's debt-to-income ratio to ensure they can handle a mortgage payment for an investment property.
Additionally, the property itself will need to qualify and some lenders may limit the number of investment properties an individual can finance simultaneously. It's always wise for prospective buyers to discuss all of their property investment loan options and qualifications required with a top lender in the area.
What type of loan is best for investment property? The best type of loan for an investment property will depend on the investor's financial situation, risk tolerance, and overall investment goals. Conventional loans are among the most popular due to their competitive interest rates and relatively lower down payment requirements. However, if an investor is seeking short-term investment opportunities they may want to consider a hard money loan. It is crucial for investors to explore all of their loan options so they can make an informed decision.
What are the current investment property loan rates? Rates for investment property loans will vary significantly and ultimately depend on the type of loan, the lender, the borrower's creditworthiness, the loan term, and prevailing market conditions.
About the Author
Top Wellington Realtor, Michelle Gibson, wrote: "Top 7 Types of Property Investment Loans"
Michelle has been specializing in residential real estate since 2001 throughout Wellington Florida and the surrounding area. Whether you're looking to buy, sell, or rent she will guide you through the entire real estate transaction. If you're ready to put Michelle's knowledge and expertise to work for you call or e-mail her today.
Areas of service include Wellington, Lake Worth, Royal Palm Beach, Boynton Beach, West Palm Beach, Loxahatchee, Greenacres, and more.
Top 7 Types of Property Investment Loans