Wellington Florida Home Values | What's Your Home Worth?
Wellington Florida home values are soaring! If you're a homeowner in this little Village or considering making it your new address, you may be wondering about the current real estate market condition and what a property is worth. Look no further!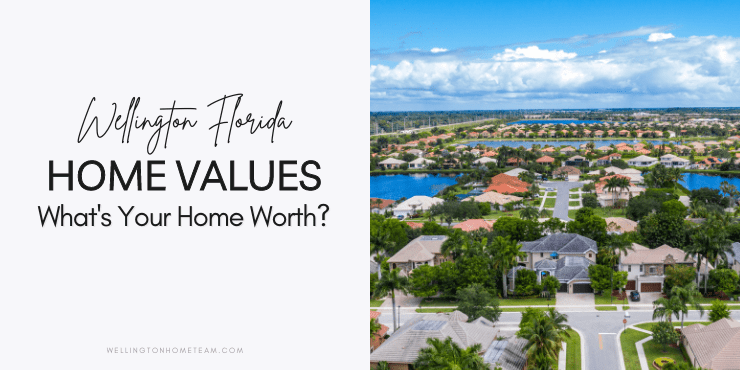 In this article, we'll take a closer look at Wellington's real estate market and explore how you can determine the value of your home. Whether you're curious about the recent surge in prices or planning to sell, we'll provide you with the insights you need to make informed decisions. So, let's dive in and discover what your Wellington home is truly worth!
What is Your Wellington Home Worth?
As a Wellington homeowner, understanding the value of your property is crucial, whether you're planning to sell, refinance, or simply curious about your investment's worth. While determining the exact value of a home can be challenging, there are several 3 methods available to help you gauge its current market value.
1. "Instant" or "Estimated" Values
In the age of technology, there are several online platforms that offer quick and convenient tools which will provide instant or estimated values for properties. These platforms utilize algorithms and data analysis to calculate an approximate value based on factors such as location, square footage, recent sales, and market trends.
While these estimates can give you a general idea of what your Wellington home is worth or any Wellington Florida home value for that matter, they should be taken with a grain of salt. You need to keep in mind these are computer programs, which often lack an understanding of local market conditions and have never seen your home. So they will never know about the specific features that your home has to offer and may add or subtract value.
2. Home Appraisal
Another option to determine the value of your Wellington home is to have a home appraisal conducted by a licensed appraiser. The cost of a home appraisal will vary depending on the size, location, and complexity of the property but in most cases, an appraisal usually costs around $350-$650.
Home appraisers will assess various aspects of your home, including its size, condition, features, and location, along with recent comparable sales in the area. They will then compare your home to recent comparable sales and make adjustments for items such as square footage, number of bathrooms, garage, private pool, and lot location. An appraiser will then provide a detailed report that outlines their findings and determines a fair market value for your home. Lenders often require appraisals when financing a property to ensure they are not lending more than the home's value.
As a Wellington REALTOR, I know first-hand that home appraisals can be spot and in line with the current market conditions. While other times they can be way off. It ultimately depends on the appraiser, their market knowledge, and the types of adjustments they make. Two different home appraisers can appraise the same property and there is a strong possibility each appraiser will come back with a different value for your Wellington home. However, home appraisals are more accurate than any online instant or estimate home value.
3. REALTOR CMA (Comparative Market Analysis)
A comparative market analysis prepared by a Wellington REALTOR is another way to find out the current market value of your Wellington home. CMAs involve analyzing recent sales of similar properties in the area, taking into account factors such as size, condition, location, and amenities, much like a home appraisal.
Realtors will utilize their firsthand market knowledge along with current market data to conduct a thorough evaluation of your home. In doing so they will also take into consideration your home's distinctive attributes. CMA's are usually free, but just like hiring a licensed home appraiser the value each Realtor comes up with for your home can vary as well.
As a Wellington Realtor, based on my market knowledge I can usually tell homeowners what their home is worth without looking at a single comparable sale. However, I still analyze comparables for two main reasons. One, I want to make sure my assessment is 100% spot on when it comes to Wellington Florida home values. Two, I want to be able to educate you about the current market conditions by providing you with documentation on how I arrived at the value of your home in Wellington.
All of my CMA's are personalized and tailored specifically for your home. Not only will I analyze recent home sales in your neighborhood, but I also analyze active listings, pending listings, expired listings, price per square foot, days on market, and the history of the comparable homes to see if there were any price adjustments, view photographs and read property descriptions to get an idea of the condition of the comparable homes if I haven't already seen them.
Learn all about Wellington Florida home values and how to determine what your Wellington home is worth in today's real estate market. #realestate #wellingtonflorida
The True Value of Your Wellington Home
While the three methods mentioned above can provide useful guidelines for determining Wellington Florida home values, the ultimate determination of the value of your home rests on what a buyer is willing to pay. Market conditions, buyer demand, and individual preferences can greatly influence the perceived value of a property. A well-priced home will attract more interest, potentially resulting in multiple offers and a higher sale price. Therefore, working with a knowledgeable Wellington Realtor who understands the local market dynamics and can effectively negotiate on your behalf becomes essential.
Final Thoughts
Determining the Wellington Florida home values requires careful consideration and a combination of methods. Instant or estimated values, home appraisals, and CMAs by Realtors offer valuable insights, but they are only pieces of the puzzle.
Ultimately, the true measure of a home's worth lies in the market, where buyers determine the value through their offers and negotiations. By combining the expertise of professionals and staying attuned to market trends, you can gain a better understanding of what your home will sell for in today's real estate market.
Want to Find Out What Your Wellington Home Is Worth?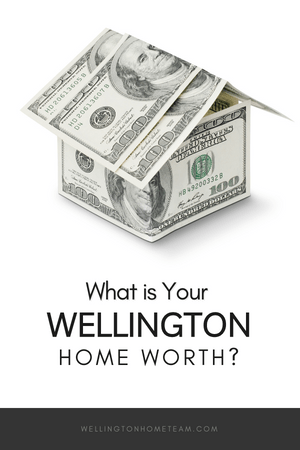 If you are thinking about selling your home or just curious about your Wellington Florida home value I will be more than happy to provide you with a no-obligation comparative market analysis.
I will also provide you with an estimated net sheet of how much it will cost to sell your home. By doing so you'll have a better idea of what you will net if you decided to sell your home.
Additionally, I'll be more than happy to share my custom marketing plan that I will use for your home to obtain top dollar in the shortest amount of time.
To find out your Wellington Florida home value I can be reached directly at 561-333-0446 or you can fill out my CMA questionnaire below.
Please consider spreading the word and sharing; Wellington Florida Home Values | What's Your Home Worth?
Learn all about Wellington Florida home values and how to determine what your Wellington home is worth in today's real estate market. #realestate #wellingtonflorida
Helpful Wellington Florida Home Value Q&A
What are the current market conditions in Wellington Florida? You can find out if Wellington Florida is currently a sellers market, buyers market, or stable market by visiting our Monthly Wellington Market Reports. On this page, you'll be able to see how many homes are for sale, the asking prices for those homes along with how many homes have sold, and the sale prices of those homes. Additionally, you will be able to see how many buyers paid cash versus how many obtained a mortgage for their new home. The number of days on market and the median sales price is also included in each report.
What's the Wellington Florida average home price? The average home price in Wellington is constantly changing and ultimately increasing over time. Back in 2000, the average sales price was $216,909 and the median sales price was $160,000. While in 2010 the average sales price in Wellington was $342,235 and the median sales price was $260,000. Fast forward to 2020, the average sales price was $619,729 and the median sales price was $425,000. Both the average and median sale prices in Wellington Florida continue to climb. Post covid the average sales price has already jumped to $1,030,028 while the median price is $662,000.
About the Author
Top Wellington Realtor, Michelle Gibson, wrote: "Wellington Florida Home Values | What's Your Home Worth?"
Michelle has been specializing in residential real estate since 2001 throughout Wellington Florida and the surrounding area. Whether you're looking to buy, sell or rent she will guide you through the entire real estate transaction. If you're ready to put Michelle's knowledge and expertise to work for you call or e-mail her today.
Areas of service include Wellington, Lake Worth, Royal Palm Beach, Boynton Beach, West Palm Beach, Loxahatchee, Greenacres, Lake Clarke Shores, Westlake, Palm Beach Gardens, and more.
Wellington Florida Home Values | What's Your Wellington Home Worth?