What Are HOA Violations and Can They Blow Up a Home Sale?
An HOA, which is short for homeowners association, is a governing body that manages a community. If you are buying or selling a home that belongs to an HOA they will be part of your real estate transaction, whether you like it or not. Buyers should be prepared to go through the HOA application and approval process. While sellers need to make sure they are in "good standing."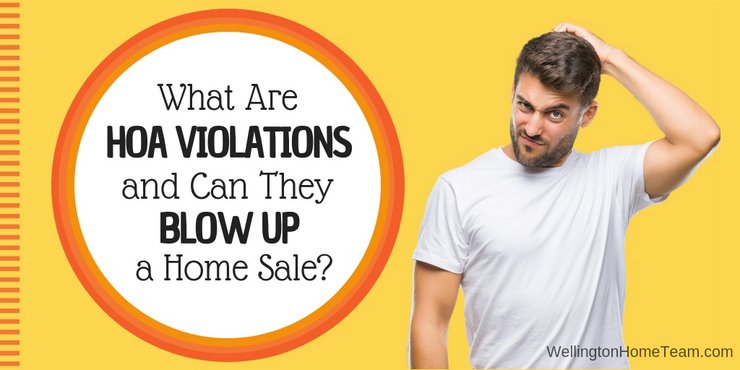 What are HOA Violations?
What is considered an HOA violation will depend on the community and the rules and regulations they have in place, which will be spelled out in their governing documents. The most common types of HOA violations tend to be maintenance-related pertaining to the overall appearance of a home; paint, landscaping, and cleanliness of the homesite.
If a homeowner is in violation they should receive a written warning and in some instances a fine. If warnings are ignored and fines go unpaid a lien might be placed on the property, which can create an obstacle when selling.
So if you are buying or selling a home in an HOA it's important to make sure the owner is in good standing with the homeowners association but how do you do this?
How Does the Seller Determine if They Have Any HOA Violations?
If a seller has an HOA violation on the property they should have received a written violation letter in the mail from the HOA. This letter will list the violation(s) and how long they have to correct the violation(s). Some HOAs will provide one or two warnings while others will fine the owner, this usually applies to repeat offenders. So owners should know whether or not they have any open violations.
However, prior to listing their home for sale they should reach out to their property manager and verify they have no violations on their home. They should also make sure they are current on their HOA dues and that there are no current or upcoming special assessments.
How Does the Buyer Determine if the Seller Has Any HOA Violations?
There are a few ways for a home buyer to determine if the seller has any HOA violations. They can simply ask the seller, but in some instances, the seller may not even know they have any violations. Another option is for the buyer or their agent to reach out to the property manager and ask. With that being said not all property managers will disclose this information to a stranger but they might tell the listing agent.
The third option is to wait on the title company or closing attorney to find out. Prior to closing the title company or closing attorney will order an estoppel certificate from the HOA. This document will disclose if the seller is current on their HOA dues, what the current HOA fees are, and any assessments or violations.
What Happens if the Seller Has an HOA Violation?
If the seller has any HOA violations they will need to clear them up prior to closing. Once completed they will have to notify their HOA and ask them to reinspect. If the estoppel listed any violations it will need to be updated prior to closing.
What Happens if the Seller Doesn't Correct the HOA Violations?
Ideally, all HOA violations will be corrected well before closing. However, it's not uncommon for HOA violations not to be corrected in time. Sometimes it's because the seller was unaware of any violations and the closing company didn't receive the estoppel back in time for the seller to correct any issues.
So if you're sitting at the closing table and the HOA violations haven't been cleared up there are a few options.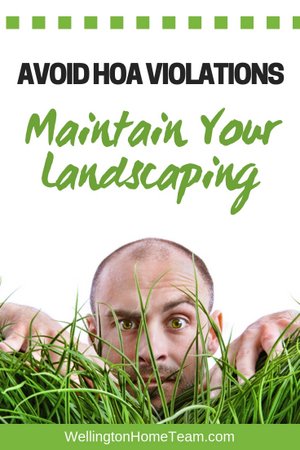 One, extend closing until the seller corrects all HOA violations. However, not all buyers or sellers are in a position to delay closing.
Two, have the seller put money in escrow, which will be held by the closing company. If the seller corrects the violations they will get their money back, as long as it's within the time period all parties agreed to.
If the seller doesn't correct the violations within the stated time period the money will be released to the buyer so they can correct the violation(s). To incentivize the seller to correct the violation(s) as soon as possible the amount of money held in escrow is usually 3-4 times the actual cost to clear up the violation(s).
However, sometimes neither of these options will work, every single situation is different and alternative options would need to be explored.
Can HOA Violations Blow Up a Home Sale?
Yes, HOA violations can absolutely blow up a home sale. If HOA violations are corrected well in advance of closing there shouldn't be any issues. However, if the violations were never corrected or corrected right before closing it can create an issue. In fact, it could blow up the closing altogether but most buyers and sellers have the same goal, which is to close on the property.
Final Thoughts
Love or hate HOAs they exist and if you're buying or selling a home they will be involved in the transaction one way or another. To make the home selling process a lot smoother sellers should verify they don't have any HOA violations on their home prior to closing. Buyers or their agents should also try double-checking that the seller doesn't have any violations.
When a seller has weeks or months to correct a violation it can be done. However, if the seller finds out on December 24th that they have a violation like their roof needs to be pressure washed and closing is scheduled for December 26th it may be next to impossible to correct the violation. At that point, all parties involved need to come up with a solution.
Please consider spreading the word and sharing; What Are HOA Violations and Can They Blow Up a Home Sale?
It's not uncommon for a home to have to HOA violations, but when there is an HOA violation on a home being sold it can get very complicated. #homebuying #homeselling
Popular Questions About HOAs
"Closing without hoa approval" is it possible? Whether or not a buyer can close on a home without HOA approval will depend on the HOAs requirements in addition to the real estate contract. If an HOA has an application and approval process it's highly unlikely a buyer will be able to close without it because the closing company will require the HOA approval in order to close the transaction. In addition, if the real estate contract has an HOA approval contingency it may allow the buyers to cancel the contract and get their escrow deposit back.
Can an hoa prevent you from buying a home? Yes, depending on the HOAs bylaws and governing documents they can potentially prevent a buyer from purchasing a home within their community. It's very unlikely but it can and does happen.
Can HOA trespass on my property? Generally speaking, an HOA doesn't have the right to enter into a property but they could have the right to enter onto the property. For example, if the HOA maintains the sprinkler system and a sprinkler head on a homeowner's property is broken the HOA may have the right to walk onto the property and fix the sprinkler head. However, it will depend on what the HOA by-laws and governing documents say.
Are there unenforceable HOA rules? Yes, there could be HOA rules that are unenforceable if they don't comply with the state and federal laws, in addition to the association's governing documents. If an HOA rule is found to be in violation of any of these laws and governing documents it may not be enforceable.
About the Author
Top Wellington Realtor, Michelle Gibson, wrote: "What Are HOA Violations and Can They Blow Up a Home Sale?"
Michelle has been specializing in residential real estate since 2001 throughout Wellington Florida and the surrounding area. Whether you're looking to buy, sell or rent she will guide you through the entire real estate transaction. If you're ready to put Michelle's knowledge and expertise to work for you call or e-mail her today.
Areas of service include Wellington, Lake Worth, Royal Palm Beach, Boynton Beach, West Palm Beach, Loxahatchee, Greenacres, and more.
What Are HOA Violations and Can They Blow Up a Home Sale?