What are Prepaids in Real Estate? Prepaids Explained
There are many terms used in real estate transactions that could cause confusion, one of these is "prepaids." Prepaids are an extra fee that will be paid along with closing costs when you buy a home.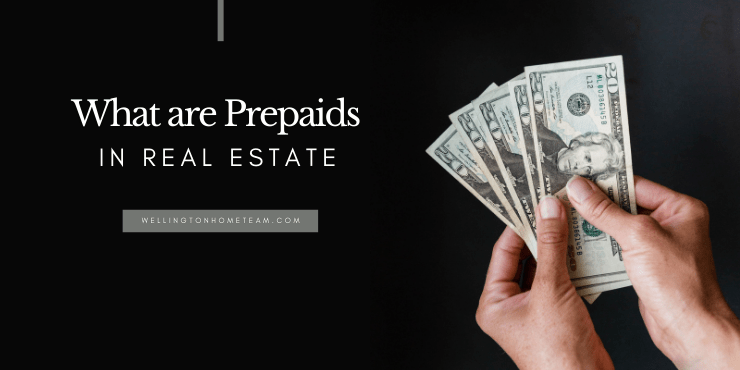 But what are prepaids in real estate, and what do you need to know about them?
What Exactly are Prepaids in Real Estate?
If you are using a mortgage to purchase your home and your down payment is less than 20%, your lender will want to make sure you pay property taxes and homeowners insurance. Prepaids are funds that are paid into an escrow account and used to pay property taxes, insurance, and mortgage interest.
The lender requires prepaids to prevent them from losing money should you not make these important payments. With a down payment of 20% or more, the lender feels there is less risk, and will often allow you to take care of your property taxes and insurance yourself.
Some lenders may still require borrowers with down payments of 20% to pay into escrow. However, if the lender requires this, it isn't necessarily a bad thing.
Property taxes will be due once or twice a year, and the borrower needs to remember to pay them on time. Letting the lender pay this for you might be easier. It means that you do not need to set aside money to pay your taxes, as it will be added to your monthly mortgage payments.
When it comes to homeowners' insurance, it is often easier to allow the lender to add it to your mortgage payments as well. Even if it isn't required by your lender it makes things simpler for you.
If you are not using a home loan to purchase your property, paying the taxes will be down to you. And without a mortgage, there isn't a requirement to have homeowners' insurance. Even though you don't need to have it because of a lender, it might be a good idea to pay for it anyway. Homeowners' insurance policies aren't all that expensive in the big picture, and they protect you from a potentially financially crippling bill.
Prepaids vs Initial Escrow Payment | Don't get prepaids confused with the initial escrow payment, they are completely separate things. An escrow deposit is the payment submitted with the initial offer.
How Do Escrow Accounts Work?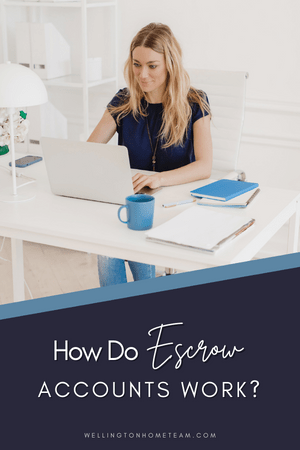 The mortgage borrower has the responsibility to pay into the escrow account, so the lender can use this money to pay insurance premiums and property taxes. The lender, or whoever is servicing the loan, will then ensure that these payments are made on time.
It doesn't matter whether you use an escrow service or a title company during closing, the escrow account will be created anyway. When this account is set up, it will need to be funded with your initial payment. Afterward, part of your mortgage payment will go into this escrow account each month.
You will continue to pay your property taxes and homeowners insurance like this until you sell your home or pay off the loan.
How Much Needs to be Paid Each Month?
After you have applied for a mortgage with your lender, they will give you a loan estimate. This loan estimate should tell you all the information you need to know about how much you will be paying for your mortgage. It will include the lender's fees and any other costs related to the loan.
Also included in the loan estimate will be the prepaid costs for the amount of money you are borrowing from the lender. Though many of these costs will only be estimated, it is still an important document. The lender is required to give this to you within 3 days of your loan application.
The lender has to estimate what your property taxes and insurance premiums will be. For the property taxes, the lender will use the most recent assessment, though this may not be as accurate as you might want because taxes will be reassessed. The insurance premiums also have to be estimated to ensure that you have enough funds in the escrow account when payment is due.
The closing disclosure is another important loan document that will need to be made available to borrowers at closing. The closing disclosure should be received by the borrower 3 days before the closing date. This disclosure document should repeat the same information in the loan estimate, though the numbers may not be the same.
A few different things can cause the numbers to be different in the estimate and the disclosure. If the borrower chooses a different homeowners insurance policy, it will mean a different calculation needs to be applied by the lender.
Wondering what prepaids are in a real estate transaction when buying a home? Find out now in my latest article about prepaids in real estate. #realestate #homebuying
What is Covered by Prepaids?
Your initial escrow payment will be used to cover a few different costs. Let's look at these in detail:
Property Taxes
Property taxes will be due for the amount of time you've actually lived in the home. This is paid after the event, with last year's taxes due the following year.
When you buy a home, you are responsible for the property taxes from the closing date. The seller has to cover the property taxes from the beginning of the year up to the day before closing.
When the home is purchased, the buyer is credited with the seller's tax liability for the year. At closing, the lender will create and fund the escrow account, which will be used to pay property taxes in the future.
The amount needed in the escrow account will depend on how far into the year the purchase was made. If the closing takes place at the beginning of the year, more money will be needed to cover the property taxes.
Homeowners Insurance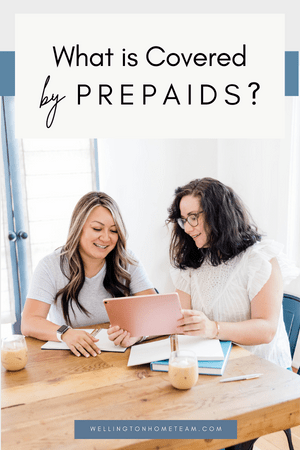 Another prepaid is homeowners insurance, but with this, the borrower has more control. The homeowner can choose to shop around if they want, altering the coverage and costs. There can be fairly large differences in how much an insurance company will charge, and this can affect your monthly outgoings.
Homeowners insurance is an upfront cost that means you will need to pay the full year's premium. On top of this, the lender might require 2 or 3 months' worth of premiums for next year's payment.
From your first monthly mortgage payment, a small part of it will be taken out and put in escrow to cover next year's insurance premium. This will continue to be part of your mortgage payments going forward.
Mortgage Interest
When you have closed on the home, your first monthly mortgage payment isn't due until the start of the next calendar month. However, your lender will want you to pay the interest that is due for the time you have been living in the home. Unlike the other prepaids, this is a one-time payment that is due at closing.
The size of this payment will depend on the number of days you have lived in the home before your first mortgage payment is due. So if you close near the end of the month, you will have a lot less to pay than if you closed a few days into the month. For this reason, it is better to close on a home near the end of the month so that you minimize this prepaid interest expense. Your real estate agent can factor this in when submitting an offer and deciding on a closing date.
These three items; property taxes, homeowners insurance premiums, and prepaid mortgage interest, are the only things that are included as prepaids.
Not Every Cost at Closing are Prepaids
While there are other costs that you will need to pay at closing, they aren't prepaids. There are fees to arrange the mortgage, and other costs related to the purchase that can appear to be similar to prepaids, but actually aren't.
Let's take a look at some of these additional expenses when you buy a home:
Closing Costs
Many different fees make up the closing costs. These costs are all related to the home loan and include things like the credit report fee, appraisal fee, title company fee, and discount points. These costs are generally fixed by the lender, so you don't have much room to reduce them if you need to.
Out-of-Pocket Costs
If you are looking for some flexibility in the amount you have to pay before and during closing, the out-of-pocket expenses can often be negotiated. These expenses include the down payment, earnest money deposit, and home inspection.
If you are buying a home in a sellers' market, it might not be possible to negotiate how much earnest money you pay, but otherwise, this can be reduced. It is also possible to shop around and reduce the cost of the home inspection.
As your finances are normally stretched when buying a home, anything you can do to reduce your expenses is helpful.
Final Thoughts
There are many expenses to pay when you are buying a home, and prepaids are one that you might be required to pay when getting a home loan. While no one likes paying taxes, they are necessary, and using prepaids is a way of paying it gradually and removing the chance that you miss the payment date.
If you are a first-time buyer, you might be surprised at the expenses you need to cover when buying a home. If you plan for this well in advance, you should be able to save more money that could enable you to have a 20% down payment. This means you won't have to worry about these prepaids, and you should also get a lower interest rate on the loan as well.
Please consider spreading the word and sharing; What Exactly are Prepaids in Real Estate? Prepaids Explained
Wondering what prepaids are in a real estate transaction when buying a home? Find out now in my latest article about prepaids in real estate. #realestate #homebuying
About the Author
Top Wellington Realtor, Michelle Gibson, wrote: "What Exactly are Prepaids in Real Estate? Prepaids Explained"
Michelle has been specializing in residential real estate since 2001 throughout Wellington Florida and the surrounding area. Whether you're looking to buy, sell or rent she will guide you through the entire real estate transaction. If you're ready to put Michelle's knowledge and expertise to work for you call or e-mail her today.
Areas of service include Wellington, Lake Worth, Royal Palm Beach, Boynton Beach, West Palm Beach, Loxahatchee, Greenacres, and more.
What are Prepaids in Real Estate? Prepaids Explained