What is a Real Estate Fixture VS Personal Property?
As a first-time home buyer, you will come across many real estate terms and phrases that are probably new to you. Don't worry, the same happens to the most experienced buyers as well. When it comes to real estate, things change all of the time. For instance, you are likely to find yourself wondering what is a fixture vs personal property.
To avoid coming up against problems, it is essential that you deal with an experienced real estate agent or broker. That should eliminate the need for after-sale arguments about personal property and fixtures. Not knowing what is what can lead to tension and you may even find yourself in court.
It could even be an idea to list the fixtures that you expect to come with your new home and that you think should be included in the purchase price.
Real Estate Fixture VS Personal Property Explained

What Is A Fixture?
So, what is a fixture or fitting? This is where things often get a little bit confusing. Many buyers "assume" certain things are fixtures and stay with the property when they are not. A good example of what many would call a fixture is a dishwasher.
A dishwasher is one of those things in the home most of us use on a daily basis. As a result, we more or less think that owning a dishwasher is an automatic right. But, that is not the case. Not all home sellers are happy to surrender their dishwasher to a new home buyer. Put yourself in their position. What if the homeowner has just bought a dishwasher that meets all of the latest energy use guidelines and standards? In that case, the homeowner will probably be reluctant to let it go.
Never Make Assumptions
You should never assume that anything is a fixture unless it is built-in. This does not only apply to the dishwasher. Home appliances that are not built-in such as the dishwasher, refrigerator, washing machine, and dryer, may not be part of the sale. It is a good idea to have a budget for buying new home appliances if they are excluded from the sale.
As a matter of fact, if home appliances are new, the current homeowner is unlikely to want them to be part of the purchase price. Unless you want to risk ending up without the necessary home appliances, it is always best to ask the question.
What about the oven? If the oven is built-in as part of the kitchen, it is considered a fixture. But, if the oven is freestanding, it is considered as personal property. Does it end in the kitchen? To be on the safe side, it is best to go through the property room by room. Take a good look around and ask yourself what is and what is not a fixture.
Check the roof as well. Is the TV antenna a fixture or personal property? That is exactly the sort of issue you should clear up with the current homeowner. The same applies to satellite dishes. and removal security systems, like the Ring doorbell. The homeowner may want to pass them on to you, but then again, they may not. Are they under a legal obligation to do so? The truth is that they probably are under no legal obligation to leave their satellite dish at the property you want to call your home but it depends on the contract, which varies from state to state.
Knowing the difference between a real estate fixture vs personal property when buying or selling a home can be confusing but here's a helpful guide. #realestate
There Is More to Personal Property Than Meets the Eye
So, you bought a home with a lovely garden and beautifully decorated. In fact, you did not so much fall in love with the property as you did with the decor and garden. As the sale has slowly been going through, you have been dreaming about sitting under that Japanese Pagoda style gazebo, watching the Koi carp splash in the pond, and listening to the birds singing.
But, is the gazebo a fixture or a personal property? Before you start dreaming about spending time in the garden admiring the Bonsai trees, both potted and not potted, you need clear up with the seller if he is planning to take his Bonsai trees with him or leave them behind.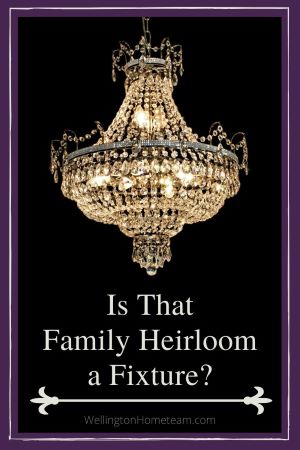 Are these Items Personal Property?
The truth is that the Bonsai trees, the Pagoda gazebo, and the Koi carp are in general considered personal property if they are not physically attached. That means that the current homeowner is perfectly entitled to take them with him when he leaves the property.
There are a number of things the property owner is not likely to include in the sale. You may think it is only the furniture that is considered personal property, but that is not the case.
The seller can remove anything from rugs to plants unless they form part of the sales contract. If there is anything that you would like to keep such as the koi carp, Bonsai trees, and the drapes, you are better off negotiating with the homeowner. If you have a savvy real estate agent, they will point out the potential problems to you before you sign the contract.
However, more often than not, it is not the Koi carp that cause a problem. Everyday objects such as basketball hoops, wall-mounted televisions, mirrors, and swings, are not considered fixtures. Neither is Fido's removal kennel and the dog fence. It is rather surprising what is considered personal property.
How Do I Make It Clear to the Seller What I Consider a Fixture?
The best thing you can do is to swap lists. Simply ask the seller to make a list of the things that he considers as the family's personal property. If he claims that the HVAC system is personal property, he is wrong. Installed systems such as heating, air conditioning, and some home security systems, are all considered fixtures.
At this stage, it is worthwhile to point out that you don't need to take over any existing maintenance contracts. In recent years, this has led to some disputes. The home security system is a good example. The home security equipment may form part of a contract. It is often supplied to the homeowner under a contract with a time limit on it. You need to watch out for that. If you would like to keep the home security system, you may have to sign a new contract with the supplier.
The same goes for eco-friendly energy systems such as wind power generators and solar panels. The equipment to operate environmentally friendly heating systems is often expensive and may be under contract.
How you deal with that is up to you. You can ask the current homeowner to cancel the contract or contracts, but there is one thing that you need to make sure that you are aware of at all times. Removing equipment can cause damage to the home, and you need to make sure that you don't end up paying for the repairs.
Miscellaneous Items at The Property
When you walk through the property for the first time, you may notice items such as firewood, paint, and extra tiles in the garage. They do not necessarily form part of the sale even though the tiles match the ones in the bathrooms.
But, it is worthwhile asking if the homeowner is going to take them with when they leave the property. This is actually a bit of a negotiating point. Most of the time, it is not cost-effective for the current homeowner to take with them things such as firewood. However, that should not stop you from asking the question.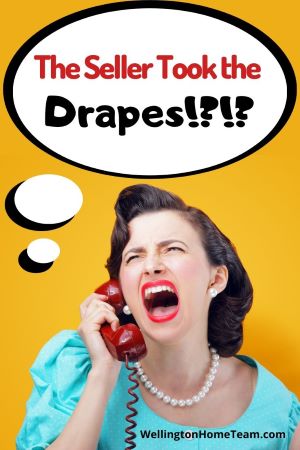 Before You Sign Off On the Deal
To make life easier, it is best to do a final walk-through. With a list of the items that are going to stay in the home, do a final walkthrough with the homeowner and the real estate agent. Make sure that you have access to all of the paperwork and agreements that you made during the home-buying process.
It is always best to err on the side of caution. Should you happen to find that something has been removed by mistake, it is always best to voice your concerns before it is too late. What would happen if the homeowner moves to the other side of the country and takes the drapes you wanted to keep and agreed to be part of the purchase price?
The Most Successful Homes Sales
The most successful home sales are always achieved when all parties communicate effectively with each other. Remember that there are at least four of you in this relationship – you the buyer, the seller, and the real estate agents. It is important that you are on the same page and know what is going.
Don't think of the fixture and personal property issue about something that you should go into battle for. But, as with everything else when it comes to real estate and property, it is worth knowing your rights.
At the end of the day, this is a property transaction. Yes, you have bought yourself a home, but very often what makes a home a home, is all of the small things. Once again, that takes us back to the dividing line between a fixture and personal property. It is not easy to know what is what, and as always, you should ask questions and make sure that you know exactly what you are getting for your money. As they say, it is better to be safe than sorry.
Final Thoughts
Real estate 101, don't assume anything. If there is something you want to be included in the sale add it to the offer. This way there is no question whether something is a fixture or personal property. Even the smallest thing can turn a smooth transaction into a complete nightmare on the day of closing because the seller took the curtain rods.
And always be specific. If you want pool equipment included, don't just write "pool equipment included" in the offer. The seller could literally leave a pool net behind and say that's the pool equipment. Itemize every single thing you want to stay with the home. Some might go as far as taking pictures of the item to make sure it's not swapped out and include the serial number in the offer, if there is one. This is common for kitchen appliances.
Please consider spreading the word and sharing; What is a Real Estate Fixture VS Personal Property
Knowing the difference between a real estate fixture vs personal property when buying or selling a home can be confusing but here's a helpful guide. #realestate
Popular Real Estate Fixture VS Personal Property Questions
What are examples of fixtures in real estate? A great example of a fixture in real estate is ceiling fans, light fixtures, curtain rods, a murphy bed, and/or built-in bookshelves. In most real estate contracts these "fixtures" would need to stay with the property unless excluded.
What is considered attached in real estate? "Attached" in real estate more commonly known as a real estate fixture are items that are physically attached to the home that convey with the home sale. A good rule of thumb, if you pick the house up and turn it upside down what is still attached? These items are often considered fixtures.
About the Author
Top Wellington Realtor, Michelle Gibson, wrote: "What is a Real Estate Fixture VS Personal Property"
Michelle has been specializing in residential real estate since 2001 throughout Wellington Florida and the surrounding area. Whether you're looking to buy, sell or rent she will guide you through the entire real estate transaction. If you're ready to put Michelle's knowledge and expertise to work for you call or e-mail her today.
Areas of service include Wellington, Lake Worth, Royal Palm Beach, Boynton Beach, West Palm Beach, Loxahatchee, Greenacres, and more.
What is a Real Estate Fixture VS Personal Property