7 Things To Know About Investing in Vacation Property
Investing in vacation property comes with a lot of responsibilities alongside the fun. Here are some things you should know before you buy a vacation home and some tips to have on hand when you're ready to buy.
Are you considering investing in a vacation property, a second home, or house hacking? According to the Vacation Rental Marketing Blog, the vacation rental industry is booming especially in the Wellington Florida area, and it's expected that vacation rentals will supersede the hotel industry exponentially.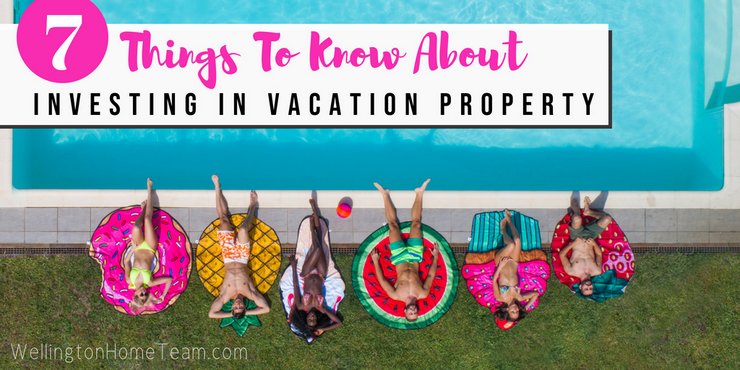 It's no wonder that more and more people are looking to own a vacation property of their own. Second-home investments offer owners a multitude of valuable benefits. However, ownership does not come without responsibilities. Are you ready to purchase a vacation home of your own? Read on for seven things that you need to know before investing in a vacation home!
Investing in a Vacation Rental Property
A vacation property can be a rewarding investment if you know what to look for prior to signing any contracts. If you've been considering owning a vacation home, there are some things that may help you with your decision.
Not everyone is best-suited as a vacation homeowner. But, there are several reasons that it can be a great way to enjoy your investment while making a substantial return. Here is a great guide for investing in vacation rental property for beginners and what you should know before you make a final decision.

1. What's Your Purpose?
There are a few reasons that people consider buying a vacation property. Perhaps you want a place for your family and friends to be able to get away any time of the year. Or, you might be hoping that your investment will reap a considerable return in rental income.
It's possible that you would like to be able to enjoy the property as well as make a profit when your home is not in use. There is a good chance that you can take advantage of your home for personal use as well as putting cash in your pocket if buy wisely.
Whether you are buying for your own enjoyment, or to create a line of profit, or both, is important in choosing the right property to fit your needs. Ideally, your vacation home would be a good investment, as well as a place that you could take a break and have some fun from time to time.

2. The 1% Rule
If you are a seasoned investor, then you may have heard of the 1% rule. It's a rule that many professionals use to determine whether or not a property is worth the investment. Basically, it asks if the average monthly earnings on a property will exceed the amount you pay for the property's mortgage each month. If you can answer yes to this question, then you are on the right track. Another option is to use a vacation property investment calculator.
3. The Condition of Property
When purchasing an investment property, one should consider the home's condition. But this is especially true when you are looking to buy a vacation home that you might not have the time or resources to make significant repairs or improvements.

Most likely, you are not going to be present to oversee any ongoing home improvement projects. In addition, extensive repairs might take away from your earnings.
Even if you do decide on a fixer-upper, try to choose a place that allows you to complete the necessary work at your own convenience while continuing to rent it out to vacationers along the way.
Even if you are unable to rent the property at a premium price, it's better to have a vacation home with some earning potential right from the start. You can always raise the rent once additional improvements are made.

4. Upkeep
When you purchase an investment property, you should keep in mind that the price you are paying for the property is not the only cost involved. Expect to pay any necessary costs for upkeep, as well as additional expenses that may be incurred, such as taxes and insurance.
You should also factor in any projected maintenance costs, homeowners association fees, cleaning fees, and other expenses that may be associated with the home's annual upkeep.

5. Furnishings
Is the property you are considering already furnished, or is this going to be your responsibility? You may need to buy furniture, bedding, utensils, appliances, or other necessities to rent your home. If so, are you able to afford to furnish your new vacation property so that it is rent-ready?
If your vacation rental is already furnished, you will need to review the condition and working order of the contents prior to renting it out. If any repairs or replacements are needed, you should be prepared to take care of these immediately.
6. Property Management
If you are not living in close proximity to your vacation home, then you will need to make arrangements for property management services throughout the year. Some condominiums and rentals have a service already in place for owners. While others require you to secure your own property management services.
Should your home need immediate attention while you are away, you want to be sure that you have a plan in mind that covers situations that may arise.

7. Location
If you are purchasing your vacation rental primarily for personal use, then you have more freedom to choose a location that suits your fancy, regardless of its' rental potential.
However, if you are hoping to create an income, then you will need to consider a location that is popular amongst renters. It's common to purchase vacation investment properties convenient to the beach, mountains, or other places that are highly sought getaways. Should you choose a location that has few attractions or sits in a secluded area, although you may see it as the perfect spot, it might be hard to sell to others.
Find the Perfect Vacation Home for You!
Investing in a vacation property can be a great way to earn an income. And, it offers an added bonus to families and friends looking for an escape every now and then. There are tons of vacation properties to choose from on the market today. No matter what your preferences are, you're sure to find one that's perfect for you.
Contact us today and let us help you find a vacation home in South Florida, one of the best places to buy vacation rental property!
Please consider spreading the word and sharing; 7 Things To Know About Investing in Vacation Property
Thinking about investing in a vacation property? If so here are 7 things you should know and consider before buying a vacation home. #vacationproperty #investing
About the Author
Joy Bender is co-founder of Aumann Bender & Associates with Pacific Sotheby's in San Diego. Her team represents extraordinary homes in a variety of lifestyle categories and price points. Joy helps real estate professionals learn how to create real estate digital marketing to generate leads, learn about breaking into the high end of their market, and about selling to the affluent in her free Facebook Group: Selling Luxury – Digital Marketing.
7 Things To Know About Investing in Vacation Property