7 Advantages Of Single-Story Homes

What was once thought of as a suitable home for the older crowd, single-story homes are now becoming more popular for a wide range of people, lifestyles, and needs. Today, it has become an ideal choice for families and couples at any stage of life.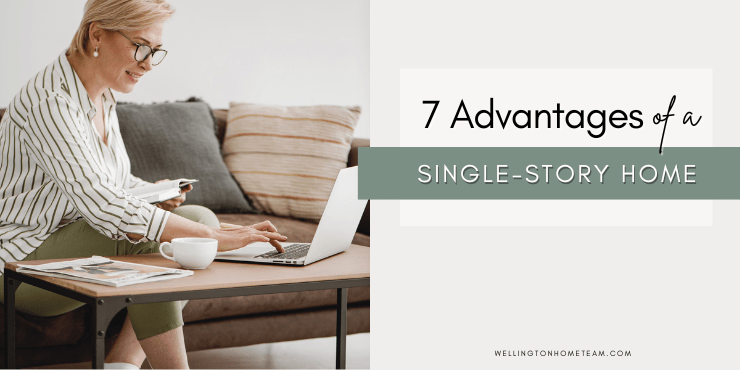 So, if you're currently looking into the local real estate market for a new home, we share some reasons why you should choose a single-story home:
1. It's Kid- And Senior-Friendly
This is one of the most obvious benefits of single-story homes. A single-story home means no stairs, making it safer when you have kids or living with your senior parents. You don't have to worry about getting your aging parents up and down the stairs.
In addition, if you have kids, especially toddlers just learning to crawl and walk or rowdy children, stairs can become a safety hazard. What's worse, kids don't really understand the dangers that a staircase presents. With a single-story home, you can have peace of mind and don't have to worry about someone getting injured going up and down the stairs.
Furthermore, most adults also love a no-stair floor plan. They don't have to carry laundry baskets and heavy furniture up and down the flight of stairs. In general, moving into a single-story home is much easier than multiple-story houses.
2. It's More Energy-Efficient
Heat rises—this is basic science knowledge. However, it doesn't completely describe the way air flows throughout a home since it can move down, up, or sideways, depending on a given situation. That said, a general rule is that when air heats, it starts to rise, allowing cool air to take its place. This explains why the upper level of a house is a lot warmer than the lower levels.
That said, many things go into the heating process. In general, though, a single-floor home has less rise from top to bottom. This means the airflow doesn't have the same distance to travel to cool and heat your home. Thus, it's easier for your HVAC system to operate and allow for better airflow throughout the rooms in your house. Heating and cooling are also distributed more evenly in single-story homes since air doesn't have to rise to the upper floors.
3. It's Easier To Clean And Maintain
One of the best benefits of living in a one-story home is they're generally easier to maintain—both outside and inside of your home. After all, less story means fewer floors to clean. Just think about washing your second-floor windows and cleaning the gutters and downspouts at a height. 
With a single-story home, you can simply reach windows, gutters, and even your roof with a ladder and clean them more effectively. Plus, you don't have to waste time and energy moving up and down the stairs to carry cleaning supplies and do your daily chores between the upper and lower floor.
4. It Provides Easier Escape During Emergencies
In emergency cases such as fires or earthquakes, a single-story family home will always be easier to escape than a multi-level home. If doorways become blocked, it's easier to use the windows of single story homes, allowing you to safely escape without jumping from a dangerous height. 
In addition, when a fire occurs, smoke can quickly rise to the second floor. This makes it difficult for you to see and navigate the space when trying to escape from the second or third floor. It also becomes a safety hazard when running down the stairs in case of an emergency.
5. It's Easier To Expand
Assuming that you have a large enough lot and want to expand, a single-story home makes this more feasible. It's fairly easy to add a sunroom, patio, garage, or deck to a single-story home plan. In contrast, a multi-story home will require careful planning and structural analysis when considering an expansion.
6. It Has High Resale Demand
Due to the increasing popularity and demand for single-story homes, it may be easier to sell your home soon. In some real estate markets, single-story homes are sold at premium prices since there aren't as many available. Of course, you still need to make the necessary home renovations to increase resale value.
Also, while we can't guarantee that your single-story home will sell for more than those with more floors, with the growing aging population, there's a good chance of appreciating or retaining value in your asset.
7. It's Easier To Design
If you're thinking of building your home from scratch, then single-story homes are much easier, quicker, and less expensive to design. In addition, one-story homes are also easier to structurally engineer with prefab components, so you can move in much earlier than you'd expect.
Takeaway
As you can see, single-story homes offer numerous benefits. While traditional American homes are more oriented towards maximizing small properties and horizontal spaces with multiple-story homes, the appeal of single story homes is slowly gaining popularity. There are usually plenty of single story homes for sale to choose from. However, if you want to build a home you will easily be able to find single story house plans online or from a builder.
From providing a safer place for kids and seniors to ensuring better energy efficiency, single story homes might just be the perfect style for your family.
Please consider spreading the word and sharing; 7 Advantages Of Single-Story Homes
There are so many advantages to owning a single-story home and here are the top 7, which should be taken into consideration when buying a home. #realestate #homebuying
About the Author
Top Wellington Realtor, Michelle Gibson, wrote: "7 Advantages Of Single-Story Homes"
Michelle has been specializing in residential real estate since 2001 throughout Wellington Florida and the surrounding area. Whether you're looking to buy, sell or rent she will guide you through the entire real estate transaction. If you're ready to put Michelle's knowledge and expertise to work for you call or e-mail her today.
Areas of service include Wellington, Lake Worth, Royal Palm Beach, Boynton Beach, West Palm Beach, Loxahatchee, Greenacres, and more.
7 Advantages Of Single-Story Homes