How to Organize the Perfect Bedroom in a Rental Property
Renting a property can be a great way to save money on housing costs, but it also comes with some challenges. One of the biggest downsides is keeping your bedroom organized. With a limited amount of space, you need to be strategic about how you use every square inch.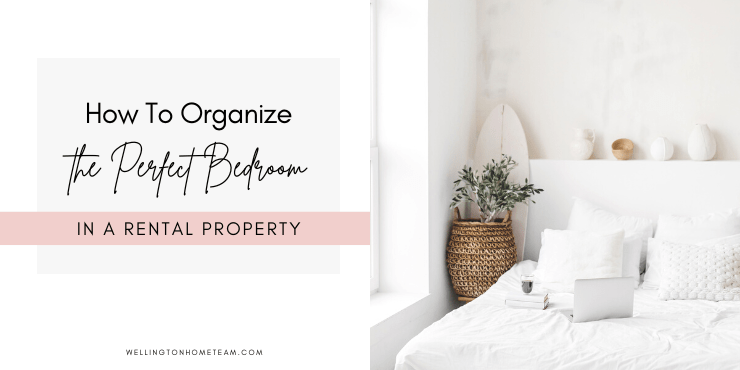 The good news is that there are some tips and tricks that can help make the process a little bit easier. This article will discuss some of the best ways to organize a perfect bedroom in your rental property. Let's begin!
Your Mattress Matters
You'll spend a lot of time in your bedroom, so it's important to ensure the space is comfortable and inviting. One of the most important aspects of this is your mattress.
If you're running an Airbnb or vacation rental, you know that providing a comfortable mattress is essential to keeping your guests happy. For one, a good night's sleep is crucial to enjoying a vacation. But beyond that, a comfortable Airbnb mattress can also help guests feel more relaxed and refreshed during their stay, leading to better reviews. You can start your perfect Airbnb mattress hunting with this informative article. There you'll find some of the best mattresses on the market today. Remember, the bed is the focal point in your bedroom. You'll want to place it in an aesthetically pleasing and practical way.
Furniture Placement
Once you have your mattress, it's time to start thinking about furniture placement. 
If your bedroom is on the small side, you may want to consider putting the bed against a wall. This will help to maximize the available space and make the room appear larger. If you have a larger bedroom, you may want to position the bed in the center of the room. This will create a cozier feel and help define the space.
When it comes to other pieces of furniture like dressers and nightstands, you'll want to experiment with different arrangements. Placing these items in different areas of the room can help to create a more balanced look.
Consider Your Bedside Essentials and Closet

Start by considering your bedside essentials. These are the items that you need to have within reach when you're in bed. It is best to list these items and determine where to store them. A nightstand is a great option for storing bedside essentials, but if you don't have one, you can use a shelf or even Hang up a small organizer near your bed.
Next, take a look at your closet. If you're renting a furnished property, chances are your closet is already full of someone else's stuff. Sort the items and remove anything you don't need or want. Then, organize the remaining items by category (e.g., shirts, pants, dresses). Once everything is sorted, it will be easier to find what you're looking for and keep your closet tidy.
Storage Solutions
One of the challenges of organizing a bedroom is finding enough storage space. This is especially true if you live in a small apartment or rental home. 
You can add storage to your bedroom in a few different ways. One option is to use under-bed storage containers. These are great for storing items like seasonal clothing, extra bedding, or shoes. Another option is to invest in a dresser with built-in drawers. This will help to keep your clothes organized and off the floor.
If you're short on space, you may want to consider hanging a few shelves on the wall. This is a great way to store items like books, picture frames, or knick-knacks. Just be sure to use heavy-duty shelving brackets to avoid damaging the walls.
Go Vertical
When it comes to bedroom organization, it's important to think vertically. This means utilizing all the available space, from the floor to the ceiling.
One way to do this is to install a few hooks on the wall. This is a great place to hang items like coats, scarves, or hats. Another option is to use over-the-door hooks to hang purses, belts, or towels.
If you have a lot of clothes, you may want to consider installing a clothing rod. This is a great way to add extra storage space for dresses, suits, or other items that need to be hung up. Just measure the space before buying a rod to ensure it will fit.
Hide and Protect the Floor with a Rug
The floor is one of the most important places in the bedroom. Not only does it take up a lot of space, but it's also where you'll spend a lot of time. That's why it's important to make sure it's well-protected.
One way to do this is to hide the floor with a rug. This will help to protect it from dirt, dust, and spills. It's also a great way to add extra warmth to the room. Just be sure to choose a rug that is durable and easy to clean.
Another option is to use floor mats. These are great for protecting high-traffic areas like the bedside or the dresser. They're also easy to clean and can be used to add a pop of color to the room.
Final Thoughts
Organizing your bedroom doesn't have to be difficult or time-consuming. By following these simple tips, you can create a stylish and functional space. So what are you waiting for? Get started today and see the difference!
Please consider spreading the word and sharing; How to Organize the Perfect Bedroom in a Rental Property
Looking for smart ways to organize your bedroom in the rental property? Check out these proven tips and tricks to create a perfect space! #howto #organize
About the Author
Top Wellington Realtor, Michelle Gibson, wrote: "How to Organize the Perfect Bedroom in a Rental Property"
Michelle has been specializing in residential real estate since 2001 throughout Wellington Florida and the surrounding area. Whether you're looking to buy, sell or rent she will guide you through the entire real estate transaction. If you're ready to put Michelle's knowledge and expertise to work for you call or e-mail her today.
Areas of service include Wellington, Lake Worth, Royal Palm Beach, Boynton Beach, West Palm Beach, Loxahatchee, Greenacres, and more.
How to Organize the Perfect Bedroom in a Rental Property