12 Furniture Trends To Look Out For In 2021
The home interior and design industry also evolves and changes from time to time. More recently, the craze is all about modern minimalism. This look incorporates white and neutral colors to create a fresh and spacious look.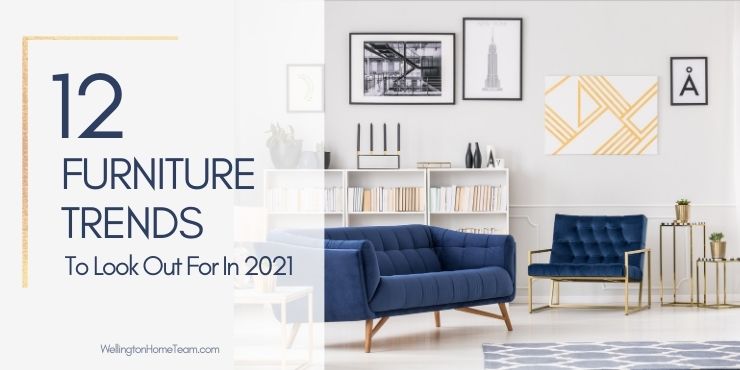 Now that more and more people are making consumer choices based on environmental concerns, the ongoing demand forced many industries to adapt and use more sustainable and environmentally-friendly materials for their products. 
Aside from sustainable household items, the home construction industry now has options for environmentally-friendly paint, building materials, and furniture. This is definitely an emerging trend that will be carried on from 2021 onwards. 
Furthermore, upcoming trends in furniture and design are more likely going to be anchored on vintage pieces, eco-friendly pieces, and minimalist looks. Below is a list of 12 furniture trends that you should look out for in 2021, especially if you are planning to renovate or buy a new home.
Art Deco 2021 
Baroque, geometric, and opulent, art deco was a tribute to craftsmanship when it first appeared after the First World War. Its bright and vivid colors together with its style, represent comfort and brilliance. Some designers anticipate an iteration of the art deco-inspired furniture to be making an appearance in 2021.
Metallic Pieces
Metal will also be present in many trendy furniture next year. Blackened bronze, brass, and gold is becoming trendy.
Designers use these for decorating interiors and can be used to create modern compositions, objects, figures, and art.
They can also be used to complement plain white tiles and pieces.
Geometric Shapes 
As mentioned, geometric pieces are here to stay. Fashion will still favor modernistic themes, and designers expect this trend for the coming year. For 2021, it's more on asymmetrical patterns, drawings, and varied shapes for objects and prints.
Comfortable Cocoon Beds   
There seems to be an agreement among top designers that the 2021 trend in upholstered furniture production will be cocoon beds. Snug and cozy, with a soft fabric footboard and headboard, this type of bed is a comforting place to rest after a hard day. It's no wonder why it is a top pick for 2021 and onwards. 
Round Furniture
Next year will be the year of furniture with rounded shapes, a reminder of the style that was prevalent during the 70s. The interiors will have an easy, comfortable, and elegant atmosphere, which will be a welcome respite for the year that was.
Intricate Details
The design will be in the details—the smallest details. Not only will designers focus on the interiors' general style, but they will also give their attention to the smallest and most intricate details. This could be prevalent in ceilings, furniture accessories, and textile stitching. This adds more personality to a room.
Vintage And Antiques   
Antiques are also popular among non-collectors. Vintage interior items will always be included in fashion trends. This is because antiques will always have their own history and personality. Many people also like to add an interesting item at home, especially pieces that have a story of their own.
Vintage furniture is now being touted as the answer for many people, and this trend is expected to carry over in the next few years. The challenge for designers is to blend innovative designs with vintage furniture, where living rooms, bedrooms, and patio furniture adopt an exclusive and personal touch, like the ones at patioproductions.com. 
Sustainable Pieces
Furniture design trends in 2021 will feature a new age of sustainable design in fashion and furniture. After all, these are very concerning times, and people are clamoring for solutions to plastic and other non-biodegradable wastes that are polluting the environment. 
Designers are also predicting a coming trend for new bioplastic materials, recycled materials, and materials that are deemed low-impact for the environment. Furthermore, manufacturers and designers are pressured to reuse and upcycle pieces, so this would be a common trend for 2021 onwards.
Aside from that, the demand for natural, organic, and environmentally-friendly materials is on the rise, so many designers are already trying to incorporate these materials in complex and classy combinations. For example, a designer would combine ceramics with concrete and metal, or wood with granite or marble.
Hues Of Pink
Pink seems to have also emerged as a favorite color among homeowners. Shades of pink can be a bold statement, but they can be combined with more vivid and contrasting colors like dark blue, lemon yellow, and green. Aside from that, pink is easily integrated with other interior pieces. Soft hues of pink can also be used as part of a minimalist theme.
Black And White Themes
Nothing is more timeless than the combination of black and white. The contrast between black and white can give a sense of balance, and this combo is another trend that is expected in 2021.
The combination may be old, but it will always look fresh and modern if done in the right way. 
Is BLACK & WHITE Still In Style? #homedecor #diy #homedesign
Shades Of The Past
Another trend to watch out for is the return of muted and saturated shades of red, including orange, green, brown tones, and bright yellow. Most of these trends are from the 1950s to the 1960s, all of which can be added to modern furniture and interiors. 
Floral Patterns
Floral patterns may have been with us for a long time, but designers predict a remake. Large proportions, with contrasting colors on your furniture, add a spring-inspired atmosphere to your space. These patterns are excellent for achieving bohemian designs, vintage styles, and shabby chic designs. 
Final Thoughts
The past couple of decades have seen the rise of cheap, fast furniture that is not exactly sustainable. They are considered to be an easy solution to people's dynamic lifestyle needs. Cheap, handy, and disposable, these furniture pieces quickly became a staple, but they also fell out of favor pretty fast. 
People realized the effects of carefree consumerism and saw that these items are easily discarded and replaced just after a few years. Obviously, the trend cannot be sustained as it harms the environment in the long-term. It was not also the most cost-efficient route for homeowners. So, for 2021 and onwards, the industry is shifting towards an eco-friendlier focus. Along with this, trends seem to favor a return to the past, giving homage to classic styles, designs, and colors. 
Please consider spreading the word and sharing; 12 Furniture Trends To Look Out For In 2021
The home interior and design industry constantly evolves and changes and here are 12 furniture trends that you should look out for in 2021. #homedecor #diy #homedesign
About the Author
Top Wellington Realtor, Michelle Gibson, wrote: "12 Furniture Trends To Look Out For In 2021"
Michelle has been specializing in residential real estate since 2001 throughout Wellington Florida and the surrounding area. Whether you're looking to buy, sell, or rent she will guide you through the entire real estate transaction. If you're ready to put Michelle's knowledge and expertise to work for you call or e-mail her today.
Areas of service include Wellington, Lake Worth, Royal Palm Beach, Boynton Beach, West Palm Beach, Loxahatchee, Greenacres, and more.