The security deposit is one of the most debated issues among tenants and their landlords. Disagreements can lead to lawsuits and a lot of wasted time. Many perpetual renters simply give up. They figure that they will lose their entire deposit after they move out. But that doesn't have to be the case. Let's discuss exactly what this deposit is. What it is supposed to be used for, and finally, how you can get it back even if the landlord refuses to send it to you.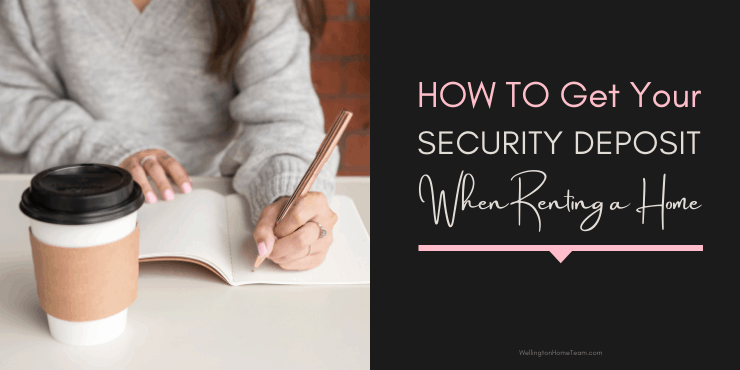 What is a Security Deposit 
A security deposit comes in the form of money and is used to protect the landlord/owner from damage caused by the renter/tenant. This can come in the form of damage that falls outside of normal wear and tear. 
Many renters falsely believe that it can be used to cover the last month's rent. It is not to be used for this purpose. The only exception would be if the landlord gives you the ok. However, we would be very skeptical of agreeing to this. Be sure you get this in writing before you proceed. 
Some states require that the landlord provide you with the name of the bank and the account number they make the deposit into. Some renters rightfully fear that the landlord will spend the security deposit money on personal expenses. This isn't the landlord's money, it's the tenants. 
In review, the security deposit protects against damage inflicted upon the property by you. If the landlord requests first and last month's rent, the deposit would be an additional payment that you would need to make. 
If you plan on renting a home you most likely will have to put down a security deposit and here's a guide on how to get it back when the lease is up. #renting #realestate
How It Can Be Applied 
Let's discuss normal wear and tear.  Landlords cannot charge for this in a majority of states. Remember each state may operate a little different from each other. Here are some examples of typical wear and tear:
Worn doorknobs

Dusty or dirty blinds 

Light stains in the carpet

Finish wearing off on cabinet handles

Light scratching on the wood floors

Fading curtains direct sunlight
On the other side of the spectrum is damage. Not only will you be charged for any damage inflicted upon the property, if it's severe enough you may get an additional bill for the repairs. Here some common examples of damage:
Heavy carpet stains

Chipped tile in the bathroom 

Chips or cracks in glass

A punch hole in the wall 

Negligence that causes appliances to break down

Unapproved painted walls
If you never change the filter in the dryer and it breaks, the landlord would certainly make a case that this is negligence. Don't be surprised if you receive a bill for this. 
Importance of a Walk-Through

Did you know that you can ask the apartment manager to walk through the rental property with you before you move-in and just before you move out? They can inspect the property and help you determine what is normal wear and tear and what is damage. 
They can let you know if there is damage you may be assessed for. If so you may have the option of repairing the damage on your own or let the manager do it. You will have to make the decision on how to proceed here if you have an option. 
Walk-throughs are a must for all tenants and be sure to take photos of the condition of the property. You may need them later if there are disputes. 
What Happens After You Move Out
Don't expect to receive a check in the mail immediately after you move out. The vast majority of states allow 30 days before the renter must receive the refund. 
If any monies are deducted, you should receive an itemized list of charges. A landlord cannot simply charge you an amount without telling you exactly what was repaired. Be sure and read your lease. Some apartments for rent will charge cleaning fees. Technically they shouldn't be allowed to do this. As cleaning would fall under normal wear and tear. That's why you want to read your apartment lease.
I Disagree with The Charges
If you don't believe certain items should be classified as damage, either contact your landlord by phone, or write a letter. Avoiding the court system is usually best for both parties. Solving this amicably is the best option. 
However, sometimes this is not available. Luckily you can take your case to small claims court before a judge. This will take a little extra effort on your part, but it can certainly pay off for you.
Be sure you have your photos and notes. You will have to take the case to small claims court. But don't worry, there is no reason to be intimidated.
Going to Small Claims Court

Nobody wants to go to court. But security deposits can easily be hundreds, if not over one thousand dollars. The easiest and best solution is to work things out with your landlord. But in the event you cannot, then small claims court is an option. 
In most states, this will be the avenue you will want to take. Filing fees will be between $100 and $150 dollars.  
You will need to fill out some forms at the courthouse.  Many times when your landlord is served, they will immediately send you the money. Then you can cancel the case. 
However, if they don't, then you will want to start preparation. When the day arrives, you will want to bring all the evidence you have with you. This includes all of the photos you took for the apartment walk-through. 
You won't need an attorney. Simply tell the judge who you are, and why you're in court today. They will be very familiar with the situation. Make sure you have all the evidence with you so you can present it to the judge.  
If the judge asks you questions, answer them quickly. Don't offer any excuses. With any luck you will win the case. 
Final Thoughts
Remember, that the security deposit is your money. Landlords just want you to keep the place clean and damage-free. In most scenarios, they will refund your money within the allotted time allowed by the state you live in.
There you have it. That's how to easily get your security deposit back!
Please consider spreading the word and sharing; How to Get Your Security Deposit Back When Renting a Home
If you plan on renting a home you most likely will have to put down a security deposit and here's a guide on how to get it back when the lease is up. #renting #realestate
Top Wellington Realtor, Michelle Gibson, wrote: "How to Get Your Security Deposit Back When Renting a Home"
Michelle has been specializing in residential real estate since 2001 throughout Wellington Florida and the surrounding area. Whether you're looking to buy, sell or rent she will guide you through the entire real estate transaction. If you're ready to put Michelle's knowledge and expertise to work for you call or e-mail her today.
Areas of service include Wellington, Lake Worth, Royal Palm Beach, Boynton Beach, West Palm Beach, Loxahatchee, Greenacres and more.