Moving into a new apartment is a big deal, particularly if you are going to be living on your own for the first time. You want it to feel like home and be an expression of your style, a place you want to spend your time and enjoy. Of course, you want to put your mark on the new living space, and painting apartment walls could be your first choice to create a home you're proud of.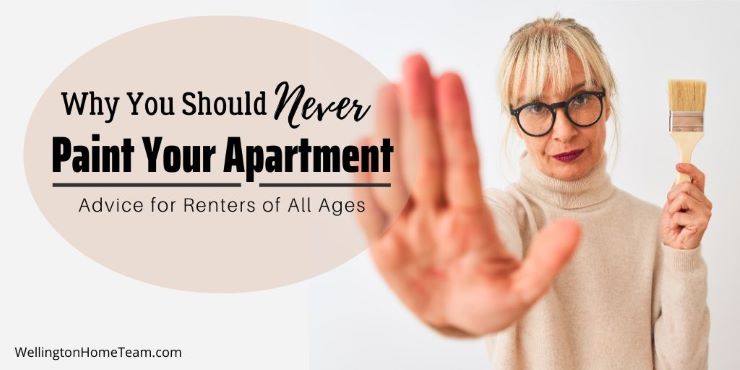 There are a few things you need to consider before you reach for the paintbrush, however. We take a look at why painting your apartment isn't a great idea.
The Expense
Paint is a great way to update a property, it is by far one of the best bangs for the buck in the home improvement world. However, painting an apartment, which is a temporary residence, can become extremely costly. If you hire a painter, which the landlord may require, it could cost thousands of dollars. If you're allowed to be a DIYer it could cost hundreds. Mind you, if you don't have excellent painting skills it's going to cost even more to fix your mistakes.
In addition to the upfront cost of painting your apartment, you'll have the cost of returning it to its original condition too. Odds are when your lease is up the landlord will want the apartment back in the same condition they gave it to you in. This means it needs to be repainted to its original color when you first signed the lease. This is particularly going to be annoying if you're only going to be living in the apartment for a year. Repainting twice within a year is a lot of work and expensive especially if you buy an eco-friendlier paint.
The costs involved could be more than you originally planned. Often, apartment developments use contractors and you could find yourself needing to buy specific paint from them. This means the paint could cost more than it otherwise would.
Why You Should Never Paint Your Apartment
Creating More Problems
Moving is a stressful enough experience, with many tasks that need to be completed, without adding the need to repaint. You will have many things to consider and repainting isn't going to make things any easier.
If you are moving to another rental property, there could be an overlap period when you have the time to paint the old apartment. This will make it easier since you can move all of your furniture out before you begin to paint. However, it means you are paying rent on both properties at the same time. Ideally, you would want to avoid any overlapping time like this and not being required to repaint will help.
With that being said, if you don't have an overlap in time you'll have no choice but to repaint while you're trying to pack. Moving can require weeks of packing your things into boxes. You will need to clean the apartment and make any repairs that you discover if you want to get your full security deposit back. This can all be stressful enough, without repainting the rooms as well.
Moving to a new apartment is going to be a strain on your finances anyway especially if you hirer a painter. So you will be in a better position without spending money on painting apartment walls in a place you won't be living in for an extended period of time.
Other Options
Instead of painting your new apartment there are some other things you can do to personalize your new living space.
Artwork

You can brighten up the bland walls of your apartment by hanging paintings. There isn't the need to hammer nails into the wall either, which would be better to protect your deposit. You can use picture hanging strips or adhesive hooks to hang paintings without putting a hole in the wall.
Purchase canvas paintings, canvas prints or metal posters printed with any contemporary image of your choice. The metal posters are becoming very popular and even allow you to add a large picture to your wall using multiple frames. There are going to be many options to suit your tastes and your budget, which allows you to put your personal stamp on the new apartment.
Wall Decals
A similar option is the use of decals. They are designs that stick to your wall and then peel off when no longer needed, hopefully without leaving a mark on the paintwork.
Peel and Stick Wallpaper
Much like removable wall decals there is removable wallpaper, which should be the only type of wallpaper ever created. Peel and stick wallpaper is a great way to cover a large area, but be careful because this can end up costing more than paint depending on the design you select.
Curtains
The curtains you choose can add a lot of color to an otherwise unexciting room. You may need to purchase new curtains anyway, so they are going to be a good way to improve the living space. There shouldn't be any damage created by hanging curtains and you can take them with you when moving out.
Colorful Furnishings
Colorful furnishings are another great way to add color to a room while keeping the walls white. If your furniture isn't colorful don't worry about buying new furniture, slipcovers, blankets, and pillows can go a long way too.
Nothing
The other alternative is to just live with the walls as they are. If you can put up with a more modern look to your apartment, perhaps matching your furniture to this style, it is going to be far easier when you come to move out.
Do you want to paint your apartment? If so you may want to think again. Here are some things to consider before you pick up that paintbrush. #homedecor #diy #paintless
Final Thoughts
Painting the walls isn't always necessary to make your apartment have style or feel like home. There are so many great alternatives to painting your apartment. Colorful furnishings and accents can go a long way. Why invest in paint when you can invest in items like curtains, which you can take with you when your lease is up?
Now, if you have a long-term lease in writing painting your apartment may be worth it. If the current paint isn't in the best condition and the landlord is willing to pay for the paint or discount the rent, this too may be worth it. However, if you only have a one-year lease, can't paint until after you take possession, and need to repaint before moving out having paint on the walls for less than a year probably isn't worth the headache.
Please consider spreading the word and sharing; Why You Should Never Paint Your Apartment
Additional Real Estate Resources
Landlords and sellers should always prepare their property before listing. Sometimes this means a fresh coat of paint while other times new flooring may be needed. When a property is in move-in condition a tenant or buyer won't need to do anything upon moving in other than hang a few pictures.
Final walkthroughs aren't just for home buyers, they're for tenants too. Tenants should always do a walk-through before moving into a property and again after vacating. The move-in walk-through should consist of noting any issues found; broken tiles, holes in walls, etc. and be sent to the landlord. While the move-out walk-through should be with the landlord to ensure everything is acceptable. By skipping the walk-through it may take longer to get their security deposit back and in some cases may need to unnecessarily fight for it.
Staging your new apartment doesn't have to require paint. There are so many tips and tricks from interior designers that will make an apartment feel like home without picking up a paintbrush. Home accessories can go a long way and they're all items that can be taken with the tenant. Unlike paint, which costs money to do and can't be taken with them.
About the Author
Top Wellington Realtor, Michelle Gibson, wrote: "Why You Should Never Paint Your Apartment"
Michelle has been specializing in residential real estate since 2001 throughout Wellington Florida and the surrounding area. Whether you're looking to buy, sell or rent she will guide you through the entire real estate transaction. If you're ready to put Michelle's knowledge and expertise to work for you call or e-mail her today.
Areas of service include Wellington, Lake Worth, Royal Palm Beach, Boynton Beach, West Palm Beach, Loxahatchee, Greenacres and more.