Choosing the right finish for your door is a vital component in the curb appeal to your home. It is the focal point of your home as the entryway so the design and décor are crucial to providing a welcoming atmosphere to your guests. Typically people play it safe by matching their trim to their front door.  But if you want to make a bold statement and give your house that professionally decorated touch, consider these colors and the impression they will make. It can be an exciting quick makeover to paint just your front door.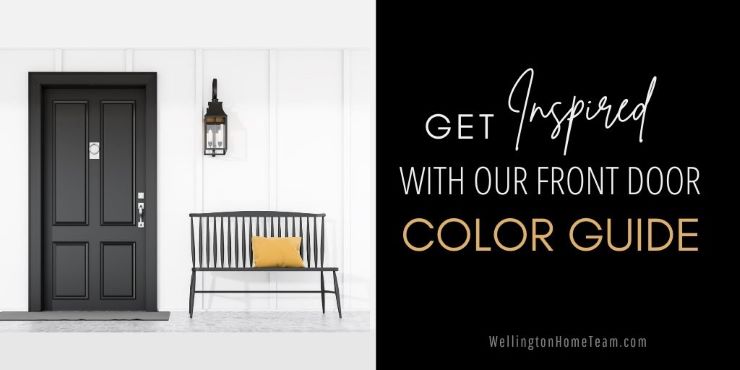 Step One, Plan Your Project
There may be unwelcome surprises or issues if you do not plan accordingly. Remember when painting your door to get the best results you will need to remove it from the hinges, take off all handles, knobs, and locks so the door is bare.
For supplies, you will need to get both a primer and a paint to get a professional look out of your home project. You also may need to get sandpaper to smooth out the door or remove the old finish. If you are unable to do the work or decide to hire a professional there are many contractors that can do the work for you. The average cost for a front door done by a professional is just under $600.
Choose Your Paint
Now that you have planes properly for this project, you can begin to pick the perfect color for your door.  You'll want an exterior gloss paint. Would you like a more modern feel to your home? Or maybe you want a rustic or vintage look? Consider the psychology that your color will give, what mood it will set for those who enter your home.  Bring home swatches of all of the colors to view them in the light that is cast at your front door at different times of day.  
Deep Red
In most settings, deep reds are sophisticated and a very popular classic option. It conveys tradition and conservative taste. When matched to a brick, grey or dark colored house can add a much-needed warmth of color. It can effectively give you the farmhouse look that has been rising in popularity in recent years. 
Bright Turquoise
A color that is hot right now and climbing in popularity is turquoise, and shades of teal. It has this retro look that adds a unique and bright style to any home.
Homes with white or grey exteriors complement best with this color. This hue of blue will add a subtle pop of color when used solely on the door.
When used for trim, the garage, as well as the door, it tends to be more over the top, potentially too bright for most tastes.
Contemporary Black
For a simple yet bold update, painting your front door black can be just for you. It can give your home a contemporary or updated feel. If your home décor is more modern and sleek, this is a great fit for you. Something to think about with this color choice is to change the hardware of your door to properly accent the new look. Silver whether brushed nickel or chrome is always a great choice to match the new look.
Shades of Green
A warm and welcoming color for your house is the color green. If it fits with your personality and style, using the right hue of green can really create a positive environment for your home. If you have a brick house a darker forest green is conservative and traditional, while using a lighter green works with white or cream-colored homes.  Mossy or avocado greens work great in the mid-century modern retro style homes.
Pastel Purple
To add a pop of color but don't want to add something super bright then try a pastel color.  Pastels when contrasting on a door with white or cream hued homes will appear bolder and brighter than you realize, so choose a lighter tone. Purple is a great classical choice for pastel colors, its unique look sends a whimsical and peaceful message to your guests. 
Sunshine Yellow
Using a bright yellow for your door is said to eliminate negative energy from your home. Even on a cloudy day, your yellow door shines with positivity drawing people in. This choice compliments neutral lighter colored or white homes, and should be used sparingly. 
Rusty Orange
If your home has a natural feel to it both inside and outside, like wood floors and siding, you might want to try a rusty orange door. It's a trendy hot color and gives your home a modern edgy look, the opposite of traditional. This can complete your look with its warm color that adds the finishing touch to the natural elements of your home. Homes with light blues, greys, and yellows look fantastic with a burnt orange door.
Turn a boring front door into one that pops with a little bit of color! Paint is one of the most inexpensive ways to give your home an upgrade. #howto #colorguide #diy
Door Décor
After your door is painted, explore door décor that will convey more of your mood and theme. Wreaths can be utilized year-round; burlap, herb, and floral wreaths are fantastic additions to your newly finished door for a cottage or farmhouse look.  Pennant flags can be another option to give your door that little bit extra appeal, and give you that perfect look you are after. Art deco house numbers will dramatically change the entire feel of your house to a remodeled, modern atmosphere. And door knockers are also a classic look you can add to your door; in today's market there are dozens of amazing styles to choose from. They are simple to install and low on cost.
The front door to your home is a very important and usually under-appreciated even though it is the first things many people notice. Choosing the right door is important, but then choosing the right color can make or break your desired look and appeal. Even an old door can look as good as new or better with the right attention to detail and the correct color choice.
Please consider spreading the word and sharing; Get Inspired with Our Front Door Color Guide
About the Author
Tal Hassid, founder of ETO Doors, is a door and wood expert in the industry for 15 years.  ETO Doors, one of the largest online marketplaces for doors, carries solid wood and fiberglass doors including Interior, Exterior, and French doors.
Connect With Him: Houzz | Facebook | Linked In