Are Mobile Homes Worth It? 7 Popular Pros and Cons
Mobile homes sound like fun, don't they? Being able to save money on real estate – it seems like it's the best of both worlds – not having to buy property but actually owning a home – or buying a property cheap and then simply placing a ready-made house on it without the hassle of building a new house from scratch?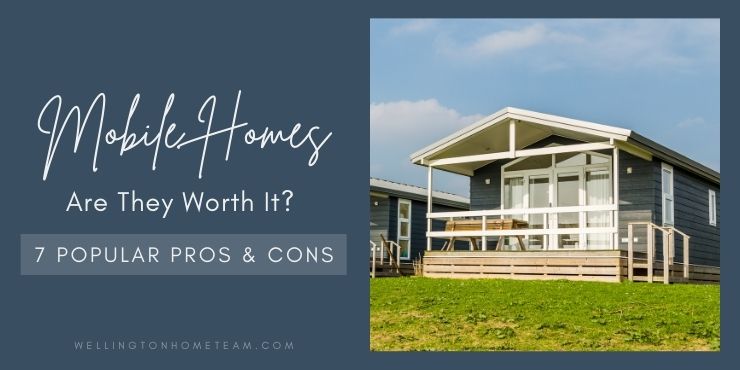 If you're looking at someone who is selling an empty lot with hookups or selling a mobile home to be moved and you're wondering if this might be your chance of a lifetime – take a look at the pros and cons. We know that times are tough for everybody these days and this might seem like the ideal decision. 
Before you commit to purchasing a mobile home, take a look at the arguments for, and against that, we have found. Who knows, maybe we'll mention something you haven't thought of before! Read on:
The Pros
Let's start with the positive stuff – the advantages of choosing a mobile home instead of a real one. And let us tell you – there are plenty. The ones we're going to mention are just a portion, as listing all of them would take too much time.
Affordability
This is probably one of the most important advantages of mobile homes – they are a lot more affordable than brick and mortar homes.
Here are some numbers – in 2018, the average price of a traditional home in the U.S. was around $225.000 (although this number obviously varies depending on the area). In comparison, the median price for a mobile home in the same year was only around $90.000. This means that you can afford a pretty luxurious mobile home at the same price as an average home built from the ground up.
Low Maintenance Costs 
Aside from being cheaper to buy, mobile homes require less maintenance than normal homes do. The costs connected to, for example, landscaping, are practically non-existent. Although it might not seem like much, over time you can save quite a bit of money that otherwise would be spent on maintenance. 
Environmentally-Friendly
The number of mobile homes produced with environmentally-friendly materials is slowly increasing. They are being designed and built with a low carbon footprint, and most of them run on solar energy. What's more, the majority of them are now Energy Star certified and come with energy-saving appliances, plumbing fixtures, and lighting.
Mobility
That's probably one of the most obvious advantages, as well as a common reason why people even consider getting a mobile home – as the name suggests, they are MOBILE, which means that you are not tied down to one place. You can move whenever you want, without having to worry about selling one house and buying another – just transportation costs.
If at any point in your life you decide that you've had enough of living in your current location, you can just hire a contractor so that they can take the home off of its temporary foundation and move to the new place.
Mobile homes might sound like a great investment for those wanting to own property, but are they? Here are the top pros and cons to consider. #mobilehome #realestate #homebuying
The Cons
Now that we got the good stuff out of the way let's focus on the bad. After all, there are two sides to every coin. Just because purchasing a mobile home is a great idea, it doesn't mean that it doesn't have any cons. Because it does. Here are some of them.
Depreciation
Probably the biggest disadvantage of mobile homes is the fact that, contrary to traditional homes, they do not appreciate in value – quite the opposite. They depreciate, just like a car that leaves a dealership.
The exceptions are modular homes, as they are built in accordance with your local building code, which is indistinguishable in the eyes of both the law and the appraiser. So, if you have a modular home, it will appraise just like any other house in the neighborhood – however, it will cost 30% less.
Financing
Contrary to the traditional homes, which are considered as 'real property,' mobile homes fall under the personal property category. Because of this, receiving financing for it can be a lot more difficult.
If you want to get a loan, you can expect much higher interest rates and shorter terms. For instance, in 2018, the average interest rate for a home loan was 3.2% with a 30-year term. In the same year, personal loans (which are needed to purchase a mobile home) had an interest rate of 3.99%.
Design
Mobile homes are mass-produced. This means that there aren't a lot of choices when it comes to design and layouts. Although sure you can add a personal touch through decorations, painting, etc., the truth is that mobile homes will be a lot more difficult to customize than traditional ones.
What's more, even though you can usually choose from a few different floor plans, the exterior is pretty much the same for most mobile homes size-wise – for the sake of transportation. Single-wide mobile homes are 90 feet long and 18 feet wide, while double-wide homes are 90 feet long and 25 feet wide. Due to the fact these dimensions are fixed, there isn't much room for exterior customization.
Final Thoughts
Mobile homes are a very good option for people who love to live in the moment and are very spontaneous. Contrary to a traditional home, with a mobile home, you don't have to worry about what to do with your house – you just take it with you wherever you want to move.
However, just like everything, mobile homes also have their advantages and disadvantages. While they are affordable, low maintenance, environmentally-friendly, and mobile (obviously), they also depreciate in value, can be hard to get financing for, and there's not as much variety when it comes to design and customization opportunities.
We hope that after reading this article, you have a better understanding of what you are going to be dealing with after buying a mobile home, and thanks to it, you will be able to make a more knowledgeable decision on whether that's actually what you want. Good luck.
Please consider spreading the word and sharing; Are Mobile Homes Worth It? 7 Popular Pros and Cons
Mobile homes might sound like a great investment for those wanting to own property, but are they? Here are the top pros and cons to consider. #mobilehome #realestate #homebuying
About the Author
Top Wellington Realtor, Michelle Gibson, wrote: "Are Mobile Homes Worth It? 7 Popular Pros and Cons"
Michelle has been specializing in residential real estate since 2001 throughout Wellington Florida and the surrounding area. Whether you're looking to buy, sell, or rent she will guide you through the entire real estate transaction. If you're ready to put Michelle's knowledge and expertise to work for you call or e-mail her today.
Areas of service include Wellington, Lake Worth, Royal Palm Beach, Boynton Beach, West Palm Beach, Loxahatchee, Greenacres, and more.
Are Mobile Homes Worth It? 7 Popular Pros and Cons