Should I Sell My House Now or Wait Until Spring?
One of the most common questions people ask about selling their home is, "When is the right time to sell?" On the cusp of the New Year, many people looking to sell are pondering this question. Should you sell now? Or should you just wait until Spring like everyone else?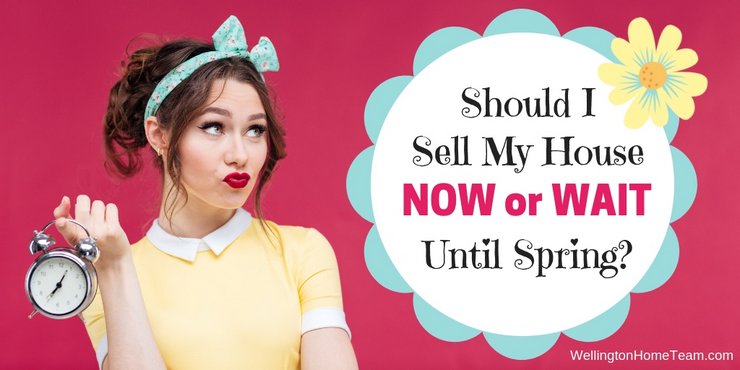 Common sense often tells people they should wait. Spring is obviously the time to sell. It's when everyone else is selling and when people are looking.
However, now could actually be a better time to entice serious buyers and get ahead of the game. When people look to buy during the winter, they often need a place more urgently. They frequently aren't just thinking about it. And you can use this to your advantage.
Not convinced? Here are a few more reasons not to wait until spring:
There is Less Competition
The housing inventory usually drops during the winter months. Why? A lot of people pull their house off the market and a lot of people wait until spring to sell. This puts you at the top of the list for potential buyers. If you wait, you'll have way more competition than right now.
It's the Slow Season for Real Estate Agents, Mortgage Lenders, Appraisers, and Inspectors
There are less buys and sells happening – meaning the experts have much more time to give your home and your sell attention. This means that the selling process could potentially go much smoother – and even faster. There are not many other transactions happening so you face fewer delays or hurdles.
Interest Rates Continue to Rise

Higher interest rates mean your home will be more expensive and potentially out of some buyers' price range. You want to sell your home at an affordable price. Or else you could end up with your house on the market for a longer duration.
You're probably thinking "Okay, so why do people sell in the spring then?" Here are a few reasons that maybe you should wait:
Your house has unique features – meaning the average person might not be interested in it. It might sell faster with more buyers out and about.
You have a family that you would be uprooting. The school year ends in June. It might be best to wait until the end of the school year to sell or to move.
It doesn't show well in the winter. For instance, if you have a pool – this isn't exactly the most appealing aspect in the winter and can come off as a waste of space.
Most importantly, explore your options! Choose what works best for you and your life. And hey, if you put your house on the market now and it doesn't sell – you always have the springtime! Plus, you're all set up for the process.
Final Thoughts
Our last piece of advice: Find an expert to advise you on what is best for your home and your area. Markets may vary depending on where you live. Someone that knows your market best can help you make the right decision.
Please consider spreading the word and sharing; Should I Sell My House Now or Wait Until Spring?
About the Author
Kurtis Forster is a real estate agent for Team Forster in London, Ontario, Canada.