Should I Sell My House Now or Wait Until Spring?
One of the most common questions people ask about selling their home is, "When is the right time to sell?" As the year winds down and the holidays come to an end many people start to wonder if they should sell now or wait until spring, which is when a majority of other people choose to list their homes for sale.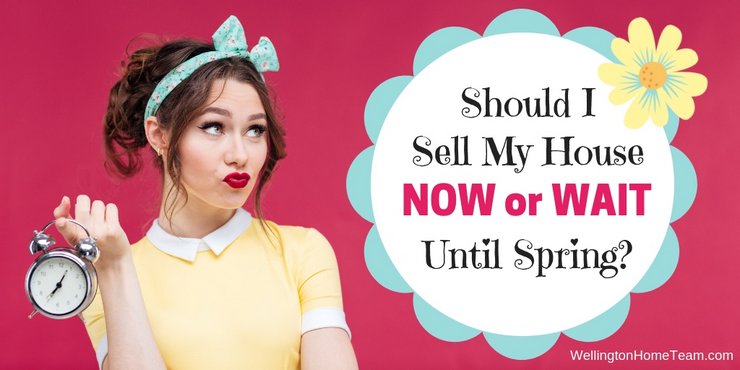 Common sense usually tells people to wait until spring, especially for those who don't live in warmer climates like Florida. After all, who wants to look at a property with snow on the ground? Believe it or not, listing during or immediately after the winter holidays could be the best time to sell a home. Let's take a closer look at why a seller should consider listing their home for sale now instead of waiting until spring.
Reasons to List Your Home for Sale in the Winter
There is Less Competition
A majority of people don't want to sell during the winter months, especially during the holidays. The holidays by themselves are overwhelming so nobody wants to add more to their plate, like keeping their home in "show ready" condition and being inconvenienced with showings. So if you were to list your home during the winter months you'll have a lot less competition and may attract more buyers.
Motivated Buyers
Buyers who are actively looking to purchase a home during the winter months are usually very serious and motivated. Therefore, you probably won't be bothered by unqualified and unmotivated buyers trying to see your home. If you waited until spring you'll have a lot more competition, plus more looky lou's are sure to be out.
Need to Move
Not everyone has the luxury of deciding when to list their home for sale, some people need to move as soon as possible but aren't sure if they should leave their home vacant and sell during spring or maybe rent it out.
If you have to move and have no interest in becoming a landlord it'll probably be in your best interest to list now.
After all, the buyers actively looking to purchase are probably as motivated as you are. Your Realtor will be able to help you make the right decision for your circumstances.
Cozier Atmosphere
The winter months can be a great time to showcase your home's cozy and inviting features, such as a fireplace or hot tub. You can also stage your home with beautiful winter decorations, such as warm blankets or holiday decorations, to create a welcoming atmosphere.
Online Home Shopping
With more people being stuck inside due to the cold weather they may spend more time online looking at homes. Due to the lack of home inventory during the winter months, your home will easily be found online.
So as long as your home is showcased in its best light, professional real estate photographs along with a detailed and enticing description you'll have more eyes on your home, which could produce more interest.
It's the Slow Season for Real Estate Professionals
If there are fewer people buying and selling during the winter months real estate professionals like real estate agents, mortgage lenders, appraisers, and home inspections will be slow as well. This means the experts will have more time to spend selling your home and making sure it closes without a hitch.
So instead of waiting a week for the buyer to have a home inspection, their inspector might be available immediately, which means you'll find out sooner if the buyers are moving forward with the purchase or if repairs need to be made. The same holds true for home appraisers, it can easily take them a week or two to schedule an appointment to appraise your home during the busy season. However, when the real estate market is slower it might only take them a week.
Reasons to Wait and List Your Home for Sale in Spring
You're probably thinking "Okay, so why do people sell in the spring then?" Here are a few reasons why you might wait until spring to list your home for sale.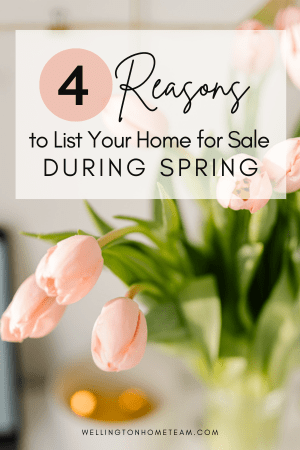 Unique Home: If your house has unique features, meaning the average person might not be interested in it. It might sell faster with more buyers out and about during the warmer months.
Uprooting Family: If you have a family, specifically children in school, uprooting them in the middle of the school year probably isn't the best time to move. It might be better to list your home for sale as the school year is coming to an end.
Homes Condition: If your home is in need of repair but those repairs can't be addressed until the warmer months it probably makes sense to wait to list your home until then.
Curb Appeal and Outdoor Features: If your home has a lot of great outdoor features, such as a swimming pool, listing during the winter months may not be the best option. The same holds true if your home has incredible curb appeal, which could be covered up and go unnoticed during the winter months.
Final Thoughts
Ultimately, while the winter season may not be the most popular time to sell a home, there are still many benefits to listing your home during this time of year. By working with a knowledgeable Realtor, you can ensure that your home is priced competitively and marketed effectively to potential buyers, no matter what time of year it is. Plus, they will be able to help you determine if you should "sell my house" now or wait until spring.
Please consider spreading the word and sharing; Should I Sell My House Now or Wait Until Spring?
About the Author
Kurtis Forster wrote this helpful article "Should I Sell My House Now or Wait Until Spring?" and is a real estate agent for Team Forster in London, Ontario, Canada.
Wellington Florida Realtor
If you are looking to buy or sell your home in Wellington Florida contact top Realtor, Michelle Gibson, wrote. She has been specializing in residential real estate since 2001 throughout Wellington Florida and the surrounding area. Areas of service include Wellington, Lake Worth, Royal Palm Beach, Boynton Beach, West Palm Beach, Loxahatchee, Greenacres, and more.
Should I Sell My House Now or Wait Until Spring?