8 Simple Ways to Attract Buyers to Your Home
When you put your home up for sale, you want to make sure you attract buyers so you get the best price and sell it as quickly as possible. While you could get lucky and find a buyer quickly, there are things you can do to improve your chances, even in more difficult selling conditions.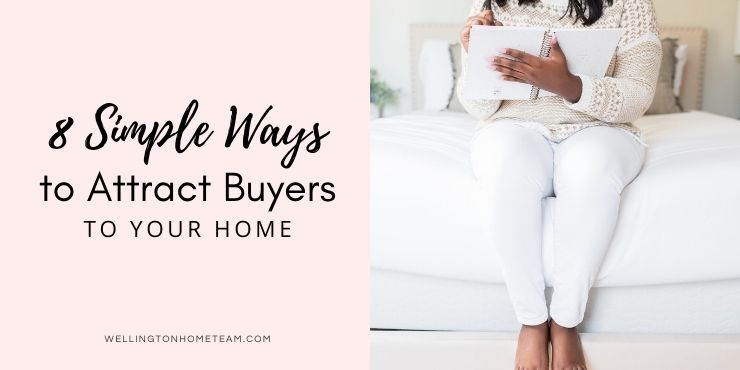 8 Simple Ways to Attract Buyers to Your Home
We look at some of the things that will attract buyers and help you sell your house in no time.
Picture Perfect
One of the first things that potential buyers will notice about your listing. is the photographs. To make sure you give your home the best chance of finding a buyer, a professional real estate photographer needs to take the photos.
High-quality photos showcasing your home tend to lead to less time on the market. While bringing in a professional real estate photographer is an added cost, it will always pay for itself with a higher sale price on average. They are definitely one of the easiest ways to attract buyers to your home.
Before a real estate photographer is hired, make sure they know what they're doing. Check customer feedback to avoid hiring a wannabe professional that won't produce the results that attract buyers.
Setting the Stage
Staging the home before the photographer arrives is also a good idea and will help during showings. At a basic level, this can simply mean reducing the amount of furniture and stuff you have in your rooms so that they appear more spacious to buyers.
If you are unsure of how to stage your home, there are professional stagers available to really make sure your rooms look their best. They will work to make your home appears not only larger, but more inviting, cleaner, brighter, and warmer. They want to create a space that potential buyers can imagine themselves living in, showing it in its best light and making the home more desirable.
Services like this should pay for themselves, attracting more buyers and getting you the price you want for your home.
Detailed Listing Information
Once the photographs have drawn attention from buyers, they will want to find out more. Your listing has to have a detailed description of your home so that they are further attracted to the property. It should also showcase what the area has to offer.
This has to be honest, however, as it can be all too easy for listings to go over the top, trying too hard to sell the home. While this might encourage more people to inquire further, it will only lead to disappointment when they actually visit the home.
In order for a seller to obtain top dollar for their home in the shortest amount of time, they need to attract buyers, and here are simple ways to do so. #homeselling #realestate #tips
Highlight the Features
Every home has some unique features that buyers will want to find out about. These should be clearly highlighted in the description, perhaps in bullet points, to really make them clear. The description shouldn't be afraid to boast about the things that make the home stand out from the competition.
Is the home built on a cul-de-sac lot? Perhaps you have had expensive new additions. Maybe you have eco-friendly upgrades, and smart house automation is another thing buyers are looking for. Make sure these things are mentioned in the MLS description.
Whatever it might be, there should be some positive features outlined in the description that will attract the buyer and encourage them to take the next step.
Make Things Easy
There are a few things you can do to make your home easier to show. Convenience to potential buyers will make sure more people will view your home. For this reason, you should avoid the temptation to require the term "appointment only" or "24-hour notice" in your listing. Of course, an appointment will be needed and it's best to consider them as the showing request comes in.
Oftentimes, when a buyer's agent has to read a novel about restrictions it could turn them away. If buyer's agent knows that it will be easier for them to show your home to their clients, they are more likely to present it to them in the first place. Obtaining show instructions need to be easy to obtain as well. Trying to track down the listing agent or calling during office hours is another way to lose showings.
Keep Your Listing Agent Away
Another way to make things easier is to do away with the requirement to have your listing agent present. If your listing agent needs to be available at the same time as the buyers and their agents, this will inevitably reduce the number of showings.
If you also have a lockbox for the key, buyer's agents can more easily show your home without your listing agent needing to be present. A lockbox can be positioned on the front door so an agent can gain easy access. If you are worried about the security of lockboxes, make sure a supra lockbox is used. Only licensed real estate agents will be able to access it, it records who opens it and it can also be set to only allow access at certain times.
A lockbox is a great idea unless your home could benefit more from your agent explaining its features. If you live in a custom luxury estate home, or it offers more features that might not be completely obvious, you may be better served by having your Realtor present.
In order for a seller to obtain top dollar for their home in the shortest amount of time, they need to attract buyers, and here are simple ways to do so. #homeselling #realestate #tips
Attractive Commissions
Buyers agents will be more motivated to show your property to their clients if you offer them a better commission. You should check your agreement with your listing agent to see if you can change the commission split from the normal 50/50.
Commission and commission customs will vary from area to area. If you can find a way to offer more than the majority of house sales are offering or a selling bonus, you should get more interest. This can be more important if your home is in a buyers' market with more properties available than people looking to buy.
Hire a Top Realtor
If you have help from an experienced top real estate agent, your home should sell faster and for more. They will have the knowledge to market your home in a way that they know will attract buyers.
A real estate agent with a good track record of selling properties quickly will be able to create an incredible marketing strategy for your home. This will include social media marketing campaigns and other online opportunities, to get your home in front of more potential buyers.
It might be tempting to choose the for sale by owner or FSBO route to selling your home. But if you want to attract more buyers and sell for more, this is far from the best option. The saving on commissions might seem attractive, but FSBO homes normally sell for less, and quite a lot less, than those marketed through real estate agents. A top Realtor will pay for themselves and then some.
Final Thoughts
It's not difficult to attract buyers to your home if certain steps are taken. Hiring a top Realtor is the first step and they should be able to easily cover the remaining steps. They will also guide you through the process and make recommendations that will help you obtain top dollar for your home in the shortest amount of time.
In order to determine you're hiring a top Realtor, you will want to analyze their marketing plan, see how they market their current and previous listings. Do they use professional photographs and have a detailed listing description? Do they sell real estate in your area? Do they answer their phone, return calls and text messages?
Don't assume Aunt Sally who sells real estate in her free time is going to be the best agent for the job. It's also best to interview multiple real estate agents and see who has the best marketing and track record. You need to focus on making money not saving money on real estate commission. Once again a top Realtor will pay for themselves and then some.
Please consider spreading the word and sharing; 8 Simple Ways to Attract Buyers to Your Home | Tips & Advice
In order for a seller to obtain top dollar for their home in the shortest amount of time, they need to attract buyers, and here are simple ways to do so. #homeselling #realestate #tips
About the Author
Top Wellington Realtor, Michelle Gibson, wrote: "8 Simple Ways to Attract Buyers to Your Home | Tips & Advice"
Michelle has been specializing in residential real estate since 2001 throughout Wellington Florida and the surrounding area. Whether you're looking to buy, sell, or rent she will guide you through the entire real estate transaction. If you're ready to put Michelle's knowledge and expertise to work for you call or e-mail her today.
Areas of service include Wellington, Lake Worth, Royal Palm Beach, Boynton Beach, West Palm Beach, Loxahatchee, Greenacres, and more.
8 Simple Ways to Attract Buyers to Your Home | Tips & Advice