Why Do Sellers Delay Accepting an Offer? 6 Popular Reasons
When submitting an offer on a home buyers need to decide how long they're going to give the seller to accept, counter, or reject their offer. This is deadline is referred to as the "time for acceptance." However, just because a buyer adds a "time for acceptance," which is usually 24-48 hours, it doesn't mean the seller is going to abide by it. This often leaves a buyer scratching their head wondering why their great offer is being ignored and here are 6 popular reasons why sellers delay accepting an offer.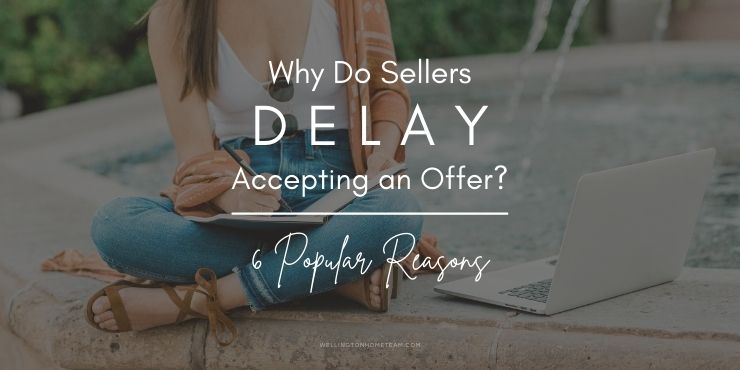 1. Holding Out
If multiple offers are common due to the current market conditions it's not unusual for sellers to hold out and wait for other offers. Even when buyers submit a full-price offer some sellers will still hold off on accepting one. Why? Maybe they're holding out for a cash offer. Maybe they're holding out for an offer with fewer contingencies or shorter contingencies periods.
If it is a strong seller's market and multiple offers are commonplace buyers need to submit their highest and best offer from the start. Could they wait for the seller to request the highest and best from all parties? Sure, but there is no guarantee a seller will go this route, they may accept an offer and reject the rest. So a buyer should never assume they'll have the opportunity to change their offer.
2. Something's Fishy
If a seller is skeptical about an offer they may delay accepting it while their agent investigates. It could be something small, like the buyer's name on the pre-approval letter doesn't match the name on the offer. Or it could be something strange that doesn't make sense like receiving an offer from a buyer who never viewed the home, offered above asking price in a buyer's market, and doesn't provide proof of funds.
3. New Listing
When a seller receives an offer the same day they listed their home for sale they might hold off on accepting it. They could be second-guessing their list price and wondering if they should increase it. They might assume they're going to receive more offers since they received one on the first day and wait around to find out. Another possibility is the reality of moving became real, they didn't expect it to happen so fast and aren't prepared to make a decision that quickly.
4. Bank Owned
If a home is bank-owned a buyer getting an immediate response to an offer is highly unlikely. Sometimes it can take several days or even weeks for a bank to respond to an offer.
So a buyer needs to be prepared to wait. They need to wait for a response, wait for all of the bank's contracts and paperwork, and wait to close. The world will revolve around the bank, at their pace, not the buyers.
Therefore, homebuyers need to prepare and set their expectations accordingly when making an offer on a bank-owned home.
5. Seller is MIA
Most sellers are on pins and needles when they list their home for sale just waiting to hear from their agent. However, some sellers might decide now is the perfect time to take a family vacation and disconnect.
This is just one more reason why sellers delay accepting an offer, they're busy and not available. It could also be because they don't have cell or internet access. Just because technology is widely available not everyone is attached to their phones and tablets. Maybe they have kids? Selling a home with kids can be a full-time job in itself that dropping everything and reviewing an offer isn't a possibility or priority for all sellers.
6. Never Received
Yep, sometimes sellers never receive the offer, which is why communication is a must in real estate. Whether the buyer's agent never received it from the buyer or the listing agent never received it from the buyer's agent things happen.
So if a buyer signs an offer electronically they need to confirm their agent received it. And when a buyer's agent submits an offer they need to make sure the listing agent receives it. The listing agent then needs to make sure the sellers receive it. Confirmation is key to ensure an offer doesn't get lost in cyberspace.
Final Thoughts
In a lot of cases, "time for acceptance" of an offer is treated more as a suggestion than a hard deadline by a lot of sellers. Most sellers don't take too kindly to ultimatums, accept it by the deadline or I'm pulling my offer. Selling a home is very emotional for a lot of sellers, so taking a hard stance I need an answer immediately may not go over well.
If a seller hasn't responded to a buyer's offer the buyer's agent needs to investigate why. Sometimes the listing agent has the answer, the seller is holding out, the seller is on vacation, the seller isn't tech-savvy and hasn't had an opportunity to review it yet.
There are several reasons sellers delay accepting an offer and if a buyer really wants the home they might be at the seller's mercy.
Please consider spreading the word and sharing; Why Do Sellers Delay Accepting an Offer? 6 Popular Reasons
Did you submit an offer on a home and haven't heard back from the seller? If so here are 6 popular reasons why sellers delay accepting an offer. #realestate #homebuying #realestateoffer
About the Author
Top Wellington Realtor, Michelle Gibson, wrote: "Why Do Sellers Delay Accepting an Offer? 6 Popular Reasons"
Michelle has been specializing in residential real estate since 2001 throughout Wellington Florida and the surrounding area. Whether you're looking to buy, sell, or rent she will guide you through the entire real estate transaction. If you're ready to put Michelle's knowledge and expertise to work for you call or e-mail her today.
Areas of service include Wellington, Lake Worth, Royal Palm Beach, Boynton Beach, West Palm Beach, Loxahatchee, Greenacres, and more.
Why Do Sellers Delay Accepting an Offer? 6 Popular Reasons