9 Things Your Agent Should Do In a Multiple Offer Situation
If you are looking to buy a home in 2021 odds are submitting a solid offer won't be enough. There are millions of homebuyers submitting strong offers every day and those same buyers are losing out in multiple offer situations. So how can you compete in 2021?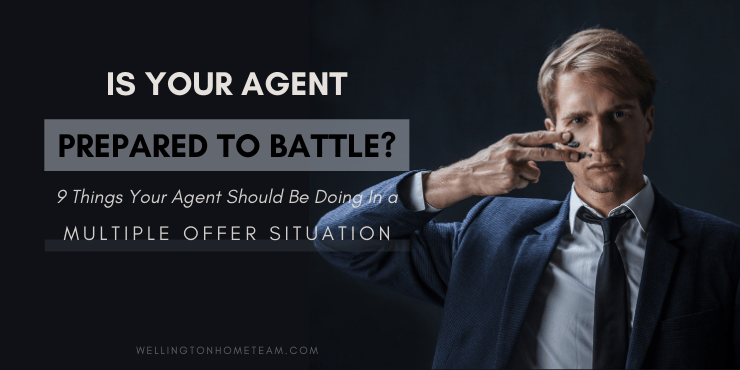 First and foremost, winning in a multiple offer situation is a joint effort. You need to be doing your part and your agent needs to be doing their part. Unfortunately, your agent submitting your offer and sitting around waiting for a response isn't enough. In fact, your third-place offer could become #1 if you have an incredible agent. There are several things your agent can do to increase your odds of winning in a multiple offer situation and here are the top 9.
Be Notified of New Listings Immediately
With properties going under contract in 1-3 days you'll never be in a multiple offer situation if you don't know about new listings. Therefore, your agent needs to be on top of their game and notify you immediately when new listings fitting your needs hit the market.
You finding a new listing online days later could be too late in this competitive market. Agents have access to the source for all new listings, the MLS. Third-party sites, like Realtor.com, feed listings from the MLS. So if there is something wrong with the syndication feed it can take hours or days for new listings to appear online, meaning you could lose out.
Be the First in the Door
Once a new property hits the market you need to see it immediately. Even if you aren't first in the door you need to do everything in your power to make it the same day showings start. If your agent isn't available they should coordinate for another agent to show you. Trying to view a new listing on day 3 or 4 could easily be too late in this competitive market.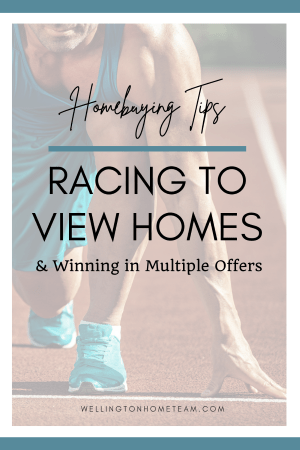 If you are unable to view the home in person your agent needs to at least go and do a video tour with you. A lot of sellers want to move forward with a buyer who viewed their home for several reasons. One, the buyers saw the condition and layout first hand, so they know what they're getting. It's not uncommon for buyers who haven't viewed a property to cancel the contract once they do view it and sellers want to avoid this possible outcome.
Two, many buyers will form an emotional attachment to a property, so when issues arise they are more inclined to stick around and work things out. Three, they are real buyers, not a person who likes submitting offers on properties they have no intention of purchasing.
While doing a virtual tour isn't the same as viewing the property in person it's better than not seeing it at all. If a trusted family member or friend is local coordinate for them to view the home on your behalf. When competing against multiple offers the seller's decision could come down to who saw the property and who didn't.
Submit an Offer Immediately
Even if the seller has a "highest & best" offer deadline your offer should be submitted immediately on day 1. Heck, your agent can take it one step further and prepare the offer prior to viewing the home. Then if you want to move forward and submit an offer they only need to add a few terms, like price. This way the offer can be signed and submitted within minutes or a few hours after viewing the property.
Why? Because it's not uncommon for sellers to accept a strong offer prior to the deadline. Sure, the listing agent can promise to wait until the offer deadline. However, it's not up to them, it's up to the seller and they can accept an offer before the deadline if they want to.
Winning in a multiple offer situation is a joint effort, buyers need to bring a solid offer and agents need to do these 9 things to stand out in the crowd. #homebuying #realestate #multipleoffers
Submit a Complete Offer
As a buyer, you can offer the best terms, but if your agent doesn't prepare your offer correctly or submits an incomplete offer you could easily lose out in a multiple offer situation.
Your offer should never have any blanks. Your agent needs to prepare it so if the seller accepts it you'll have a fully executed contract once they sign, no back and forth with initials. Going back and forth can take time and time could give other buyers an opportunity to change the seller's mind. Remember you don't have a fully executed contract until all parties sign. The seller could verbally accept your offer, but if they're waiting for your agent to make additions or changes to your offer they could move forward with another buyer.
Your agent also needs to include all of the appropriate addendums, disclosures, and proof of funds in one e-mail and one attachment. Piece mealing an offer and sending documents separately throughout the day to the listing agent is a great way to get lost in the mix with multiple offers.
Follow-Up
Once the offer is submitted your agent should follow up with a phone call to the listing agent to introduce themselves, introduce you, and try to build rapport. If they are unable to reach the listing agent by phone, which can be normal in multiple offer situations, they need to leave a message and follow up with a text. Just because your agent e-mailed your offer doesn't mean the listing agent received it, they need to receive confirmation.
It would be horrible to lose a property because the listing agent never received your offer and your agent never followed up to ensure they received it.
Continue Following Up
If one day turns into two days your agent needs to put themselves front and center with the listing agent again, with a phone call, text, and/or e-mail to see if your offer is still in the running, if not what you can do to win.
Every listing agent wants to work with a buyer's agent who reachable, professional, kind, tenacious, and tentative. Some will also appreciate how hard they are fighting for you.
Winning in a multiple offer situation is a joint effort, buyers need to bring a solid offer and agents need to do these 9 things to stand out in the crowd. #homebuying #realestate #multipleoffers
Leave Decision Making to You
Believe it or not, some agents like to speak on behalf of their clients thinking they know the answer. At no point should your agent answer questions without checking with you first. Even if they are 100% sure how you're going to respond they still need to confirm with you.
A great example, the listing agent asks if you'll remove your mortgage contingency and your agent answers "no" immediately. Even though you told your agent you won't remove the mortgage contingency what happens if you decide to in order to win? So one of two things could happen in this scenario; One, you have no clue the listing agent asked this question and your agent said no. Two, your agent tells you and when you decide to remove the contingency it's too late, the seller already moved forward with another offer because your agent said no.
This is a conversation you have to have with your agent ahead of time, every question needs to be run by you first. They are not to assume and answer any questions without checking with you first.
Be Responsive
Nobody wants to work with an unresponsive agent. If the listing agent asks a question or requests additional information your agent needs to respond immediately and acknowledge their question or request. Then contact you to find out the answer.
Time is always of the essence in real estate, but even more so in our current market. 50 buyers viewing a home on day 1 and the seller receiving 25 offers the same day isn't uncommon. So both you and your agent need to do everything to stand out, in a good way because if you stand out in a bad way it can be all over.
If it takes you hours or days to reach your agent odds are the listing agents will experience the same. Keep this in mind when hiring a buyer's agent.
Don't Argue
You need an agent who is going to kill the listing agent with kindness. It can be very frustrating to work with a listing agent who's unresponsive, unprofessional, and clueless, but they need to remain calm and professional at all times. Once a buyer's agent starts "picking" on the listing agent or even worse becomes verbally abusive your chances of winning in a multiple offer situation just went out the window. The same holds true if your agent acts like an arrogant know it all.
Of course, it's the seller's decision, but when they ask their listing agent for advice do you think your offer will be at the top? It's unfortunate, but agents and their egos can ruin a great deal for both sellers and buyers.
Final Thoughts
If you're losing in multiple offer situations two things should happen. One, your agent needs to ask the listing agent what you could have done differently to win. It could be something simple and small, like decreasing the inspection period from 5 days to 3 days. It could also be big things that you can't change, but knowing can help you move forward.
Two, if your offer is declined your agent should thank the listing agent for their time, wish them the best, and please contact them if anything changes. This right here won a deal for a buyer on one of my listings. They lost in a multiple offer situation, their agent was gracious, professional, continued to follow up and when the deal fell apart the seller went directly back to this agent and buyer. We quickly came to terms and were under contract within an hour.
Everyone needs to be at the top of their game to win in a multiple offer situation. You can't put together a less than stellar offer and expect your agent to pull off a miracle nor can you offer phenomenal terms and have an agent who sits around waiting. I have been facing multiple offer situations non-stop for over a year, as a listing agent and buyer's agent, and I can tell you firsthand agents matter. Agents and buyers who put their best foot forward from the start are one step ahead closer to winning in a multiple offer situation.
Please consider spreading the word and sharing; 9 Things Your Agent Should Do In a Multiple Offer Situation
Winning in a multiple offer situation is a joint effort, buyers need to bring a solid offer and agents need to do these 9 things to stand out in the crowd. #homebuying #realestate #multipleoffers
About the Author
Top Wellington Realtor, Michelle Gibson, wrote: "9 Things Your Agent Should Do In a Multiple Offer Situation"
Michelle has been specializing in residential real estate since 2001 throughout Wellington Florida and the surrounding area. Whether you're looking to buy, sell, or rent she will guide you through the entire real estate transaction. If you're ready to put Michelle's knowledge and expertise to work for you call or e-mail her today.
Areas of service include Wellington, Lake Worth, Royal Palm Beach, Boynton Beach, West Palm Beach, Loxahatchee, Greenacres, and more.
9 Things Your Agent Should Do In a Multiple Offer Situation