A popular term a lot of homebuyers are hearing these days is "highest and best." This term needs to be understood by not only buyers but sellers too. They need to know what it means and how it can impact them with their home purchase or sale.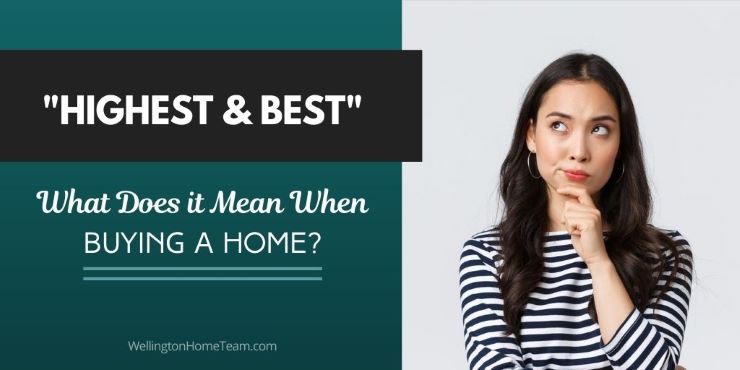 So What Does "Highest and Best" Mean?
When a seller requests "highest and best" they are asking a buyer to submit their highest and best offer. This is extremely common in a hot market when a seller receives multiple offers. While some sellers may just accept an offer or negotiate with one offer others will request highest and best to give all buyers an opportunity to submit their best offer. When a seller request highest and best they will provide a deadline, a specific day and time when all offers are due.
Submitting your highest and best offer sounds pretty simple, you come up with your best price and terms. However, oftentimes in a multiple offer situation you and your Realtor need to come with a winning strategy otherwise you'll lose out.
Let's take a look at the most common mistakes buyers make when submitting their highest and best offer and what they can do to increase their odds of being the offer that's selected.
Common "Highest and Best" Mistakes
Only Increasing the Price
One of the biggest mistakes homebuyers make in a "highest and best" offer situation is increasing the purchase price, but not changing any of the additional terms. There is more to offer than price and when a seller has multiple offers in hand odds are their decision will be based on secondary terms. So the amount you put in escrow along with the types of contingencies and contingency periods you have may be the deciding factor. Therefore, if you can put more money in escrow, do it! If you can shorten or remove contingencies, do it! If you don't need seller concessions, don't ask for them!
Put it in Writing
Never ever, ever, ever verbally provide your highest and best offer. The likelihood of a seller accepting your verbal offer is unlikely especially if they have other offers that are just as strong in writing. So have your agent take the 10 minutes to update your offer, sign the changes electronically and get it submitted! Also, if you increased your purchase price make sure your proof of funds or pre-approval letter supports the new price you're offering.
Waiting Until the Deadline
While a seller will provide a deadline for when they want everyone's highest and best offer it doesn't mean they are going to stick to it. Occasionally a seller will receive a great offer and they don't want to lose it, so they accept it before the deadline.
This is one of the many reasons why you'll want to get your highest and best offer submitted as soon as possible. With advances in technology, online documents and electric signing, it's never been easier to submit a clean updated offer with your new terms.
Working with the Wrong Team
Who you work with matters! If you're working with an unresponsive, unreputable, or out of area lender it can cost you. The same holds true for the real estate you choose to work with. Lenders and agents who are responsive are imperative to your success, even more so in a multiple offer situation.
Having a local lender contact the listing agent directly can give you a leg up in a multiple offer situation. Typically the listing agent will contact the lender, but in a multiple offer situation the agent might not. So by having your lender contact them to confirm you're pre-approved for a mortgage and where you're at in the approval process could put you at an advantage over other buyers. With that being said you need to make sure your lender has everything they need from you in order to process your loan.
Having an agent who asks the right questions can help too. Some listing agents will tell a buyers agent exactly what the seller is looking for, but only if they ask. Some sellers want to close on a specific day, so if your agent is able to find this out and put it in your offer it could make your offer stand out.
Sometimes it's the little things that will push your offer over the finish line. Listing agents and sellers want a smooth transaction, so they'll be looking for a buyer and buyers agent who wants the same.
"Highest and Best" What Does it Mean When Buying a Home? #realestate #homebuying #tips
Final Thoughts
Working with a team that's at the top of their game is key to winning in a multiple offer situation. Your agent should be able to educate you about the current market conditions and be able to put together a strong, clean offer package. If they know a property is going to receive multiple offers you need to submit your highest and best out the gate. Don't mess around in a multiple offer situation, even if you're paying cash odds are the seller will still have the upper hand. Sometimes cash means nothing if you have a 10-day inspection period and a financed buyer offering more money has a 10-day inspection and mortgage contingency period.  Sure they could get denied for financing the week of closing, but anything can happen, there is a risk no matter what offer a seller moves forward with.
Please consider spreading the word and sharing; "Highest and Best" What Does it Mean When Buying a Home?
About the Author
Top Wellington Realtor, Michelle Gibson, wrote: "Highest and Best" What Does it Mean When Buying a Home?"
Michelle has been specializing in residential real estate since 2001 throughout Wellington Florida and the surrounding area. Whether you're looking to buy, sell or rent she will guide you through the entire real estate transaction. If you're ready to put Michelle's knowledge and expertise to work for you call or e-mail her today.
Areas of service include Wellington, Lake Worth, Royal Palm Beach, Boynton Beach, West Palm Beach, Loxahatchee, Greenacres and more.