7 Affordable Ways to Decorate Your Home on a Tight Budget
When it comes to home decorating ideas, there are numerous possibilities that come with varying price tags. However, one doesn't need to spend a fortune on their dream look. Finding budget-friendly ways to update your home decor requires some creative thinking and DIY savvy.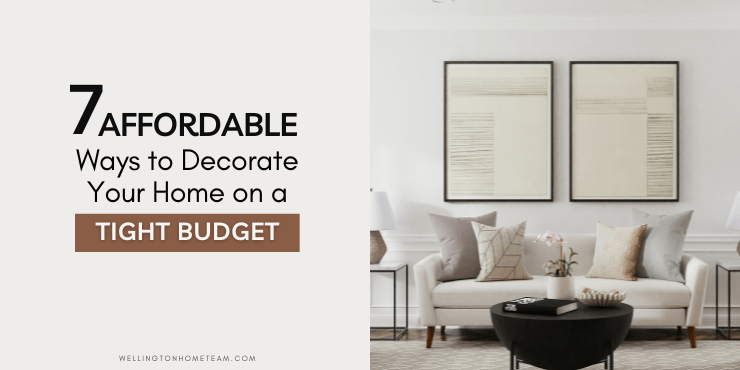 If you are eager but still uncertain about how the end result would work out, feel free to try out colorful swatches or different textures in small doses around the house before taking the plunge. By following these guidelines, achieving a semi-pro interior design look is not only possible, but it can also be fun too! So let's take a look at 7 affordable ways to decorate your space.
7 Decorating Hacks to Beautify Your Home
1. Get Rid of the Trash
If you are wondering how to make your room aesthetic without buying anything, then start by simply cleaning and decluttering. Before spending money on expensive decor and looking for affordable ways to decorate, take a step back and evaluate how much of your current belongings are actually worth hanging on to. Dated, worn, and damaged items can make your home look cluttered and more difficult to maintain, so getting rid of them can give you a nice clean slate. One of the biggest culprits in rental apartments is dated vertical blinds and childhood posters. Giving these up can result in major aesthetic change without costing a dime! 
2. Visit Auction Houses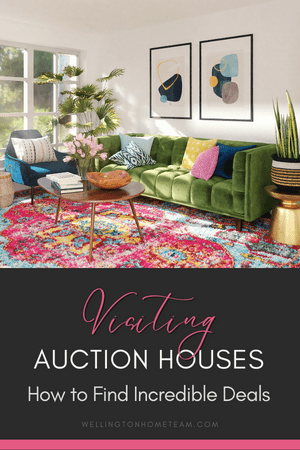 Visiting an auction house is a great way to score some amazing deals, but it's important to be prepared before you go. Do your research and know what types of items you're looking for, as well as their estimated value so that you can place an educated bid. At auction houses, you can find all sorts of treasures for a fraction of their worth. Whether it's antique furniture, art pieces, or porcelain setters from decades ago, these places always have something interesting on sale that you won't see anywhere else. If you want to add some extra vintage flair to your home without breaking the bank then visiting an auction house is definitely the way forward!
Did you know that it is not necessary to limit yourself to only local auctions? You can go to international auction sites. Even if they are not available in your country, with a good VPN for Mac you can use them without any problems. VeePN service allows you to unblock absolutely any site with a regional block and take advantage of it. This VPN for Macbook is perfect for that. It has everything so that you can buy unique and inexpensive things from anywhere in the world. This is by far one of the most affordable ways to decorate your home with beautiful pieces.
3. Choose Affordable Art
Affordable art or gallery photo frames don't have to be hard to find. Sites like Easy Art provide curated collections of reasonably priced pieces, perfect for adding that perfect pop of color and personality to any space. Plus, when it comes to positioning your artwork for maximum impact, hanging it in a grouped collection can often be more visually pleasing than trying to scatter the artwork around a single room. You don't need to spend a fortune on amazing works of art – spend less money online and create a beautiful conversation piece in your home.
If you have a tight budget and need to find affordable ways to decorate your home check out these 7 inexpensive ways to add style to any space. #homedecor #diy
4. Choose Simpler Things
Whenever you are trying to find something inexpensive and of good quality, it is advisable to stick to basic items. Many times, a product that looks grand on the outside but is surprisingly cheap can be filled with corners-cut; it's generally wise to avoid these. Instead, focus on the timelessly simple items that come at bargain prices – think tape measures and hammers as opposed to gizmos and gadgets. To achieve a cohesive look, make sure any such items you purchase fit into your existing color palette; for example, buy a white trinket box for a minimal aesthetic or a red one for something more eye-catching. Not only will this come together better visually, but simplify the upkeep process too!
5. Paint a Room with a Bold Color
Selecting the perfect hue for your interior painting project can be an exciting, intimidating, and ultimately enjoyable experience. With a wide variety of paint colors from which to choose, you can truly create a unique space that reflects your sense of style and personality. Don't restrict yourself to safe or neutral-hued choices – go bold and make a statement!
Unbeknownst to many people, painting is an incredibly inexpensive way to completely transform a room and give it a much-needed facelift. You don't even have to commit to multiple walls – start small by taking the plunge and painting just one accent wall. Paint is always one of the affordable ways to decorate and add style to your home.
6. Use Accent Lighting
Accent lighting can really add a wonderful level of sophistication and personalization to any home. Installing wall sconces in hallways, stairwells, and even around the edges of your ceiling can create beautifully illuminated pathways that draw attention and provide an inviting atmosphere. Directing the light onto decorations or artwork is also an excellent way to bring elegance into space as it accents particular pieces making them stand out from the rest of the décor. Additionally, some up-lighting can create an ambiance within spaces where plants and other decorations like statues and figurines are present which help tie the room together tastefully.
7. Look for Discounts
Shopping at discount stores is a must for savvy decorators. It's one of the most affordable ways to decorate an entire home. So taking the time to explore local clearance shops, flea markets, thrift stores, donation shops, and yard sales can offer up unexpected rewards – with just a spark of creative thought, seemingly mundane items can easily be incorporated into home décor. Look for natural materials in muted shades of earthy tones and a minimum of fuss when perusing shelves of cups, plates, or other trivial knick-knacks. You might find some real diamonds in the rough – one-of-a-kind artifacts that'll give your place character and style without breaking the bank.
Final Thoughts
When decorating on a budget, creative thinking is key. With some resourceful shopping and thoughtful use of color, you can create an elegant, stylish space that won't break the bank. From finding art pieces online to painting bold colors onto walls, accent lighting, and discount shopping; these seven ideas are sure to breathe new life into your home and they are by far some of the most affordable ways to decorate. So whether you're decorating a small home on a budget or a large home it can be accomplished.
Please consider spreading the word and sharing; 7 Affordable Ways to Decorate Your Home on a Tight Budget
If you have a tight budget and need to find affordable ways to decorate your home check out these 7 inexpensive ways to add style to any space. #homedecor #diy
About the Author
Top Wellington Realtor, Michelle Gibson, wrote: "7 Affordable Ways to Decorate Your Home on a Tight Budget"
Michelle has been specializing in residential real estate since 2001 throughout Wellington Florida and the surrounding area. Whether you're looking to buy, sell or rent she will guide you through the entire real estate transaction. If you're ready to put Michelle's knowledge and expertise to work for you call or e-mail her today.
Areas of service include Wellington, Lake Worth, Royal Palm Beach, Boynton Beach, West Palm Beach, Loxahatchee, Greenacres, and more.
7 Affordable Ways to Decorate Your Home on a Tight Budget