Are you looking for a pet-friendly rental in Wellington Florida? If so you may have noticed not every landlord will accept pets and the ones that are open to pets tend to have a lot of restrictions. In addition to the landlord's restrictions if the Wellington home listed for rent is in an HOA they will have pet restrictions too.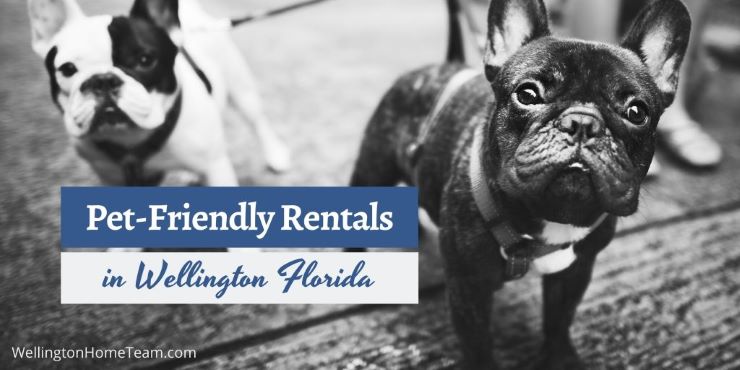 Pet restrictions usually include the number of pets an occupant is allowed to have, their pet's weight and sometimes their breed. Finding a pet-friendly rental in Wellington that will accept more than one pet or a large dog can be challenging. Condo communities, like Sheffield Woods, will only allow one pet under 20 pounds. While other communities, like Olympia, will typically allow two domestic pets, no weight restriction. However, every community in Wellington is pet-friendly they'll just have restrictions.
Find Pet-Friendly Rentals in Wellington Florida
Tips for Successfully Renting a Home with Pets
Pet Resume
When submitting an offer on a home for rent make sure to include a pet resume. A pet resume should be a positive, but realistic, introduction to your pet. It should include their breed, weight, age, temperament and name. You'll also want to include their health records and any training certificates they've received. Describe your daily routine with your pet. Do you work from home or is your pet alone all day? Where does your pet go when you're not home, are they free-range, crated or sectioned off to a specific area? And don't forget to attach photographs of your furry family member.
Meet & Greet
Nobody is going to tell a potential landlord that their pet chews on baseboards, scratches at screens or pees in the house. Instead, they'll say they have the best pet ever.
Well if that truly is the case, prove it! Offer to introduce your pet to the landlord. Allow them to visit you and your pet at your current residence so they can see firsthand how well behaved your pet is.
Pet Deposit
A majority of landlords prefer not to have pets, so don't give them a reason not to accept yours. If they require a non-refundable $350 pet deposit, agree to pay it. Even landlords who have pets themselves are often reluctant to rent to someone who has a pet. So playing hardball and trying to negotiate may make it easier for the landlord to reject your offer.
Renters Insurance
Some landlords are more concerned about the liability of having a pet residing in their property than they are the pet destroying it. To put the prospective landlord's mind at ease agree to obtain renter's insurance. The standard renter's insurance policy will include liability, which will cover any claim arising from your pet.
Final Thoughts
Finding a pet-friendly rental in Wellington Florida can be challenging, but it's not impossible. To avoid getting scammed and wasting time looking at properties that won't accept your pet hire a Wellington rental agent. As agents, we know community pet restrictions and can easily view the landlord's restrictions too.
You can certainly look for a pet-friendly rental online just keep in mind real estate websites have general search options. So you'll only have the option to select "yes, no or restricted" under pets. While other websites simply have "cats ok" or "dogs ok." However, rental agents are able to do a detailed search for the number of pets and weight restrictions. We also have access to broker remarks, which are not displayed anywhere online and provide additional information.
For a list of pet-friendly rentals in Wellington that will allow your pet please take a second to fill out our online rental questionnaire below. Once received we will do a search based on your rental needs and e-mail you the rentals.
About the Author
Top Wellington Realtor, Michelle Gibson, wrote: "Pet-Friendly Rentals in Wellington Florida"
Michelle has been specializing in residential real estate since 2001 throughout Wellington Florida and the surrounding area. Whether you're looking to buy, sell or rent she will guide you through the entire real estate transaction. If you're ready to put Michelle's knowledge and expertise to work for you call or e-mail her today.
Areas of service include Wellington, Lake Worth, Royal Palm Beach, Boynton Beach, West Palm Beach, Loxahatchee, Greenacres and more.
Summary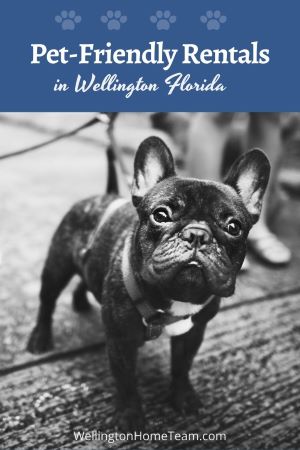 Article Name
Pet-Friendly Rentals in Wellington Florida | View Pet-Friendly Rentals Here
Description
Looking for a pet-friendly rental in Wellington Florida? View pet-friendly rentals currently listed for rent throughout Wellington Florida.
Author