Pre-Occupancy | What Is It and Should a Seller Allow It?
The world of real estate transactions can be intricate, with various arrangements and terms that buyers and sellers must navigate. One such arrangement that often might rise during negotiations is pre-occupancy, an agreement where the buyer moves into the property before the official closing date.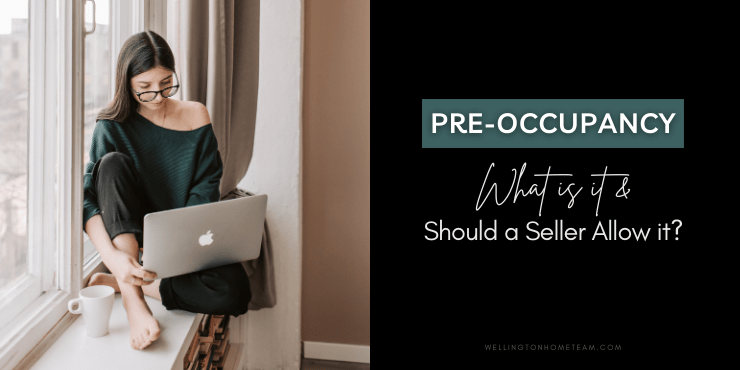 This arrangement can have advantages for both parties involved, but it also comes with potential risks. Let's take a closer look at what pre-occupancy entails, examine its pros and cons, and discuss whether a seller should allow it.
What is Pre-Occupancy?
Pre-occupancy, sometimes known as early occupancy or rent-back, is an agreement between a home buyer and seller in which the buyer takes possession of the property before the actual closing date. It usually occurs when the buyer needs to move but is unable to close by their move date or because closing has been delayed.
In a typical pre-occupancy agreement, the buyer pays a certain amount of rent along with a security deposit to the seller for early occupancy. This rent can be deducted from the final purchase price or treated separately, depending on the terms negotiated between the parties involved.
Additionally, both parties need to sign a legal agreement, often referred to as an early occupancy clause, that outlines the rights, responsibilities, and liabilities of each party during the pre-occupancy period.
Pros of Pre-Occupancy:
Convenience for the Buyer: Pre-occupancy can be highly advantageous for buyers who need to move quickly. Whether it's due to a job relocation, school enrollment, or personal circumstances, being able to settle into the new home before the closing date can provide a smooth transition and reduce stress.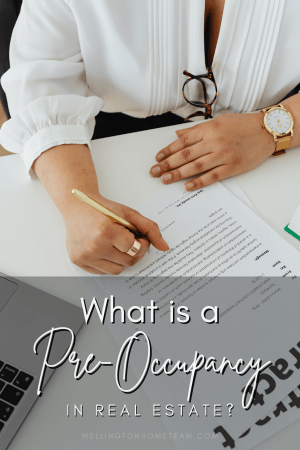 Flexibility for the Seller: Allowing pre-occupancy might give sellers more flexibility in their moving plans. If the seller has already purchased another property or needs to vacate the premises promptly, early occupancy will give them peace of mind knowing someone will be residing in their home and it won't be left vacant. Oftentimes, vacant homes are targeted by thefts, vandalizes, or squatters.
Potential Cost Savings: In some cases, pre-occupancy can benefit both parties financially. For buyers, it can save them from incurring additional expenses like hotel stays, storage fees for their belongings, or moving twice. While sellers can earn rental income during the early occupancy period, which can help offset mortgage payments or other costs associated with owning the property.
Smooth Transition and Early Access: Pre-occupancy allows buyers to familiarize themselves with the property and its surroundings before officially taking ownership. It gives them a chance to test out the neighborhood, explore local amenities, and make any necessary arrangements for their daily routines. This early access can contribute to a smoother transition and help buyers feel more at ease when the closing eventually takes place.
Potential for Negotiation: Pre-occupancy can be a point of negotiation during the home buying process. Buyers can propose terms that suit their specific needs, such as a reduced rental rate, a rent credit towards the purchase price, or other favorable conditions. This negotiation opportunity allows both parties to find common ground and create an arrangement that benefits everyone involved.
Cons of Pre-Occupancy:
Liability and Insurance Concerns: One of the major risks of pre-occupancy is the potential for damage to the property during the buyer's early occupancy. Accidents or unforeseen events, like a house fire, could lead to costly repairs, leaving both parties in a difficult situation. It's crucial to address liability and insurance matters in the early occupancy agreement to protect the interests of both the buyer and the seller. Neither party should assume a standard homeowners insurance policy or renters insurance will be sufficient enough.
Disagreements and Expectation Mismatches: Pre-occupancy agreements require clear communication and mutual understanding between the buyer and the seller. Differences in expectations regarding maintenance responsibilities, repairs, or the condition of the property can lead to disputes and strain the buyer-seller relationship. Who will be responsible for repairs and maintenance needs to be clearly spelled out. It's essential to establish open lines of communication and clearly define every single possible issue that can arise in the early occupancy agreement. Just assuming one party will be responsible can create unnecessary conflict.
Occupancy Rights and Possession Issues: Pre-occupancy can create complications in terms of occupancy rights and possession of the property. If the buyer takes possession before the closing but encounters difficulties in securing the necessary funds or fulfilling contractual obligations, it can become challenging for the seller to regain possession of their property. This can result in legal proceedings, eviction processes, and further delays and expenses for both parties involved. So if the buyer is unable to close by the official closing date next steps need to be clearly spelled out. This is where a large deposit can come into play and possibly protect the seller.
Damage and Improvements: Allowing pre-occupancy gives the buyer an opportunity to damage the home or make unauthorized home improvements. This is fine if the buyer is going to accept all responsibility but if closing never takes place this could become the seller's problem.
Market Conditions and Property Value Changes: Depending on the duration of the pre-occupancy period, market conditions and property values can change. If the market experiences a downturn or the value of the property decreases during this time, will the buyer try to blow up the transaction or try to renegotiate?
Should a Seller Allow Pre-Occupancy?
Deciding whether to allow pre-occupancy ultimately depends on the specific circumstances, risks, and preferences of the seller. It's crucial to weigh the potential benefits against the potential pitfalls and consider factors such as the buyer's financial stability, the condition of the property, and the seller's own moving plans.
Sellers who are considering allowing pre-occupancy should take the following steps:
Consult with Professionals: Seek advice from your real estate agent, attorneys, or other relevant professionals who can provide insights into the legal and financial implications of pre-occupancy. A real estate attorney can help draft a well-defined early occupancy agreement that protects the seller's interests. The cost is usually a few hundred dollars, but the early occupancy agreement cost is worth every penny.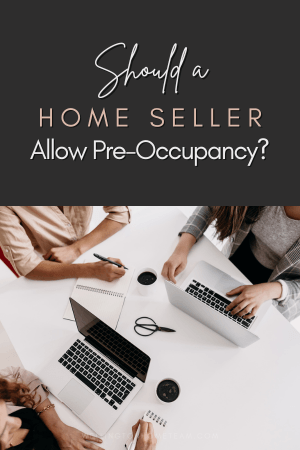 Evaluate the Buyer: Assess the financial stability of the buyer and if there is any potential that they won't be able to secure a mortgage or have funds for closing. Sellers should also consider screening them, just as a landlord would with a potential tenant by doing a complete background and credit check.
Assess Property Conditions: Conduct a thorough inspection of the property and document its condition before the buyer moves in. Taking photographs and videos is highly recommended as well.
This will serve as a reference point for identifying any damages that occur during the pre-occupancy period and help resolve any potential disputes. The buyer's home inspection may be a great resource as well when it comes to plumbing and electrical issues.
Obtain Adequate Insurance: Ensure that both the buyer and the seller have appropriate insurance coverage during the pre-occupancy period. This can help mitigate potential liability concerns and protect against unforeseen circumstances.
Some sellers assume their insurance policy will cover any potential issues, like a house fire, while it's tenant occupied but that is usually not the case. In fact, all insurance claims may be denied if the insurer finds out the home is tenant occupied. So both parties need to look into early occupancy insurance.
Final Thoughts
The decision of whether to allow pre-occupancy in a real estate transaction is a complex one that requires careful consideration. Early occupancy offers convenience, flexibility, and potential cost savings for both buyers and sellers. However, it also comes with potential risks, such as liability and insurance concerns.
Ultimately, the decision to allow pre-occupancy should be based on a thorough evaluation of the potential benefits and drawbacks, as well as the specific needs and preferences of the seller. By weighing these factors and taking necessary precautions, such as hiring a real estate attorney, sellers can make an informed decision that aligns with their goals and ensures a smooth and successful real estate transaction.
Please consider spreading the word and sharing; Pre-Occupancy | What Is It and Should a Seller Allow It?
Wondering what pre-occupancy is in real estate? Let's explore its advantages, risks, and whether sellers should consider allowing it. #realestate #preoccupancy
About the Author
Top Wellington Realtor, Michelle Gibson, wrote: "Pre-Occupancy | What Is It and Should a Seller Allow It?"
Michelle has been specializing in residential real estate since 2001 throughout Wellington Florida and the surrounding area. Whether you're looking to buy, sell, or rent she will guide you through the entire real estate transaction. If you're ready to put Michelle's knowledge and expertise to work for you call or e-mail her today.
Areas of service include Wellington, Lake Worth, Royal Palm Beach, Boynton Beach, West Palm Beach, Loxahatchee, Greenacres, and more.
Pre-Occupancy | What Is It and Should a Seller Allow It?